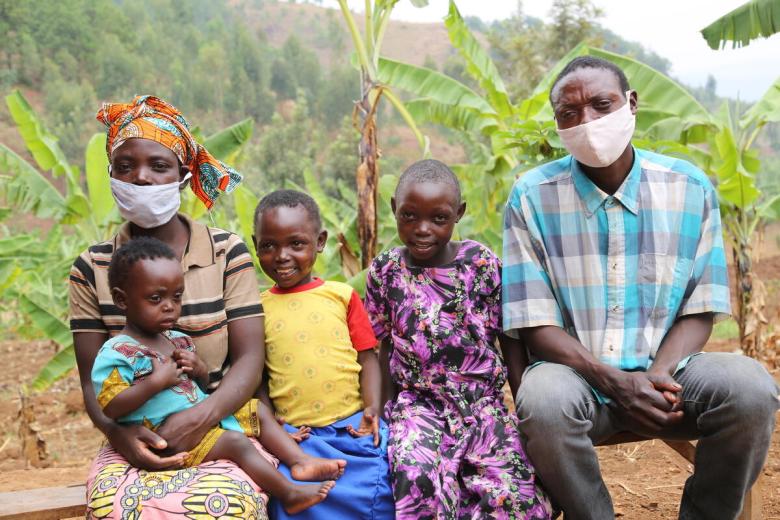 A Dynamic Duo for Evidence
Thursday, December 3, 2020
By: Julie Byun, Technical Advisor, Global Livelihoods
The Ultra-poor Graduation (UPG), is a Core Project Model that is highly sought after by both donors and World Vision offices alike. It is a powerhouse that generates visible results in communities and has rigorous evidence of impact. However, rigour involves collecting a vast amount of data at high frequency; a tall order for any programme. This was the challenge faced by World Vision Rwanda (WVR), which is currently implementing UPG at a national scale in partnership with the Government of Rwanda and colossal number targeting more than 50,000 households over the next five years. It was evident that a technological solution that can effectively collect and manage routine data to inform implementation strategy was needed.
WVR found an answer closer to home than one would have imagined – Last Mile Mobile Solutions (LMMS), World Vision's in-house technology originally developed for humanitarian response in 2008. LMMS posed as an attractive solution as it can not only develop household profiles, where multi-sector data is more easily collected and visualised, but it can also integrate this data with standard data collection software, such as Kobo Toolbox, to store project-level data. Moreover, WVR already had internal capacity of LMMS from past emergency operations, so it is a very cost-effective choice as well.
Based on their experience so far, Aimable Nsengiyumva, WVR's Resilience and Livelihoods Technical Programme Manager, says that the technology was appreciated at the field-level as it "reduced the chances of error during data collection and aids a large team of enumerators to remain consistent to the original plan." He also appreciated the fact that the technology engages community respondents as active stakeholders since the interactions are directly captured in their gadgets and immediately reflected in the system.
To draw on WVR's rich experience and learning from this pilot, WVR, World Vision's Livelihoods Global Sector and Technical Service Organisation (TSO) teams joined forces. A year-long learning plan was developed, where the TSO was paired up with WVR's Resilience and Livelihoods Team to regularly touch base and collect lessons learned that will benefit the global partnership. We have been asking questions such as 'Was the set up easy?', 'How much did it cost?' and 'What steps have you found most important to take?' The learning from this exploratory endeavour aims to inform other Field Offices that are planning to follow suit in their UPG operations, as well as offices that are interested in digitising monitoring and evaluation systems for other Livelihoods core project models in general.
Frank Muhwezi, Senior Programmes Quality Manager of Field Operations from World Vision Rwanda, describes the initiative as "a truly collaborative learning effort that brings [World Vision's] and the LMMS teams together to build World Vision's institutional knowledge on using technological solutions for rigorous evidence." 
Julie Byun, the assigned Technical Advisor, who works closely with WVR's R&L TP manger to capture learning says the initiative is "a very exciting piece of work, which fosters not only mutual learning, but also relationships that opens doors to much more potential for joint collaboration in program quality, grants and strategic partnerships in the future".
All information will be organised into reader-friendly reports on a semi-annual basis and actively shared by WV's Global Livelihoods team. For more information, please contact us at livelihoods@wvi.org.