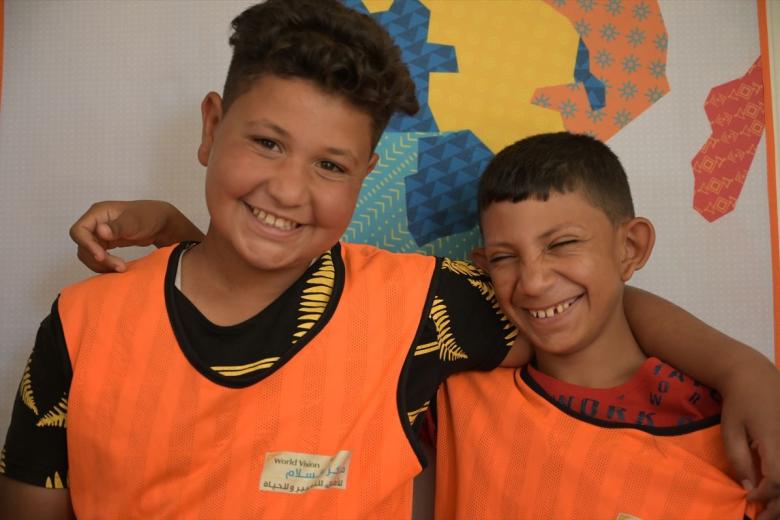 Life Without Borders- Sanad*'s Journey to Inclusion
Wednesday, December 21, 2022
When the Syrian war broke out in 2011, more than 5 million children were left to suffer the consequences and carry the burdens of the conflict and the dilapidated healthcare system. As a result, many families and children escaped to the safe havens closest to their homes. The lack of mobility and the difficulties they faced fleeing harm, made these journeys even more challenging, exposed them to further harm and compounded risks. While no one really knows how many children living with disabilities there are inside Syria, it is evident they carry a double burden.
From a perfect childhood to living in a destroyed school in Northwest Syria
Sanad is one of these Syrian children who is living with disabilities in a war-torn place. Immediately after he was born, Shaima* [his mother] held him in her arms and instantly knew he was special. "Sanad was born with this illness [mental and cognitive disability]. His uncles suffer from the same thing. But Sanad only made us stronger," his mother explains. Sanad grew up in a loving home and his mother did her best to turn their home in Syria into a comforting space where Sanad could express himself freely. "It was like an amusement park," Sanad describes their garden back in their home. It had a slide, a set of swings, and plenty of space where him and his siblings could enjoy their childhood peacefully. This safe space helped Sanad become the person he is today - creative, resilient and ambitious.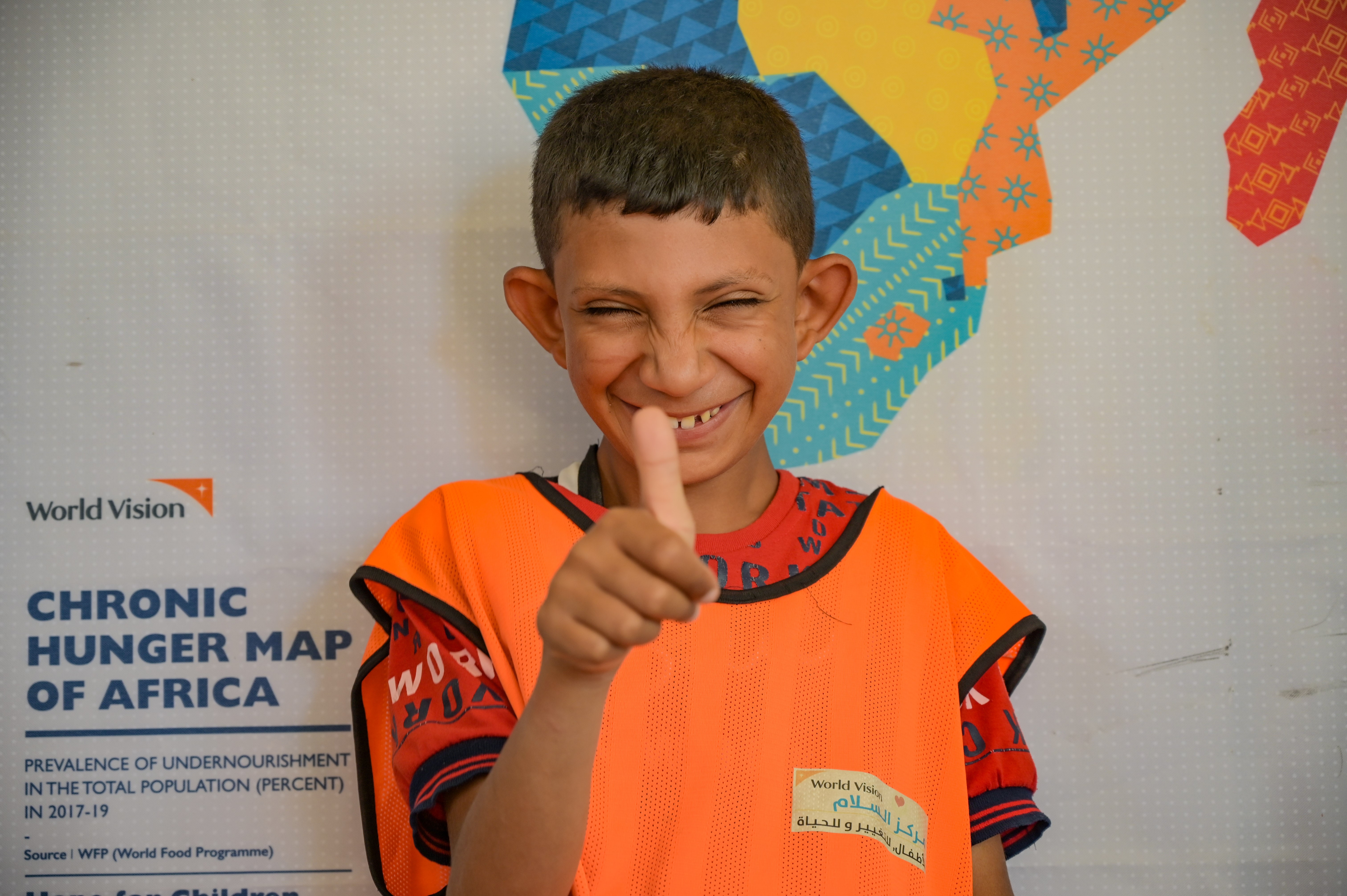 The safe space Sanad and his family spent years setting up, vanished in a blink of an eye with the smoke and shell casing which covered the garden where Sanad used to play with his siblings. Not late after, it became dangerous for them to stay in their village and Sanad risked his life every time he went outside to play with his siblings.  Like six million other people, Sanad and his family tried to find safety within their country. After their failed attempts to withstand the shelling and fighting, seeing their small village bombarded day after day, fleeing was the family's last resort.
The family of six [back then, their mother gave birth to two children after a while] left their home without anything and renounced everything. This bitter-sweet decision resulted in joining other refugee-seeking families in a caravan on a journey that lasted 16 hours. Cramped with other families in the back of a truck, Sanad could not help but think of what is waiting for them on the other side of the country.  After a tiring journey, the family settled in one of the forgotten schools in Northwest Syria for a couple of months.  Living in an abandoned school was not suitable for the family. They did not have running clean water, light or fuel during the winter. Moving again to a better place was their only option- "we later heard about a safe refugee camp in Northeast Jordan, so we went there," mentions Sanad's younger brother Osayd*.  They packed their few belongings once more and marched to their unknown future leaving the school in ruins as they found it. After 8 months of settling in the Azraq refugee camp, the family could finally breathe peacefully as they started seeing a better future for themselves, and finding hope.
Sanad adapts to a new place thanks to his brother's help
 
Adapting to a new place was easier said than done for Sanad. In the beginning, he felt alone and isolated. His disability and difficulty in forming social bonds, made Sanad hesitant to leave his new home.  Sanad was also faced with new situations that he had never experienced before like going to school and meeting new people. This required his family's support. He could not make it without them and with his family's encouragement, Sanad was excited to begin his education journey [he was too young to go to school in Syria]. He is now enrolled in one of the education programmes in the camp. However, Sanad "sometimes faces challenges with the school's subjects and materials," according to his mother. But his persistence and hard work, however, accompanied by proper parental support that he gets, will surely help him work in the Azraq Camp. His only dream is to help as many Syrian refugee people as he can.
His dream is still a work in progress especially knowing the close support his younger brother is giving him, every single day. Osayd always reminds Sanad of the loving family they have, whenever Sanad feels frustrated by their new living condition and situation. Although Osayd is younger than Sanad by one year, he cares for him and provides him with the gentlest heart a child has- "I love him [Osayd] because he plays with me and protects me, he is always with me," tells Sanad. The close bond these two share is allowing Sanad to freely express himself, work on his communication skills and get the courage he needs to make new friends in the camp. Osayd never lets Sanad alone. He even takes him to the "The Peace-Play Spaces for children" where Sanad is enrolled in the World Vision supported life skills project where he does sports three times a week.
Sanad is one of the 500 children who enjoy the safety of the outdoor sports field run by World Vision. This space is where Sanad learns about teamwork, problem-solving, communication skills, critical thinking under the Life Skills Through Sports for Child Protection project. The comprehensive Sports Programme offers all children - including children with disabilities - healthy ways to express negative emotions through sports in the comfort of the playing field in the Azraq Camp.
The sports field is like a breathing space for many children [aged six to eighteen] like Sanad who felt uprooted from their happy childhoods. Here, Sanad and the other children feel welcomed and included thanks to the facilitators' constant efforts in raising awareness about child protection issues, and increasing children's tolerance towards acceptance and respect. As a result, Sanad enjoys the comforting and encouraging space he regularly visits - "I feel happy when I play with my friends," he shares. Thanks to the support of our colleagues in Korea and Hong Kong, Sanad can still join his friends on the field who surround him with love and support.