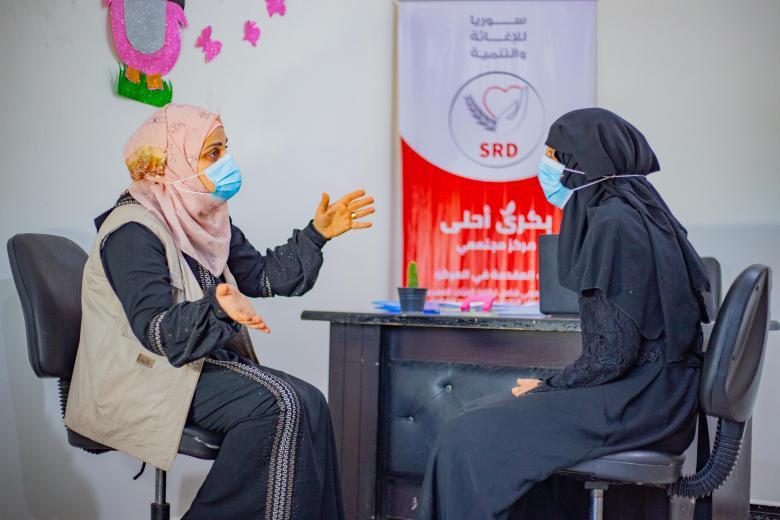 In the midst of war, a single mother fights to secure a life for her five children
Tuesday, June 7, 2022
Trapped in a cycle of vulnerability and abuse and unable to move freely, Syrian women and girls are not just victims of war but also victims of the restrictive environment in which they were born. For them, safety and security refer not just to the dangers of the war but also to the diverse forms of gender-based violence that they have to face daily. The vast majority continue to be denied the right to live an independent life, with 1 in 5 households mentioning that women and girls do not feel safe in their community when crossing checkpoints, at markets and on public transportation, and are afraid to walk freely without the company of family members. 
Nadira* is one of the mothers for whom the war pushed her into being a single mother for her five children. War also meant being more scared than ever before. The conflict-induced hardships in her life, the financial struggles and psychological distress caused by the war, and the constant sadness and worries, have led her toward the community centre that assists women and children affected by horrors of fighting and war inside the country. The war shows on women like Nadira who age earlier. Nadira is in her early thirties but is often confused for looking much older than her age. The only thing that keeps her spirits high is her only hope for a better future for herself and her five children - Mouna* 17-years-old; Nada* 15-years-old; Letifa* 13-years-old; Sarah, nine-years-old; and Omar, five-years-old.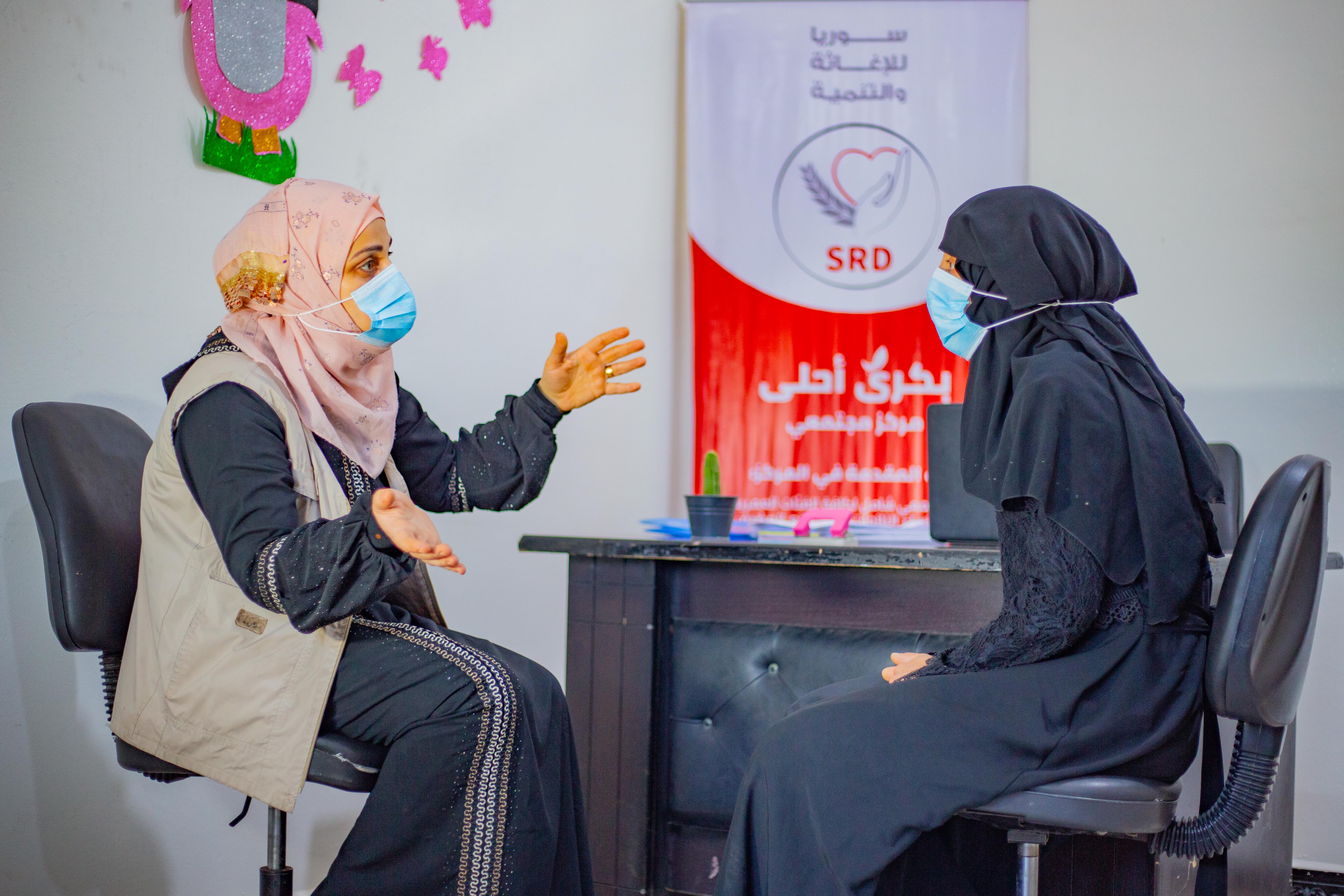 This hope took her at the community centre where she was welcomed by the case manager, who made her feel comfortable and safe. While offering her a chair to rest, the case manager reassured her that everything she said would be kept under strict confidentiality and privacy. Nadira then felt safe sharing her story. "I am married and unmarried. I used to live in the city of Saraqib in our house. I have five children, four daughters who are now young girls and a small boy", she starts. "My husband used to work in construction. We felt comfortable and stable, but after the outbreak of the last conflict, we moved to Sarmada and rented a tiny and simply equipped house". 
She recalls how, despite the fact they used to live in very modest conditions, their love and commitment to each other was what kept them going. Her husband was a good father who loved his daughters and did everything to protect them and provide for them. One day, he was unexpectedly gone. "It has been more than two years since my husband went out in the morning to look for work and has not returned", Nadira recalls. "At one point, I had to leave the house that my husband rented for us and move to live with my brother-in-law".  
Not knowing anything of him, Nadira was forced to be declared widowed. She had no income to support herself and was at risk if she continued to live alone. She then was taken in by her brother-in-law. But life became even harsher, and living conditions only got worse. "At first, we lived in one of the poultry houses on the outskirts of Sarmada. Then the owner of the farm asked us to evacuate it. Today, I live in a basement consisting of three rooms. I share the kitchen, the bathroom and the toilet with another family and their five children."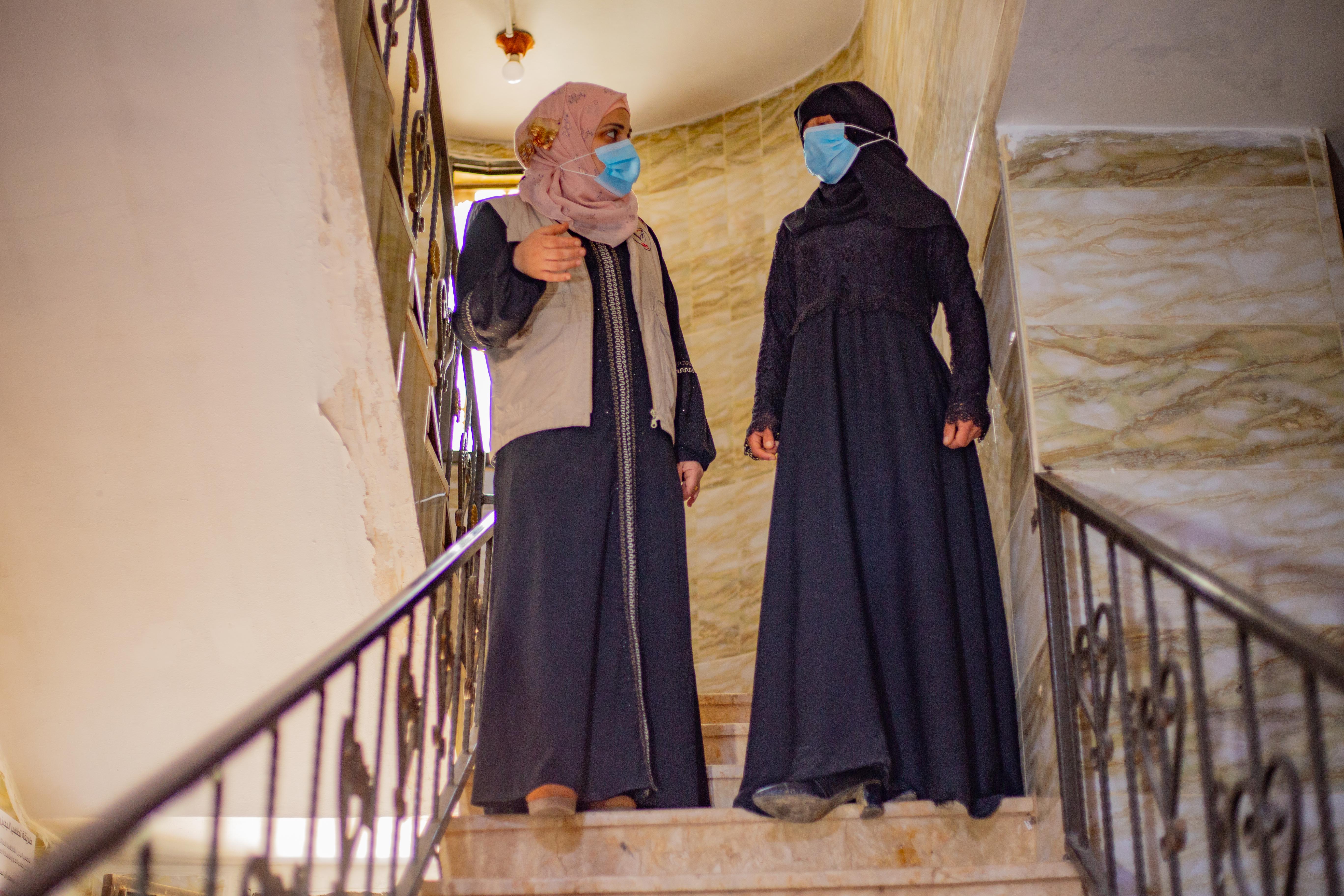 Finding a place to stay has been an enduring struggle for Nadira since her husband went missing. Adding to that, finding the means to provide for her family was another burden she had to take on. Each day was a struggle since she married early, and did not have the chance to finish her education to help her secure a job. She hardly managed to secure a small income of 20$ per month by packing sterile gauze at home. That, some little money from their grandfather and the food basket provided by humanitarian aid agencies, is what would get them through the month. All other necessities like clothes and hygiene items are scarce and make their life a never-ending struggle.  
The children stopped going to school as their grandfather and uncle feared for their safety. "My children are trying to adapt to the current situation, but it is tough", Nadira recalls. "They remember their lives before our displacement. They remember their school, their home and their friends. Those memories bring them joy, and sometimes the girls cry because they miss our past lives." 
Nadira admits that it is hard for her or her daughters not to be able to leave the house as imposed by their grandfather and uncle. However, they are the only people she has close to her and not complying with their request would make her feel even more isolated and discouraged. "I am a single woman, and I do not have a source of income, and there is no one from my family close to me. I feel confused, lost, and unable to control my life's affairs". 
The case manager immediately assessed Nadira's needs and developed a plan to employ the most critical assets needed to make her life a little easier. First and foremost, Nadira needed psychological and financial support. She was included in a psychotherapeutic program that helped her relieve psychological distress, restore confidence in herself, relieve financial pressures, and learn how to overcome problems by herself. 
At the beginning of the sessions, the case manager provided individual psychosocial support sessions. Nadira learned the technique of deep breathing, which helped relieve her feelings of sadness. Soon she became independent from her husband's family and managed to secure a new place for her and her daughters that provided them with comfort and privacy.  
At the same time, the case manager succeeded in covering some of her financial needs by referring her to several humanitarian agencies. She was granted a sum of US$300 from another aid agency which helped her buy clothes for the girls and helped her go through the winter season. On the other hand, World Vision's implementing partner provided them with a monthly free food basket that helped them keep their expenses at a minimum.  
Three months after she attended the centre, Nadira now says that she feels that her life has gotten better. She feels thankful that in the chaos of war, there was a place that resembled an oasis of peace, in which she could find rest from the troubles and fatigue of the world. The biggest gain is that now she has the confidence to face her battles by herself. "With my confidence in life and people and, most importantly, my confidence in myself, I want to continue fighting and raising my children to the best of my ability". 
Since 2019,  thanks to European Union Humanitarian  Aid  (ECHO) funding,  World  Vision has been delivering protection and health services in Northwest  Syria to affected displaced women, men and children. In the last year alone, our teams on the ground have reached more than 110,000 children and 136,000 adults in Idleband Azaz through our implementing partners. Since June 2021 alone, almost 14,000 Syrian girls and boys have received the necessary care. Our work ranges from delivering medical by supporting hospitals and health care facilities and COVID-19 preventive items to helping people recovering from trauma, PTSD (posttraumatic stress disorder) thanks to a dedicated team of psychologists and caseworkers. 
*Names are changed to protect identity.