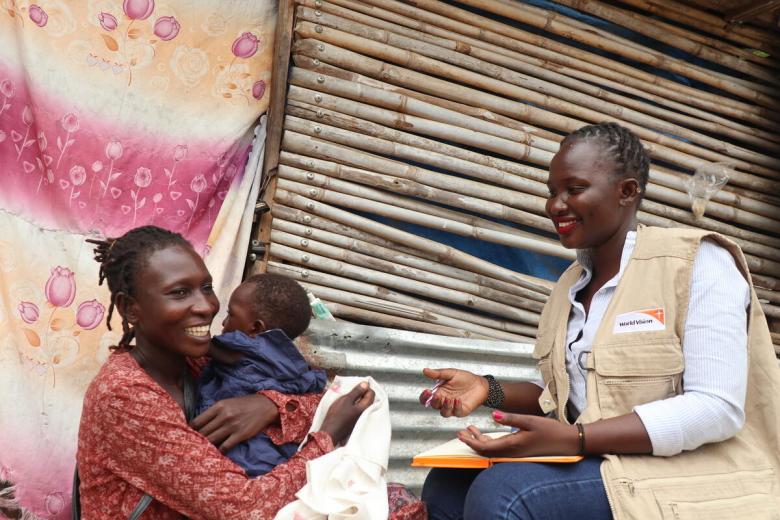 World Vision is in the hunger hotspots to prevent a starvation catastrophe for children
Friday, July 16, 2021
World Vision is responding across the globe to the massive hunger crisis which now threatens the lives of more than 41 million people.
Not only are in a race against time to get food assistance out to girls and boys who will die without it but we know, much more needs to be done, much more quickly, to prevent a children's catastrophe.
Our immediate focus as a humanitarian aid agency is to meet the most urgent hunger needs in countries with the worst food shortages. This means getting food assistance to extremely vulnerable people living as refugees, the displaced, those surviving in hard-hit rural areas and to people trapped in some of the most dangerous and difficult-to-reach places in the world.
To do this we partner with the Nobel Peace Prize winning World Food Programme as their biggest distributor of food assistance globally. We are also funded by governments, work with them and advocate to them to do more. Generous individuals, corporates and churches also donate and are a vital partner in the effort to save lives.
But as you read this, children in more than 40 nations are one step away from starvation. World Vision is working in almost all of them.
Helping get food to people in the greatest need. This might mean distributing essential food rations, or providing the cash and vouchers that allow people to buy it, if food supply chains are still working.
Providing high-energy biscuits and peanut paste to starving children and therapeutic foods filled with vital nutrients to the very weak, including children, pregnant and lactating women. These emergency rations save lives.
Supplying water and sanitation services, which might include trucking in water, setting up water tanks or purifying river water for use.
Improving the resilience of farmers in the face of drought, disasters and collapsing markets with infrastructure improvements, resistant seeds and farm tool distributions as well as training to help communities adapt to environmental changes.
Protecting children, women and vulnerable groups from the harm that the desperation to survive can bring. Programmes might focus on preventing early marriage, keeping children in school and providing psychosocial support.
We have been working for decades in most of the countries where we operate. National staff lead and respond to these emergencies and are the experts due to their local knowledge, relationships and skills. But, they say they are witnesses to a growth in violence and conflict and that this is intersecting with climate change and the economic fallout from COVID-19 to create hunger hotspots that make their countries some of the toughest places to live and work.
Despite the challenges, we believe in changing things for the better which is why World Vision's humanitarian staff work in places like South Sudan, where we fly in rapid response teams to hard-to-reach conflict-affected locations to distribute WFP air-dropped food. Dedicated response teams are often gone and cutoff from the outside world for weeks at a time.
We run refugee camp distributions in places like Uganda, where rations have already been reduced in order to send food to even more desperate people.
We are present across East Africa, which is struggling with conflict, COVID-19, locust swarms and fighting back against the effects of climate change. Our teams are running emergency responses in Somalia, in Tigray, Ethiopia – where residents are currently facing famine-like conditions; among pastoralists in northern Kenya; in Uganda's vast refugee settlements, and in Sudan. In West Africa, teams of emergency responders are at work in the Sahel, which is struggling with insurgencies, while teams operating in Southern and Central Africa's, Angola and DR Congo are deeply concerned given the many millions of people who are one step away from starvation.
In Latin America, we are working with church partners in Venezuela to hand out food aid to very hungry families who cannot afford the basics in the face of rampant inflation.
And, in Asia, our Afghan staff are working to respond in the midst of massive people movements as an insurgency spreads and worsens what is already one of the world's worst hunger hotspots. Syria and Yemen are dealing with similar issues.
World Vision has already reached millions of people with life-saving aid, but the scale of the problem dwarfs the ability of any one agency to make a dent. This is why World Vision is advocating for governments, private donors and partners to give more, and much more quickly, to prevent a global catastrophe for children.