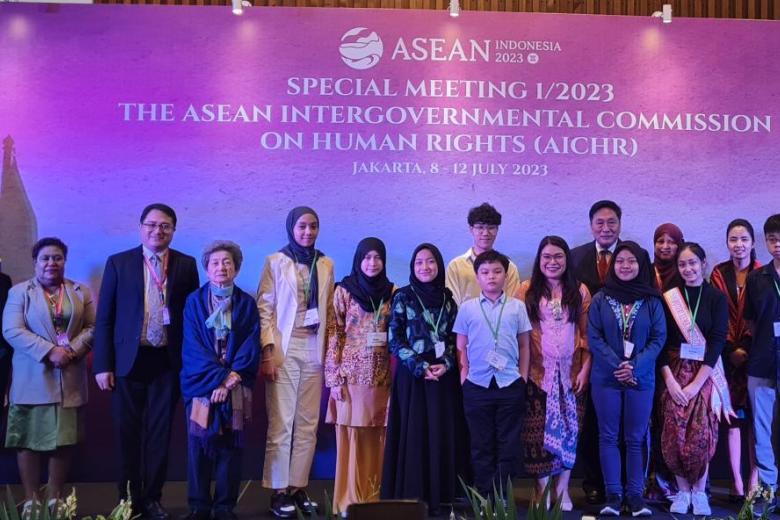 Empowering the future: World Vision East Asia leads historic dialogue for child participation
Monday, September 25, 2023
In a historic milestone for children's rights and advocacy, World Vision East Asia, in collaboration with the Child Rights Coalition (CRC) Asia and Terre des Hommes Germany (TDH) in Southeast Asia, co-organised the first-ever Dialogue between the ASEAN Intergovernmental Commission on Human Rights (AICHR) and children from Southeast Asian region. This groundbreaking event took place on July 9, 2023 in Jakarta, Indonesia.
The Journey to Child Empowerment
Traditional beliefs and cultural norms prioritising hierarchical structures and adult authority are historically commonplace in Southeast Asia, which led to the region-wide trend of not fully recognising and harnessing the invaluable perspectives and voices of children. Years of dedicated lobbying efforts bore fruit as this historic dialogue has become a reality. This event marked a significant step forward in empowering our young citizens as active participants in shaping the future of Southeast Asia.
Eleven bright and passionate child delegates, aged 11 to 17, from Brunei, Indonesia, Lao PDR, Malaysia, Singapore, Thailand, and Vietnam, came together to engage in vital discussions about creating a safer, healthier, and more sustainable environment for their generation and beyond. Two of them are child representatives from World Vision Vietnam's and World Vision Laos's programmes, representing the voices of the children from their respective countries.
The Power of Children's Voices
During the dialogue, each child delegate was granted a three-minutes to address the AICHR meeting. They eloquently shared their views on climate change, presented insightful recommendations, and fearlessly posed questions to AICHR Representatives. Chair of the AICHR, H.E. Wahyuningrum, was deeply engaged throughout the process as he actively participated in not only the dialogue but also the preparatory workshop for the child delegates. In a remarkable show of commitment, the AICHR Chair went the extra mile to conduct a debriefing session with the children to ensure their experiences were valued and heard.
A Resounding Success
This engagement with the AICHR has yielded promising outcomes on multiple fronts:
1. Strategic Positioning and Branding:
World Vision East Asia's strategic involvement in co-leading this high-level dialogue has elevated its status as a trusted organisation for children and youth empowerment within ASEAN and regional partnerships.
This collaboration has opened doors for exciting external partnerships, including potential collaboration with AICHR Chair and CRC Asia on developing a child-friendly version of the ASEAN Human Rights Declaration. Moreover, World Vision East Asia continued its engagement in the UN CRC General Comment 26 (GC26): Children's Rights and the Environment, with a special focus on Climate Change. At the regional level, GC26 is expected to pave the way for the legal recognition of children's participation in environmental decision-making.
2. Meaningful High-Level Engagement for Children:
Participating children described this experience as empowering and life-changing, reinforcing their belief in their ability to shape a better future.
3. Strengthened Partnerships at the Country Level:
In Vietnam, World Vision engaged local government partner whose representative also joined the dialogue alongside the child delegate. This fruitful engagement received positive feedback for meaningfully involving children in decision-making processes and providing platforms for their authentic voices to be heard.
In Laos, close coordination with local NGO partner Village Focus International ensured child participation in the dialogue and led to productive discussions with the Lao PDR AICHR Representative and team. This collaboration is especially vital as Lao PDR is set to assume the AICHR Chair next year.
In summary, World Vision East Asia's instrumental role in facilitating this groundbreaking dialogue underscores its commitment to promoting practical and meaningful child participation. This historic event not only empowers the voices of children but also positions World Vision East Asia as a leading advocate for children's rights and a catalyst for positive change in the region. The impact of this engagement will resonate for years to come, as children across Southeast Asia continue to raise their invaluable voices and inspire us all with their vision for a better world.