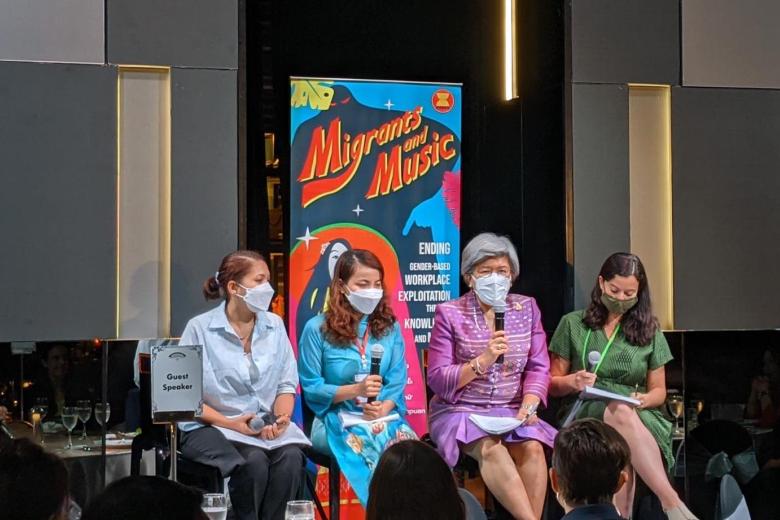 Empowering migrant women
Saturday, December 17, 2022
Safety, fairness and rights for migrant workers
"My name is Yadanar. I am a migrant worker from Myanmar. I am currently living and working in Bangkok as a part-time retail worker. I am also a migrant volunteer at World Vision Foundation of Thailand in a project funded by the Safe and Fair Programme and WHO. My brother is also a migrant volunteer. As a migrant volunteer, my role is to support my fellow Myanmar migrant workers with translation when we conduct outreach activities in Myanmar migrant communities and during the legal document application process.  
I was invited to participate in a regional meeting 1 on 4 July in Bangkok. Without hesitation, I agreed to join the event. I was the third speaker and I was very nervous. I spoke after a lady from Viet Nam who had disabilities. I felt so sorry for all the struggles and challenges that she mentioned she had faced. I admired her strength and passion for advocating for herself and other women and felt more confident to speak. 
I agreed to speak in the meeting because I would like to be the voice of my fellow workers in addressing the challenges of living and working outside our country. We have many women migrant workers who face problems and violence, but they cannot speak to anyone. We have started discussing some of these issues with each other and with World Vision. We talk about how all migrant workers - women and men - must be treated fairly and equally and have access to opportunities without facing violence or harassment. I would like to propose that employers set up a complaint and compensation mechanism and treat cases with confidentiality. There should be no dismissal based on the ground of reporting violence in the workplace. The employer should also train their staff, at all levels, on violence and harassment prevention.  
As female migrant workers, we experience discrimination and violence not only based on our gender and migration status, but also on physical impairment. This must stop now.
I am proud and very appreciative of this opportunity. The event has allowed me to learn a lot, build my confidence and understand that there are people from the government and from other countries who are here to listen to our stories and speak to us about it. 
Humanity and empathy are the most important assets in creating a safe workplace and fair conditions for all genders, especially women. This event empowered and encouraged me to continue working with different people through the World Vision REACH project and walking alongside other Myanmar women on this journey. 
As a migrant volunteer, I will work to provide information and to eliminate exploitation caused by the gap in information and access to services. Accurate information is vital; it is the best protection. I envision a society where migrant women are treated equally and have equal opportunities to jobs to pursue their dreams and happiness."