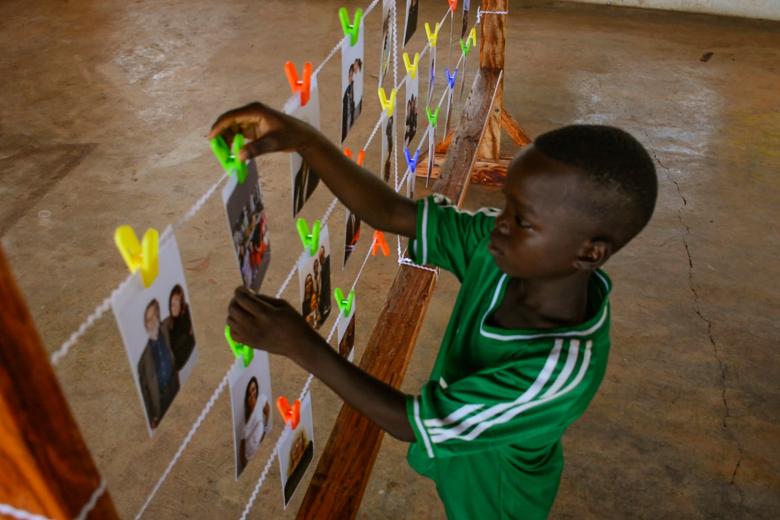 CHOSEN in Ghana: Taking Bold Steps
Wednesday, February 19, 2020
It was a clear morning in Zabzugu, a town in the Northern region of Ghana and preparations had begun for the long day ahead. Everyone on the team was busy doing various tasks, all in anticipation of the pilot edition of Chosen in Ghana. As the team rounded up preparations, the first bus carrying the child participants, accompanied by their parents arrived.
It was a remarkable sight, watching women carrying their little ones on their backs as they walked towards the tent prepared for them. The smiles on the faces of these parents as they were greeted assured the team that the day was going to be a good one. A few minutes later, the second bus arrived safely with another set of participants.
When everyone settled in, the programme started with a devotion service led by the Faith and Development Manager of World Vision in Ghana with support from resident staff. It was a wonderful atmosphere as visitors and staff from World Vision in Spain, Global Center, West Africa Regional offices and Ferrovial joined the participant families in a time of worship. Some parents even opted to lead in some song singing sessions.
After the devotion, the crowd was engaged briefly on what Chosen is and what was expected of the parents and the participants. The families expressed their appreciation of the idea that their children now had the power to choose their sponsor. Another interesting moment of the event was a dance session by parents, children, World Vision staff and all supporting staff and visitors from the partnership. This set the tone for the commencement of the main event.
Slowly, the staff directed the children as they made their way to the first stage of the programme. Parents led their children to register and take identification numbers. Soon after a number of them had gone through the registration process, the first set of children walked with their parents to a designated area to be prepped briefly.
It was now time for the first child to choose a sponsor. This was an exciting moment for everyone in the room. Staff stood back as they watched the first child walk majestically towards the stand that had an array of pictures of selected sponsors. The young boy paused for a while and scanned through the pictures. His face suddenly lit with a smile when he found his choice. He took a step forward, unpegged the picture, and turned around with a bigger smile, revealing the picture to the rest of the team. As the children continued to select their sponsors, two sponsors from Spain waited in suspense for the children that would choose them. It was an emotional moment when both of them were finally chosen and allowed to meet these children in person.
When one child was asked why he chose his sponsor, he replied:
I saw how the family closely hugged each other. It means there is love in the family. So they will love me too.