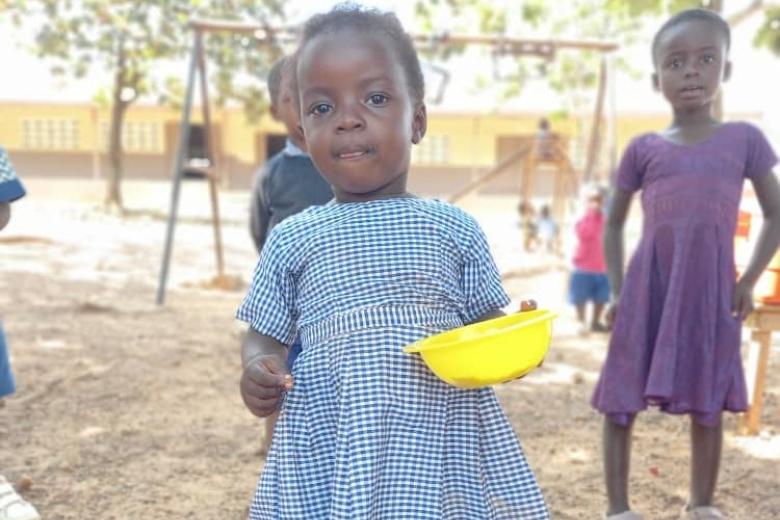 Baby Ruth, transformed after months of consuming nutritional supplements
Monday, September 12, 2022
My name is Lydia; I am a Village Based Entrepreneur (VBE) from the Oguaa community in the Sekyere East District. I was privileged to be selected by my Savings for Transformation (S4T) group to be a VBE in the community.  
My younger sister lost her life due to complications from childbirth. Lucky for us, the baby's life was saved by Grace and we named her Ruth. The lucky baby girl was cared for by her father and family.
A year later, we paid a visit to baby Ruth just to find out that our little girl was malnourished. We couldn't sit to watch our little girl grow up this way so we decided to take her along to stay with us. Baby Ruth, at age 1, had a protruding belly and her hair was not growing so well.
As a VBE, I encouraged my mother to add KOKO Plus to her meals and enlightened her about its benefits. My mother did not hesitate and started giving Ruth KOKO Plus; Ruth grew to love KOKO Plus. KOKO Plus is a nutritional supplement that can be added to any complementary food. It is recommended for all parents and sold by the project to mothers or parents who wish for their infant's healthy growth and is designed for children aged 6-24 months.
Ruth has now transformed after 4 months of consuming KOKO Plus. She now looks healthy. Her protruded belly has reduced. Her hair has also started growing well too. KOKO Plus is good for children and makes them grow healthy.
 I want to say a big "Thank You" to World Vision for introducing this nutritious meal to us and teaching us best practices for feeding our children.
Village Based Entrepreneurs are S4T members who are selected and trained by World Vision through the "Improved feeding practices for first 1,000 days" project to sell nutritional supplements to mothers.