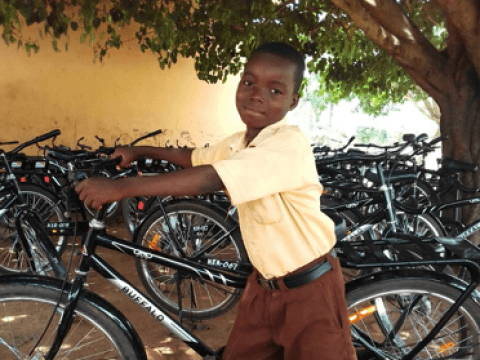 A Bicycle Goes a Long Way to Build a Boy's Confidence in School
Tuesday, December 3, 2019
Unlike some of his classmates, 10-year-old Samuel lives far away from his school. For him to get to class, he used to walk a total of six kilometres from his village – over three hours of walking! Samuel felt isolated from the other children at school and ashamed that he always came to school with dusty feet from the long walk. 
"I used to feel sad any time I come to school because my feet would always be dirty and hurting. Compared to those in town, I have to walk a long distance to school," said Samuel who is in year three of primary school in Ghana's Nkwanta District. 
Samuel would get to school feeling tired and found it difficult to concentrate on what his teacher was saying. Sometimes he also missed early morning classes as he struggled to leave the house early enough to get to school on time.
World Vision staff in the community realised Samuel needed a better means of going to school and so they donated a bicycle to him as part of their Bicycle Empowerment Program (BEEP).
Samuel was pleased to receive the bicycle and excited about the difference having a mode of transport will make on his life and education. "Now, I do everything with my friends and I see myself as one of them! I am now happy."
Samuel's mother explained, "He goes to school early and comes home early unlike previously when he would come home at night and complain he'd gotten to school late."
"I thank World Vision and all those who sponsored this project. May God richly bless you."
The Bicycle Education Empowerment Project is World Vision's response to eliminating absenteeism and late enrolment by improving access to school. Children who commute 5-10km to school daily are provided with bicycles. Having a bike means they are able to complete household chores and still be able to travel to school, thus reducing rates of children tardiness and absenteeism. To learn more please visit https://www.wvi.org/ghana/education