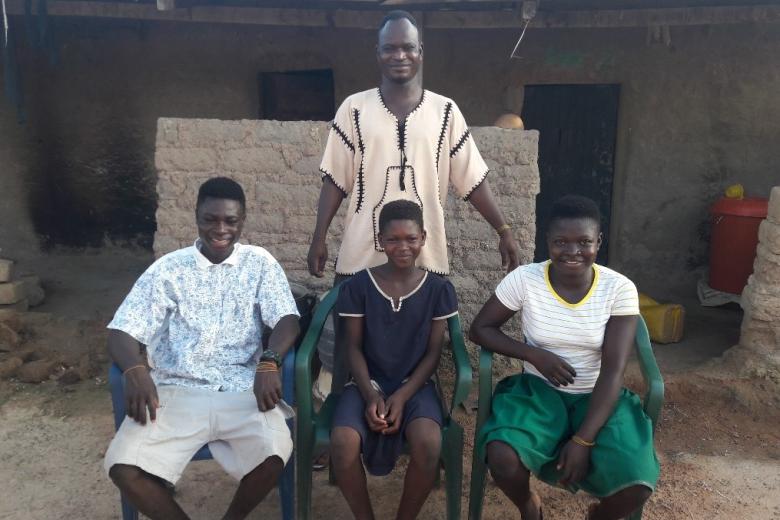 Breaking the cycle of poverty in the lives of children
Tuesday, September 27, 2022
In Ghana, poverty is increasingly concentrated in rural areas where most low-income families rely on subsistence farming for their livelihoods. Ghana has made important strides in its economic development over the last few decades, serving as an example of progress in West Africa. Yet many families still live at (or just above) poverty lines, where setbacks like an unexpected health care cost or educational expense can drive them back into poverty due to low-income levels.
16-year-old Elvis with his siblings Rufina and Sarah almost had their dreams shattered as a result of poverty. Their education was been financed by their parents until their sudden demise.  After the death of their parents, they had to go leave with their grandmother who later passed on. The reality of missing several school sessions and the lack of funds to continue school began to dawn on them. Elvis and Rufina had to take up the responsibility of the breadwinner to keep the family going at the expense of their education.
In a bid to address the needs of children and their communities to bring about transformation and long-term change, World Vision Ghana in collaboration with stakeholders implemented several programs to educate children on their rights as well as equip them with entrepreneurial skills for higher incomes to provide better opportunities to access healthcare and education; ensuring that the cycle of poverty is broken.
World Vision Ghana with support from the Child Welfare Supervisors was able to provide support to these vulnerable children. The support came in the form of educational materials such as exercise books, pens, pencils, school uniforms, backpacks, and food items. The intervention was timely in preventing the children from dropping out of school.
As part of World Vision's program activities, children were trained in animal husbandry, agronomic practices and conservation of agriculture. According to Rufina, her backyard farms have yielded many crops. She and her sisters can survive as a result of the training she underwent with World Vision.
The Child Welfare Supervisors with resources from World Vision Ghana took care of the children by creating a loving, caring and friendly environment for them to thrive. They were also supported by teachers to improve their learning abilities.
''I appreciate this kind gesture from World Vision Ghana and pray for grace so they can continue with the good work'', Sarah said with joy.
Rufina was appointed the office girl and adjudged the most humble school servant to her credit as a result of good conduct and demonstrating a high sense of responsibility.
Elvis on the other hand was appointed sports prefect and made his mark by starting a community-school football club. 
World Vision Ghana is a Christian relief organization, with the mandate to help the most vulnerable children overcome poverty and experience the fullness of life by creating opportunities for better futures for them.