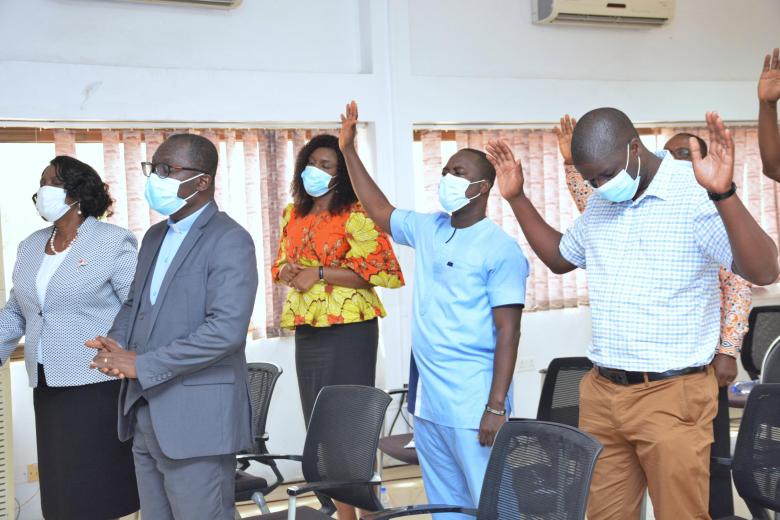 FY22 Day of Prayer in Ghana: "Each Day of Prayer has its own blessing"
Monday, October 18, 2021
The Board Chair of World Vision Ghana, Mrs Efua Ghartey described this year's Day of Prayer as a special day with its own blessing and urged staff not to miss out on it. She made this statement during the Financial Year 2022 Day of Prayer with staff on Friday, 1st October, 2021.
On behalf of the World Vision Ghana Board, Mrs. Efua Ghartey thanked World Vision staff for their efforts to bring life in its fullness to vulnerable children, their families and communities. She poured out words of encouragement on the staff, assuring them that God is accomplishing His promise through their dedication and that of the leadership. "God of hope and joy will fill us all with joy and peace", she declared.
The General Secretary of the Bible Society of Ghana, Rev. Dr. Enoch Aryee-Atta, in an exhortation reminded staff that Jesus is coming to rescue the Kingdom, adding that this revelation is what gives children of God hope. "Jesus came to give us abundant lives filled with joy, peace and hope", he said.
He further advised staff to continue to have hope in their lives, to let go off their burdens and let God take over. "Hope gives us boldness and endurance to do God's work", he said.
The National Director of World Vision in Ghana, Dickens Thunde, expressed his joy and gratitude for how far God has brought the National Office, urging staff to continue with the good work.
The West Africa Regional Leader, Carla Denizard, urged staff to remain in Christ, be faithful and fruitful in uncertain times. This means that each member of staff must cultivate and develop a strong relationship with the Holy Spirit. "We have to feed our faith and starve our doubts through the study of His word, and we have to look unto Jesus as the author and finisher of our faith", she said.
The programme progressed with intercessory prayers which were done in groups. Staff were then re-dedicated by Rev. Dr. Enoch Aryee-Atta, who also led all in sharing the benediction to end an interesting Day of Prayer.