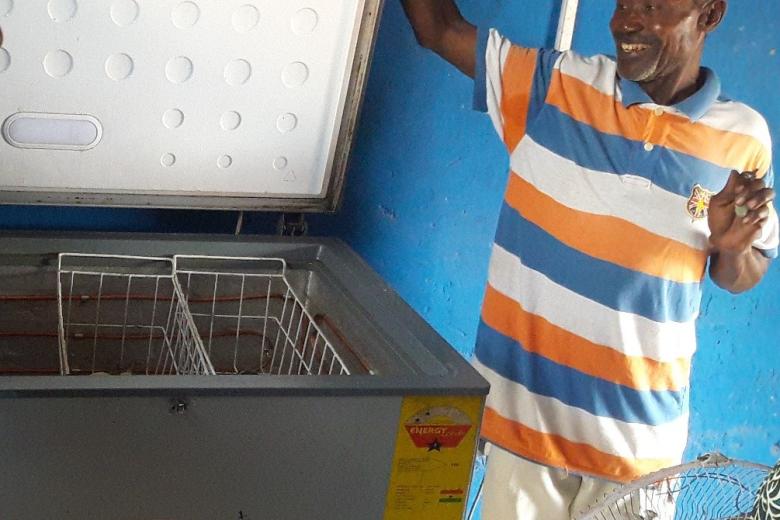 Lives of Three Brothers Changed
Monday, August 26, 2019
Isaac Donkor and Abraham Num are brothers who live and work in the Weila community in Anyima area programme. Isaac is a church leader who has been struggling financially. For a long time, he felt reluctant to join the savings for transformation group (S4T) in his community because he was skeptical of the benefits of the group. Isaac is a pensioner and a peasant farmer. Due to his old age, he cannot farm to sell. It was difficult to further the education of his daughter because of this difficulty which caused Isaac to feel inadequate at times. The Empowered World View (EWV) training inspired Isaac to join the Savings for Transformation in his community. Isaac's life has been transformed since he joined the S4T group. According to him "I can now rest assured that my daughter will have a brighter future because of the savings for transformation group I joined".
He has been able to buy a fufu machine which is an automated machine for making a Ghanaian traditional dish, as well as a deep freezer to start a cold store business, which is giving him greater profit. Mr. Donkor is now a proud and devoted member of the savings for transformation group and now trains and strengthens people in his church and community as a whole. Isaac has been able to send his daughter back to school to learn a vocation. He's also impacted his brothers Abraham Num who has started pig rearing and Mallam Abdulai Salva, who is the Islamic leader in the Weila community who now rears goats.
Both brothers have been empowered as a result of Mr. Donkor's training. Isaac is currently leading his community to raise funds for capital to start a charcoal business that will bring more revenue to the people in the community.
Abraham Num, Isaac's brother is now a member of the S4T group in the Weila community. Abraham was a peasant farmer who made very little revenue from the sales of his crops. He was not able to meet his family's needs. Thanks to his brother introducing him to the Empowered World View (EWV) training, he now has a pig farm which supplements his income from the peasant farming and has improved his livelihood. Abraham can now support the family, by paying his children's school fees, providing money for food and other basic needs. Both brothers are grateful to World Vision Ghana for a program like EWV which has helped them and their families, as well as members of his church and community.