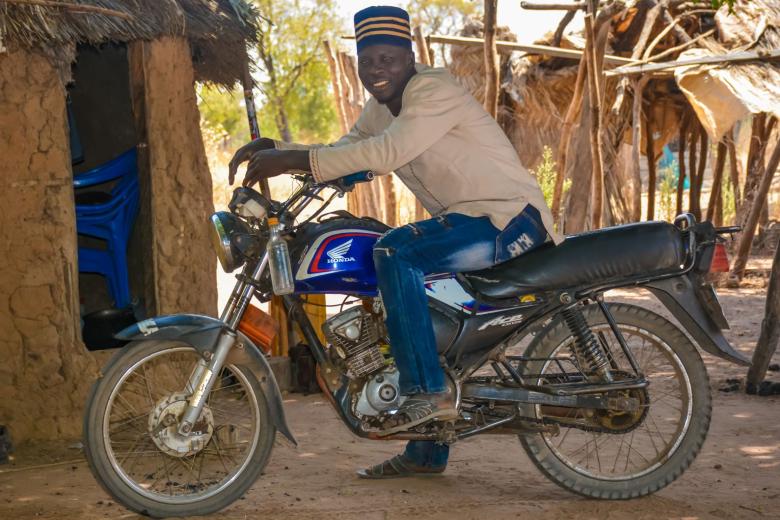 Mohammed and his "Water" Motorbike
Friday, June 12, 2020
For most people in northern Ghana, the motorbike is a priced possession. It is the most popular means of transportation and the most preferred in rural communities like Asanbori in the West Gonja District of the Savannah Region.
Asanbori is a settler community with a population of 215 people mostly made up of farmers who have travelled from various parts to farm in the area and have made it their home. The community is 20 kilometres away from the regional capital and isolated; typical of most communities in the area due to scatted settlements.
To get around, most people have to walk several kilometres. The privileged few either own a bicycle or at best a motorbike. The terrain is quite rough and dusty, and the sun can be unforgivingly hot during the day, especially in the dry season when temperatures are as high as 40 degrees celsius. Having a motorbike saves you the exhaustion of paddling a bicycle, walking long distances and the heat whilst carrying a load.
Mohammed is a 39-year-old farmer and owns one of only five motorbikes in the community and his family's livelihood largely depends on it. Every morning he wakes up at dawn, ties four 25-litre-capacity jerrycans to the back of his motorbike and rides 6 kilometres to fetch water from a stream. The stream is the only source of water in the community and both people and animals journey to it. He must do this four times in the morning and again in the evening to ensure his family has water to drink, cook, bathe and meet all their water needs.
This responsibility would have usually been left to Mohammed's wife and children but he says "I am the only person fetching water for the household because the children complain about neck pains and the distance".
The arduous task of fetching water is not only causing wear and tear to his beloved motorbike, but also denying his family their basic needs as it takes a strain on their finances. Mohammed is responsible for 10 children, 7 of which are his, and must also provide for other members of his family, especially the elderly. As a farmer, his daily quest for water leaves him tired and with little time to spend on his farm. The bulk of what he grows is consumed by the family and not much is left for sale.
According to Mohammed, "It is difficult to send money home when I am fetching water with my bike because of the expenses.  I spend at least 20 Cedis (US$ 4) every three days on fuel for the motorbike. The parts are also expensive and I usually spend between 120 (US$ 22) to 160 (US$ 29) Cedis on repairs. When I don't have money, I have to cut some trees and burn them for charcoal to sell before I can send 100 Cedis (US$ 18) home for the upkeep of the family".
In 2017, Giving in Motion, a Christian charity, visited the community and joined forces with World Vision to build a borehole for the community. This blessing has greatly changed the lives of the people in diverse ways. For Mohammed, this means his family, especially the children, can now have life in all its fullness.
"The water has saved my family and motorbike. We have clean water to drink, my children and I are healthier and I don't have to go fetching water with my motorbike anymore because the borehole is very close to my house".
Mohammed has currently moved his family to Kushau, a community far from Asanbori so the children can access education (since there is no school in his community) while he focuses on farming millet, maize, groundnuts, cassava and yam.
"Now I farm more and when the yield is plenty, I sell some and keep the rest for household use. I send 300 Cedis (US$ 55) home to pay for school fees and another 200 Cedis (US$ 37) every month for housekeeping. When I buy 20 Cedis (US$ 4) worth of fuel, I can now use it for more than a week and I don't have to burn charcoal to sell anymore".
World Vision's interventions in the area continue to change lives and Mohammed - and his motorbike - are proof of how the blessing of water can turn around the fortunes of a whole community.