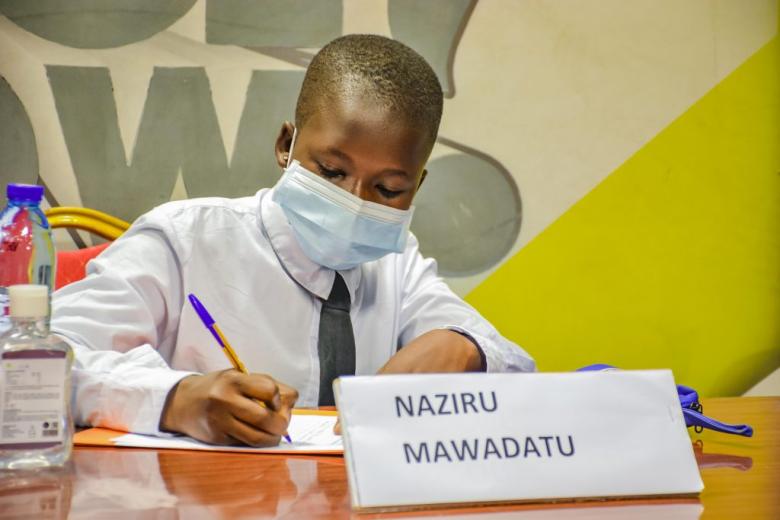 "My dream to become a journalist has been defined" Naziru - The Child Sanitation Diplomat
Saturday, February 18, 2023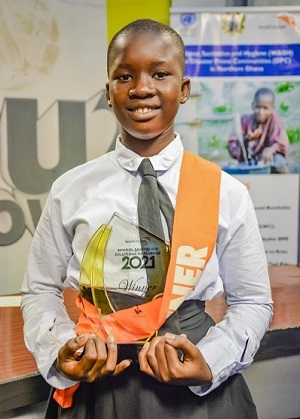 "My name is Naziru, I am 13 years old and a registered child in the World Vision West Gonja Area Programme. I was a very timid person by nature and mostly kept to myself. That is to say, I did not have the confidence to speak in Public. Even in class, I was always quiet until a teacher directly asked me a question. Although I was good in class, I was always quiet. Sometimes I shivered when I attempted to answer a question.
 My confidence level started to increase when I first Joined my school's Sesame WASH Up club established by World Vision. I later joined the Child Parliament for West Gonja Municipality and was selected to represent my community at the National Child Parliament. I gradually realised my potential and confidently applied for the National Child Sanitation Solutions challenge organised by World Vision. I went through the various stages and emerged as the national winner amongst 179 students nationwide.
I worked with Ghana Health Service, Environmental Health and Sanitation unit, World Vision and their partners to advocate for total Sanitation in the West Gonja Municipality and beyond as a Sanitation Diplomat. Through my advocacy in the area of sanitation, 10 communities were declared Open Defecation Free (ODF). I had the opportunity to advocate for improved sanitation on national platforms and engaged high-profile persons including Ghana's Minister for Sanitation and Water Resources and the revered Overlord of Gonjaland, among others. This continually increased my confidence and self-esteem.
I had the opportunity to also address Members of Parliament (MPs), Municipal Chief Executives, Chiefs and Faith Leaders during my work as the Sanitation Diplomat. Currently, my performance in class has improved. I contribute to class discussions and participate in all kinds of project work in school and in the Child Parliament club. My dream to become a journalist has been clearly defined and the path looks promising to me now. I am so grateful to World Vision and partners for this great support and life-transforming experience."
The School Sanitation Solutions Challenge seeks to unearth knowledge and solution-oriented ideas from children to solve Ghana's sanitation challenges through competition. World Vision Ghana in partnership with Zoomlion and Kings Hall media launched the challenge in 2020.