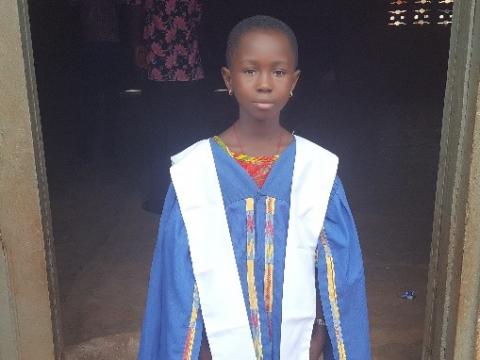 Nine year old Akosua Adoma is right honorable speaker of Diaso child parliament
Thursday, August 8, 2019
Akosua is a nine year-old pupil of the Saint Mary, RC Primary School in Ntom, and she was overwhelmingly elected the Speaker of Parliament for the Diaso Child Parliament: 36 out of 48 votes cast by her colleagues. She is the second child of Mr and Mrs. Adoma Owusu residents of Ntom a community in the Upper Denkyera West District. 
Akosua was identified by her class teacher as an exceptional pupil and therefore took interest in her academic performance and public engagements. The potential of Akosua was not in doubt when the children from the children's clubs of Diaso, Ntom and Asuadei were assembled to form the Diaso Child Parliament. Akosua demonstrated understanding of the political system of Ghana, the role of Member of Parliaments and the District Assemblies . It was evident that she had the urge to learn new ideas for her personal and academic development.
It was sad, however, when the news broke on the second day of the training that Akosua was taken ill and was admitted at the Diaso District Hospital, as everybody looked up to her to either answer a question or ask a question. To the amazement and surprise of all, Akosua surfaced from her sick bed during the election of officers and contested for the position of the Right Honorable Speaker. At the end of the votes Akosua pulled a total of 36 out of 48 votes constituting 75% to occupy the position of the Right Honorable Speaker.
The Diaso Child Parliament was formed by World Vision Ghana, to empower children to lead advocacy and campaign on issues affecting children in the District. The Parliament therefore prioritized teenage pregnancy, Galamsey (illegal mining), insults by adults (verbal abuse) and child marriage as issues they want to focus on for redress.
The first Diaso Child Parliament session was held in Asuadei community on the 28th May 2019 to raise awareness on teenage pregnancy, Galamsey and the rights of the child as we celebrate the CRC@30. Akosua took the community by storm with her sterling performance as Speaker of Parliament moderating a parliamentary debate on the need to enact and enforce laws and policies to end teenage pregnancy and violence against children.
Akosua wants to launch a personal campaign against illegal mining (Galamsey) and teenage pregnancy, which are very common practices in her community and seeks to do this with the support of her colleague Members of Child Parliament. During the media visit to Ntom, Akosua called on His Excellency, The President, Nana Addo Dankwa Akuffo Addo to come to the rescue of her school which is dilapidated and in deplorable condition.  
Through World Vision Ghana led child parliament, many children have been empowered to advocate key issues that directly impact them. They now believe that they can grow to be prominent people in future.