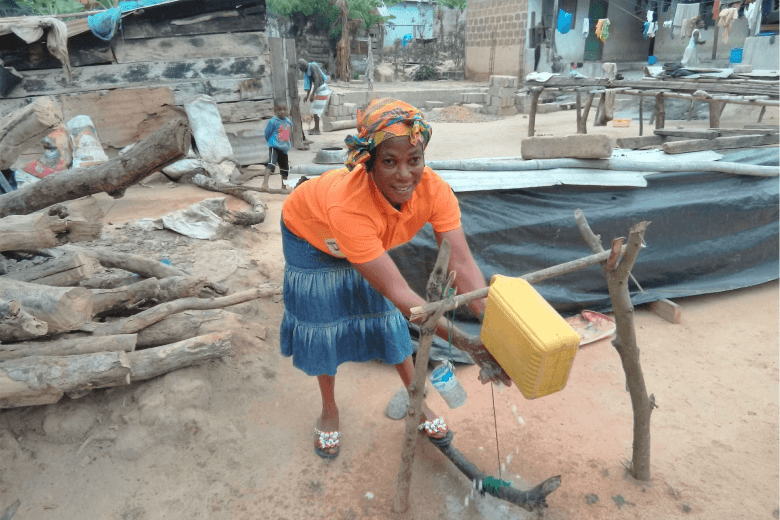 Ruth becomes a hygiene ambassador
Friday, December 11, 2020
Ruth had always heard about the importance of hand washing but never paid attention to why she should wash her hands. She held the belief that she had been living her life without proper hand hygiene for years, and yet there was nothing wrong with her. Moreover, she did not have the finances to install a proper hand washing facility in her home. After all, she already had to worry about feeding her children. Ruth explains that hand washing was not important to her because she did not understand how germs could affect her family's life and even affect her livelihood.
However, the introduction of the Nurturing Care Group project in 2019, gave Ruth the opportunity to change her beliefs about sanitation and hygiene. The Nutrition Care Group project seeks to provide households with a platform for improved behaviour change, while building evidence on improved Water, Sanitation and Hygiene (WASH) behaviour adoption.  Households like the one Ruth belongs to, came together to form neighbourhood circles. One person was selected as a volunteer who meets a promoter every two weeks for lessons on varied sanitation and hygiene issues. The volunteer then shares the lessons with members of his/her group. Ruth was chosen as the leader of her group and through the lessons, she was able to work with members of her community and make a difference in their lives.
Due to this, she has mounted a tippy-tap in front of her toilet facility and another in front of her house for anyone entering to wash their hands. She is now one of the leaders that promote hygiene in her community.
 "I am happy to see that my wife is helping other women in our community to build tippy taps just as she has done for us and is also sharing with them what she learns during the meetings", -Mr. Douglas, Ruth's husband said.