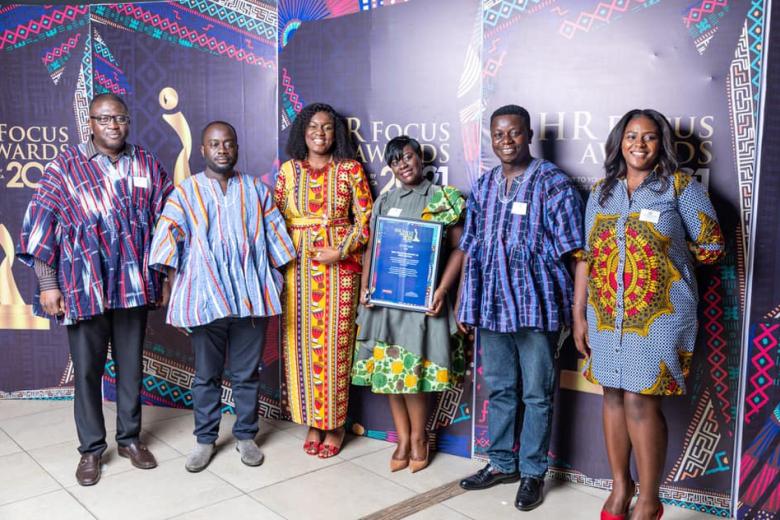 World Vision recognised at the 2021 HR Focus Awards in Ghana
Friday, November 5, 2021
On the evening of Friday 15 October 2021, World Vision had the opportunity to attend the HR (Human Resources) Focus Awards, organised biennially by HR Focus Africa –a reputable HR entity based in Ghana. HR Focus specialises in driving the full spectrum of Professional HR Practice. 
This year's theme, "Leveraging Digital Technology to Achieve Productivity Remotely", brought together top-level HR practitioners and business leaders across Ghana to celebrate their many achievements in pushing the boundaries of people strategy within the HR space and beyond. Having previously won an award in 2019, World Vision's Ghana office was once again contacted to submit its application for various categories. 
It was a great pleasure that, in addition to winning the "Best HR Management in the NGO Sector" award for the second time running at this year's awards, the office also won the "Most Outstanding Non-Profit Organization Response to COVID-19" award. World Vision was additionally recognised as a finalist in the category of "Best Organisation in HR Information Systems".
"These awards and recognition reaffirm the People and Culture (HR) department's efforts of supporting the office to have in place the right people, systems and practices thus paving the way for World Vision to be agile and responsive to change, especially during this COVID-19 pandemic era", said Akua Mensah, the People and Culture Director. "The Office has been able to quickly tailor its strategy to ensure that staff are adequately protected and equipped to still serve and bring transformational development to the most vulnerable the various communities."
"These awards have not only been a great morale booster for staff internally, but have externally placed World Vision on an even higher platform in the eyes of our local partners, stakeholders and donors within the NGO sector", said Dickens Thunde, World Vision's National Director for Ghana. 
World Vision continues to be thankful to God for these accomplishments, and looks forward to continuing to serve the most vulnerable children in Ghana, along with their families and communities.