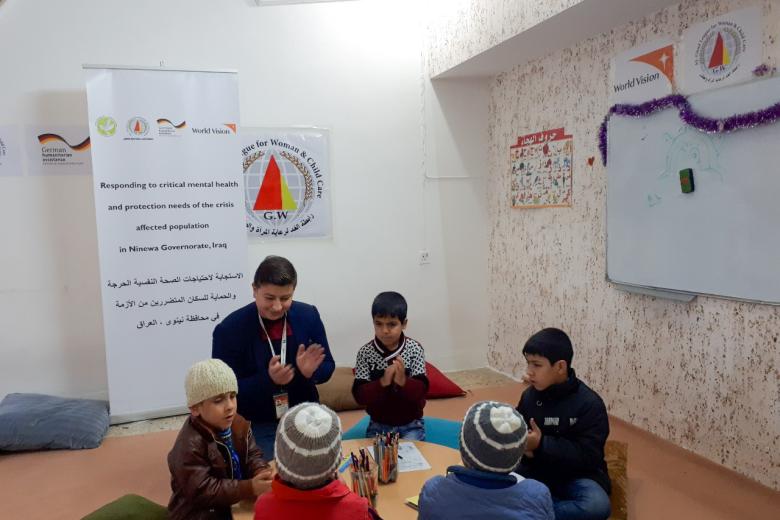 Breaking Out of Isolation
Wednesday, July 8, 2020
As COVID-19 has brought on a time of isolation for children across the world, we take a look back at World Vision's work in supporting children in Iraq. World Vision Iraq in partnership with Al Ghad organisation ran Child Friendly Spaces in Mosul through funding from the German Federal Foreign Office and World Vision Germany from January 2018 – December 2019. Here is a story of the impact of a Child Friendly Space on a boy named Adil*.
Calm, quiet, and isolated, Adil did not speak to anyone. As a blind child, he experienced the world differently than other children in his community.
At only 7 years of age, Adil already showed great intelligence, concentration, and memory but he faced a constant challenge in an environment and community that was not equipped to understand or address his needs.  Most schools in Mosul do not have the capacity and resources to accommodate children with visual disabilities. Adil's request to attend a school was rejected and, therefore, Adil was not able to enrol in school. 
In order not to feel boredom at home, Adil's father would take him to assist him at his car shop.
One day, Adil's mother learned about World Vision's Child Friendly Space (CFS) in Mosul, Iraq.  When she learned about the support provided and the way the facilitators worked with the children, she registered Adil in the hope that it would give him a chance to get out of isolation and be with children in an environment where they could learn to relate to each other.
Adapting to a new environment can be scary for any child.  Being in the CFS was challenging in the beginning for Adil.  On his first day at the centre, Adil, in a sad tone greeted the facilitator, Muath, saying, "Hi Mister." He stood out immediately to the Muath as a child that needed extra care. The entire time, Muath remained by Adil's side and worked closely with him until Adil's mother showed up to take him home.  Slowly but steadily, through touch, and with the aid of the workers, Adil began to identify the centre, the furniture, the entrance, and the exit.
On the next day, Adil arrived enthusiastically to the CFS. However, when it was time for the children to go and play games, he became frustrated because he could hear what was going on, but he could not see what was around him. Muath started from the beginning and walked him through each step, helping him to climb stairs.   When he came down he told Muath, "I feel comfortable because I am with you." With a little more help, Adil knew the games and the entire facility so well that he was able to get around on his own.
Overcoming darkness
Navigating the environment was not all that the facilitators worked with Adil to learn. They also worked with him to learn social skills. Adil was encouraged to listen to voices and identify voices with the names of other children. A very clever boy, Adil quickly remembered each child's name by their voice just like he could identify objects by touch. 
While the facilitators helped Adil greatly in learning and developing, Adil was not the only one who was helped. The facilitators worked with all the children in helping them and teaching them how to interact with Adil in a helpful manner and how to develop friendships with him. The children began to greet Adil when he came in and they learned to call him by name so that he would know they were talking to him. And, they were encouraged to help him find things he was looking for.
Playing was important for all children, but especially for Adil. It was an effective way to explore and recognize the environment, acquire knowledge and skills, and develop various forms of behavior and communication that are needed as he grows. The CFS provided a safe environment where Adil was able to receive care and support, learn to adapt, make new friends, and encounter his community in a way in which he can actually connect with them.
Adil's parents shared that they had seen positive changes in Adil's development and behaviour. In words of Adil's parents "Adil wants to go to the centre every day because of how much he enjoys it."
No longer living in isolation, Adil was learning to use his skills of hearing as his way of seeing his community. Even when listening to a movie he was developing his abilities of hearing and memory. His family expressed joy over his abilities even at such a young age.
Despite years of challenges and struggles for Adil and his family, they found a new hope and a new joy as they, along with their community, found a place to learn and grow together in the CFS.
Based on research by Iraqi Ministry of Health conducted in 2016, there are over 100,000 blind people and around 205,000 people are at risk of blindness or suffer visual impairment of some kind in Iraq.
The Child Friendly Space was one of twelve centres run by World Vision Iraq in partnership with Al Ghad organisation and funded by the German Federal Foreign Office and World Vision Germany from January 2018 – December 2019. It received 102 children on a daily basis. The twelve Child Friendly Spaces helped 6,720 children like Adil.
*Names have been changed to protect identity.