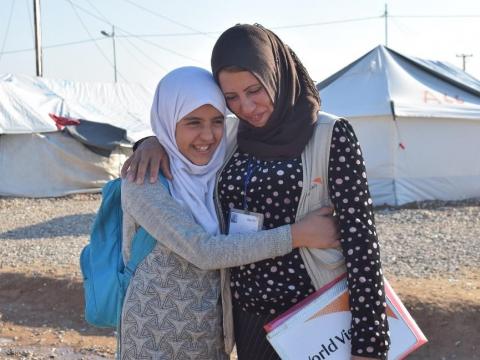 A Glimmer of Hope Amidst Change
Monday, November 18, 2019
Women are a unique, strong, wonderful group at the heart of any community. They are like flowering trees, enhancing everything around them as they provide beauty, dependability, and nurture, Zyada is one of these remarkable life-givers.
Zyada is a 36-year-old mother whose goal in life is to provide her three beautiful children with a prosperous life. To accomplish this, Zyada had to break the uneven rules that have been applied to women in many communities where cultural expectations are that women should not work. These barriers developed from different beliefs including that women should stay at home to do the household chores and to be available for the family's needs. In addition, women are not allowed to work since they might face harassments in the workplace. If men allowed their wives or daughters to work, they would face scrutiny from the community since the culture is against women working. Zyada chose to stand against these cultural norms and make a difference. She chose to be an example of change for her young daughter and the women in her community.
After the conflict began in Ninewa, Zyada and her children suffered from the miserable situation in Hai Al Amma, which left her no choice but to leave and take shelter in Hassansham U2 camp, where her new beginning started. After some time in the camp, Zyada realized that she could not just sit around idly, and she decided to become a volunteer for the WASH (Water Sanitation and Hygiene) services provided by World Vision. Joining the WASH Team, she made her first step towards positive change. Zyada learned quickly and did her job well, and it was not long before she was chosen to work as a daily laborer on the hygiene promotion team.
"(For) women, working in our community needs courage and bravery," said Zyada with a smile on her face. She followed with, "I'm glad I finally had the opportunity to work and encourage other women who struggle for the same reason" (with the cultural restrictions on women working).
Zyada is working as a hygiene promoter, responsible for providing guidance and teaching the community in Hassansham U2 about good hygiene practices. She has become a person with purpose and has been able to gain people's trust with her care, good manners, and the knowledge she gained from working in hygiene promotion. "Zyada is one of us and she represents what most of us could not do," said Rafea, a female beneficiary. "She is the link by which our problems and needs are provided with solutions."
When comparing her life in Hassansham U2 as a hygiene promoter to her old personality and life in Ninewa, Zyada said that she has become a different person. Working with various kinds of people through hygiene promotion has taught her to diplomatically work with the community and to pursue solutions for the issues that are presented by the community. She also worked with the children of the community in schools and in Child Friendly Spaces (CFSs) where she had a great influence on children's behaviors by teaching them better hygiene practices. "For us to have a fierce woman like Zyada to support us and guide us to develop better cleanliness and healthier practices is progress when thinking about women working in the community," said Manifa, whose children have been taught by Zyada in the CFS.
One of these children happens to be Zyada's 12-year-old daughter Duaa, who views her mother as her role model. She has great love and appreciation for the hard work of her mother in raising her and her two brothers while also working on the hygiene promotion team. "My mother is being a mom and dad for us, and due to her job she is able to provide us food and clothes," said Duaa.  She continued, "She has taught us how to stay clean and tidy."
Before working, Zyada struggled with depression due to the unpleasant circumstances she had been through and the stress of not being able to provide for her family. Once she started working, she found a sense of purpose. She worked with the intention of prompting others to practice good hygiene behaviors and helping them to understand the importance of hygiene to health. While raising awareness in the community, she encouraged women to take care of themselves and try to be active in their daily lives.
Zyada is a living example of women who have struggled in closed communities, where they are not allowed to have an active role in the workplace to build their society. Zyada's first step in hygiene promotion has changed her life into a more pleasant and promising one. In addition to that, Zyada has laid the groundwork for cultural change, leading the way for many other women. She is a tree, providing shelter and strength, her roots and branches extending far.