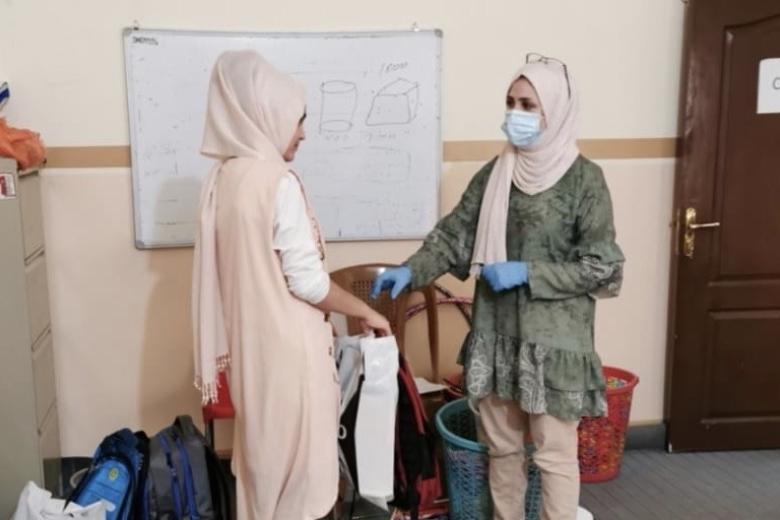 Hiba getting back to school
Monday, September 7, 2020
Hiba*,15, is spending two hours a day preparing for her exams as in the next few months she is going to have an external exam to pass the secondary school. Her favorite subject is biology and her goal is to get a degree to enter the nursing school in order to be able to support her family in the future.
Hiba stopped going to school two years ago after her grandfather died. The decision to not go to school was a mix of reasons: financial difficulty and lack of interest to study after her grandfather's death and the pressure that she had to become a grown-up girl.
Four and a half months ago, Maryam, a case worker at World Vision, and her colleague were doing door to door visits to the neighborhoods in Tooz looking for out of school students, drop outs or other children in need of psychosocial support.  One of the houses they visited was Hiba's house where they met Hiba's uncle who told them the story of Hiba.
Hiba was only one month old when her father died of cancer and her mother left her a year later to Kirkuk to get married there. From that time on she was raised in the house of her grandfather, where she lived with her grandparents, uncle and aunt. 
During the conflict with ISIL, Hiba and her family had to move out of their town. They fled to Kirkuk. After the conflict ended, they returned to Tooz, but they were still unable to move to their town because of the political tensions and started renting a house in Tooz. Renting a house added so much cost to the family, which was already suffering from financial difficulty.  Hiba, a shy young girl, had just very few friends and was self-isolating most of the time.
Getting the help
At the first visit, the case worker, Maryam, immediately recognized the isolation in Hiba's life style and learned about her dropping out of school. The first two months, due to COVID-19, Maryam was following up on Hiba on the phone. However, as COVID-19 started to become the new normal and the project was adapted, Maryam made visits to Hiba's house where she provided her with psychosocial support services to get her out of isolation and encouraged her to continue her education. The psychosocial support services are conversational sessions where a person is encouraged to talk about deep problems and issues that affect them psychologically, while also addressing their familial and social needs and issues within a community.  For four months, Maryam tried to persuade the family to have Hiba return back to school. Hiba's uncle was concerned and did not accept the idea due to social traditions. Maryam and the team at World Vision came up with the idea of having Hiba do an external exam. Despite the fact that her family does not let her to go to school because she has become a grown up girl, nor allowing her to be part of group psychosocial support sessions in the center, they agreed that Hiba take the final secondary school external exam and study from home.  Maryam shared the moment she suggested the idea of external exam to the family, "I went to their home, and I told them about the idea to do the external exam and I saw that Hiba beamed."
The World Vision team coordinated with one of the schools affiliated to the district of Tooz, to provide Hiba with books and to begin the application for the intermediate stage external examination. Hiba's uncle followed the procedures and he registered Hiba for the exam. Consequently, the team also provided Hiba with the necessary school items and she is now preparing to do the exam in the months of November and February.
The children of Iraq
In south and center of Iraq, the percentage of girls of primary school age who are not attending early childhood education, primary or lower secondary school is 10.6% whereas for boys is 7.7%;  meanwhile lower secondary school age who are not attending primary school, lower or upper secondary or higher is 29.3%, whereas for boys is 15.9%.  As the data shows, child girls in Iraq are at particularly greater risk of being forced out of school as they reach the age of attending secondary school. For a girl like Hiba, the pressure on her has been strong as her uncle spends on two families and is facing particular financial difficulty and pressure of social traditions.
Tooz governorate has been severely affected by the conflict with ISIL. Continued conflict and political tension and lack of safety puts children at high risk.  According to a Multi-Cluster Needs Assessment (MCNA), girls indicated they feel less safe from and protected from violence. The MCNA report indicated that 3.5% of interviewed head of households in Tooz have at least one married child with age of 12-17 years.   According to the gender analysis conducted in Iraq in 2017 by World Vision, many basic forms of GBV are considered normal behavior due to traditional practices and a lack of awareness of women and girls of their rights.
Children who do not go to school or who are drop outs are cut off from their natural protective environment and exposed to a variety of risk. Increased poverty as a result of the conflict also creates pressures for families to utilize negative coping mechanisms that impact women and children such as forced marriage and child labor.
After four and a half months of providing support to Hiba, Maryam shared, "The optimism in her face makes me very happy. Her face tells it all. In the first visit, she was unwelcoming, but after that, she would open the door and would welcome you and when you talk to her she would start to answer you. Now she is considering as me her family."
What World Vision has been doing to protect children in Iraq
World Vision Iraq has been using variety of programs and approaches to make sure that children enjoy their childhood and have a protective environment through psychosocial support programs, community intervention support programs, catch up classes, and rebuilding schools for children. In 2019, World Vision helped 12,744 children build their life skills and resilience through psychosocial support programs in multi-purpose community centers, 3,586 vulnerable students received back to school learning materials and 3,090 at risk children were assisted through specialized case management services.
The Family Well Being Center, is a child protection consortium funded by UN OCHA and lead by World Vision in partnership with WCUK and PAO. It directly supports highly affected out-of-camp IDPs and returnee communities in underserved displacement and return areas in Tilkaif, Tooz, and Kirkuk through the provision of specialized child protection services and community-based support interventions where the team make door to door visits to find child at risk in the neighborhoods and provide psychosocial support services. Through this center, 206 benefited from case management services and 1520 were supported with psychosocial support services.
*Name has been changed to protect identity.