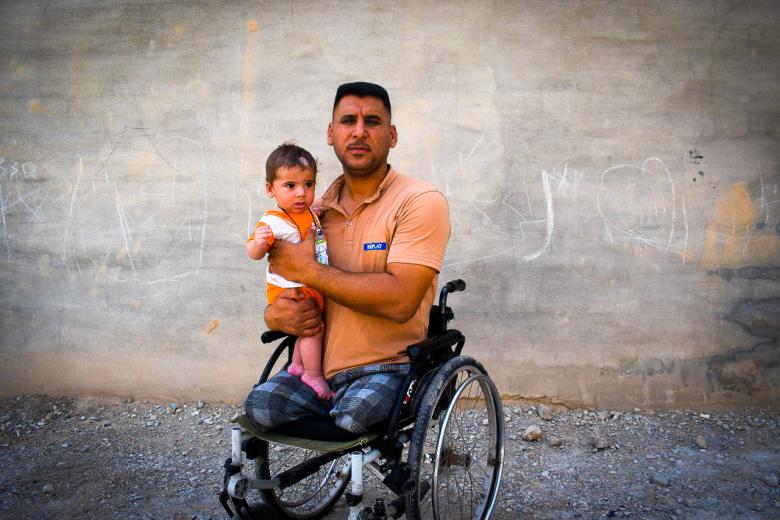 The Hidden Warrior
Wednesday, July 27, 2022
Taha (39) remembers his childhood as sunny and beautiful in the north of Diyala governorate in Federal Iraq. He mostly had an ordinary life, although Taha had to leave school to help his family make ends meet by herding sheep. Still, he was satisfied and happy.
However, one day, life drastically changed for Taha. When Taha was just fifteen years old, on a particularly bright and sunny day, he remembers he was taking the sheep to a nearby hill. But this was not a typical day – this was the day he found a mine on the ground. Taha picked it up, thinking it was something to play with, and the mine exploded.
Ninety-seven percent of his body was injured and Taha lost both of his legs. He spent three months in the public hospital for treatment. Taha shares: "After becoming disabled, I felt depressed and bored. I felt my life had become very difficult." During those early months after he had become disabled, his parents were mostly assisting him until he became stronger and started to rely more on himself. Soon after Taha could leave the hospital, he started to accept the reality of being disabled and joined the basketball team for children and youth with disability. He still plays basketball, with a team for persons with disabilities (PWD). He and the team now even play tournaments against other PWD basketball teams in Iraq. Four years after the accident, he moved with his family to Kirkuk, where he lived with his parents and brother. Today, Taha is married and has two children. His youngest child is six-months-old and the family still lives in a house with his parents and brother's family of four. The closest people to his heart are his wife and his two little children.
Taha today is self-reliant. He sells different products, foodstuff and dairy in his shop in his house and he makes a living for his family. Despite all that he went through, Taha still has dreams. He states: "I dream that my children can live with dignity and don't have to rely on anyone. I want them to be educated and understand the sense of life."
However, throughout all these years, Taha has lived in a house that is not PWD-friendly. His house is not at ground level and the restroom is not PWD-friendly either. Taha shares, "Life is always challenging, especially for the People with Disabilities. There are often accessibility issues at home or in public places."
World Vision Iraq in partnership with Rozh Society, an Organization of Persons with Disabilities in Kirkuk, and through private funding from World Vision Taiwan and World Vision USA is implementing a project in Kirkuk and Hawiga to provide people living with disabilities with easier access to Water Sanitation and Hygiene (WASH) facilities at household (HH) and community -level. Taha has been selected as one of the beneficiaries for HH-Level people with disability-friendly WASH rehabilitation. Taha shares: "They (World Vision) visited us several times to do a needs assessment. They are planning to do a ramp for the garage door and make the restroom easily accessible. They will also construct a shower, a western toilet, and a chair for me.''
The past wars and armed conflicts in Iraq have left many people disabled. Even if the war is over, the remnants of war continue to endanger the life of the people of Iraq. With little help and support, people like Taha can have a better quality of life and live a life with dignity like anyone else.
Through this project, World Vision Iraq and its partner Rozh Society will rehabilitate Water Sanitation and Hygiene (WASH) facilities in 60 homes of persons with disabilities from thirteen to forty-seven years in Kirkuk and Hawiga and make 13 public facilities such as schools, health centres, and government offices accessible for persons with disabilities.