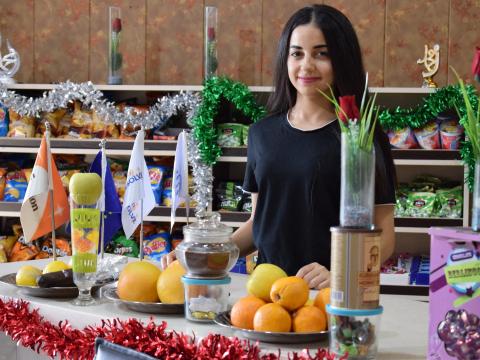 I feel happiness as I know I have a goal in life
Thursday, October 17, 2019
Reema* is a 23-year-old girl from Duhok, Iraq.  She is in the twelfth grade in high school. She lives with her parents and two brothers in a small rented apartment.  
After the conflict with ISIL, the Kurdistan Region of Iraq experienced a severe economic crisis. The brutality of economic crisis took a great toll on her family. Her two brothers dropped out of school and decided to look for a job to help their father, who has a chronic disease and needs to take medicine every month.
A normal day for Reema was to spend the hours helping her mother with house chores. She would finish her house chores and would watch movies. Passing her days this way was not easy for her. Deep inside her, Reema was feeling isolated as she didn't have many friends to talk to or hang out with. She was also feeling hopeless because she felt that she couldn't do something meaningful to help her family overcome their poor economic circumstances. As they didn't have any income, her family always depended on their relatives for help and support. Being the eldest sibling in the family, Reema felt compelled to take the responsibility. Without work, they struggled. As the days and months passed, she was feeling more and more despair. 
However, one day, Reema's life was changed when Youth RESOLVE project team approached her. She was immediately considered eligible to participate in a vocational training program. She chose to attend the cooking training.
Reema shared, "Cooking has been one of the greatest schools in developing my character. It can be instantly rewarding, a great celebration of flavor. It turns quickly into a life lesson, keeping you humble with lots of opportunities to learn about loss, imperfection, acceptance, perseverance, grief, willingness and ultimately, simple forgiveness, that you either quit or try again."
Reema was so successful in her training that she graduated from the course with high marks and was enrolled to the list of apprentices. Reema was eligible to participate in the Youth RESOLVE project's three month apprenticeship. This gave her a great chance of employment. 
Reema started working for Sewan Private Center, a women's beauty and fitness center. The center provides services to women and girls such as beauty styling, body cleaning, hair dressing, sport exercises, and resilience exercises.  The center also has a swimming pool and a cafeteria.  Reema worked at the cafeteria where she served customers who were solely women.  She assisted in preparation of cafe counters.  During her shift, she provided quality customer service.  She gracefully handled customer complaints and reported back to her manager.
Reema's family has become increasingly proud as they have watched her confidence and skills improve.  With her monthly income, she was able to help support her family for both the cost of the medicine for her father as well as other living expenses.  
After Reema completed her apprenticeship, she was immediately offered fixed term employment at Sewan Private Center. 
In her opinion, livelihoods projects are tremendously useful for youth because it keeps youth away from negative feelings and thoughts.  These projects are not only a source of livelihood for youth but also a means of empowerment for them to improve their skills, self-confidence and positive attitude.
"Now I feel I am more comfortable psychologically as I have integrated with people from different backgrounds and ages. I feel happiness as I know I have a goal in life I can pursue.  My time is managed and my life is more balanced," said Reema.
She hopes to get better opportunities in the future. With a big smile she said, "My future dream is to continue my studies and to open a center like this working as a fitness trainer, as my current work motivates me for this path."
According to a survey conducted by the Kurdistan Region Statistics Office, the United Nations Population Fund, and the International Organization for Migration, youth in Kurdistan have great challenges finding employment. More than twenty percent of those between 18 and 34 are outside of the workforce and are reported to have lost hope in finding employment.
World Vision Iraq, with a fund from EU MADAD, implements the Youth RESOLVE Program, helping 250 youth like Reema from host, IDP and refugee communities to improve their skills and find better employment opportunities.
*Name has been changed to protect identity.