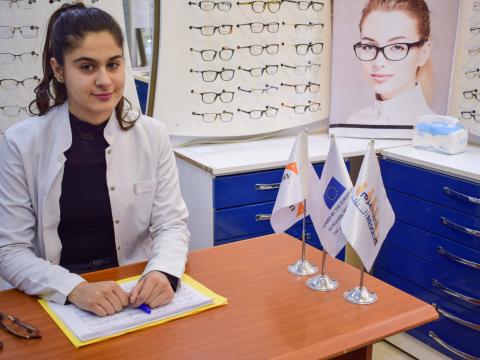 New Opportunities for Yara
Thursday, May 30, 2019
Yara, a 19-year-old Syrian refugee lives with her family of 7 in Domiz Town, in the Kurdistan Region of Iraq (KRI). In June of last year, her family had to leave their home country of Syria to the KRI due to brutality of the civil war and economic decline.
From the time they became refugees, their lives became very challenging. Yara's family could not find a shelter, even an empty tent, inside the refugee camps and at the same time they could not afford to rent an apartment. Like many other families from Syria, they used an unfinished building for shelter. The living conditions deteriorated during the winter, and the family decided to leave the unfinished building and split up to find better shelter. Yara did not have many options and so she was forced to live with her aunt's family, along with her mother, sisters, and brother in a small house with only two bedrooms. Her father had to live separately with her uncle for 6 months until he was able to re-unite with his family. As a result of their poor financial situation, Yara and her sisters tried to seek opportunities to help support the family and cover basic living expenses.
Yara used to spend her time either reading English magazines, which she brought with her from Syria and some old magazines from her neighbour's collection, or watching English movies on TV,  as she was very interested in learning the English language. "I was pursuing ways to continue with an ongoing learning process on a personal level, as I believe this will enable me to build my capacity with new skills and will assist me in finding job opportunities in the future to provide some income for my family," shared Yara. "I went through some hopeless thoughts as it was not easy to find work due to the lack of job opportunities, especially for me as a refugee female. That was all before becoming a MADAD Youth RESOLVE Programme beneficiary."
"Youth RESOLVE Programme gave me the opportunity to start a new life (and) it impacted my family and personal life toward better living."  -Yara
Yara's parents were unemployed despite their efforts to seek employment. Her family relied only on their relatives for assistance and support for living. "Because I am the oldest of my siblings, I felt responsible for my family. As days were passing, I started to feel the situation was becoming more tough on us," said Yara.
One day, Yara felt she saw "some brightness coming out at the end of the tunnel" as she learned of an opportunity to participate in a vocational training through the Youth RESOLVE Programme. Yara's aunt, who was working with a local NGO as a youth officer, brought her a vocational training application form to apply. Excited to take advantage of the opportunity, Yara filled out and submitted the form as required. A few days later, the programme team called saying that she was enrolled in the English language skills course. Yara was excited to be part of this course and looked forward to opportunities that it could lead to with future employment. Through the course, Yara started to improve her English language skills very quickly. She was encouraged by the instructor to practice conversations in English. As a result, she started to meet new friends from different backgrounds. "I could enjoy my life starting the day I participated in the training course," said Yara.
"There is always hope despite fleeing, darkness, and poverty." -Yara
After graduating from the English language skills course, Yara was identified as a talented graduate and a candidate for the apprenticeship track of the Youth RESOLVE Programme. The team was able to find a job opportunity for Yara close to where she was living in Domiz, at a medical centre called Dara Medical Complex. Yara was very interested in this job and started to work in the field of producing medical optics of eye glasses and lenses. She started to gain new skills and experiences. Yara says her family is very happy with her role now as she has become very confident and can build networks in the community.
The monthly stipend she used to receive from Youth RESOLVE was spent mostly on her family's basic needs, as she was giving most of her stipend to her mother. Yara said soon her parents will try to find a house so that they can move on as she can help pay the cost of the rent.
Yara completed her apprenticeship with high quality work and a positive attitude. She was immediately offered a fixed-term contract to work with the medical complex optometric department.
"She is not the type of people that would sit around, cross her hands and wait for you to do something for her. She is actually very creative and a very self-driven and active person." -Yara's Supervisor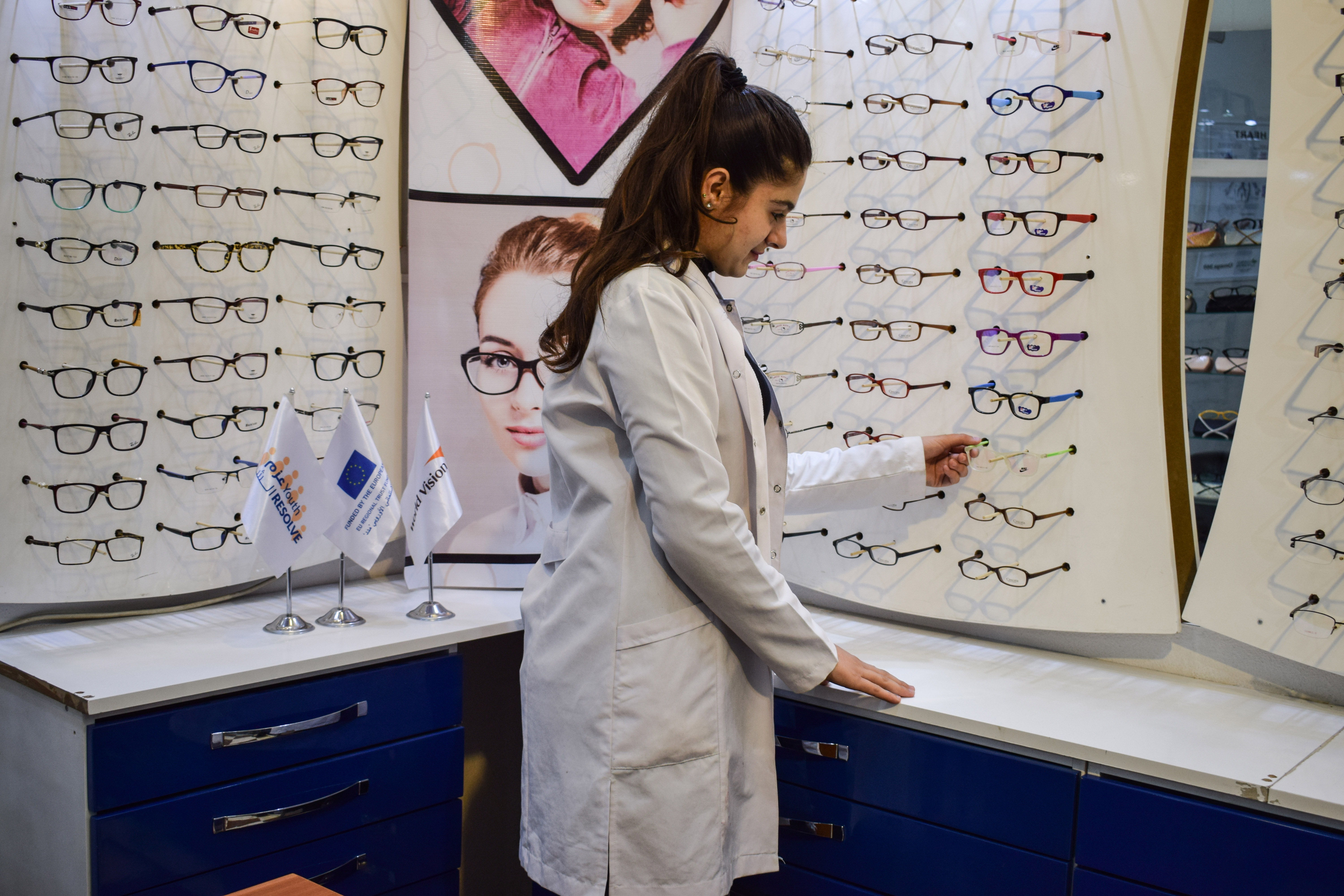 Yara said, "I am very optimistic that I will earn better opportunities in the future as well and will keep improving my skills and expanding my experience." Yara said livelihoods programmes are tremendously useful for youth because they help youth refute negative feelings and thoughts. These projects are not only a source of livelihoods for youth, but also a means of empowerment for them to improve skills, self-confidence, and positive attitudes.
With a glimmer of hope in her eyes, Yara said, "My future dream is to continue my studies and to become an oculist, as my current work motivates me for this path. I feel that being an oculist is one of the best areas of medicine that one could take and practice. God does not really impose suffering on anyone (like the very idea of being blind or having eye defects) but wants everyone to realize that in their simplest and modest ways, they can really become the blessing of God to those people, allowing them to see how beautiful life is."