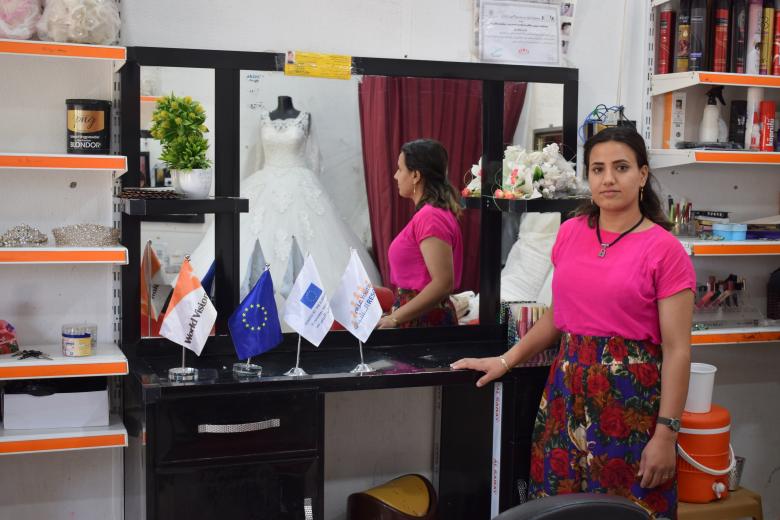 A Restored Future After Conflict: Haiv's story of surviving conflict and struggling for a new life
Sunday, November 10, 2019
It was August 3, 2014, when ISIS attacked the town of Singal, home to many Yazidis. Haiv (now 25) recalls, "It was around 5:00 pm when we started hearing gunshots. My father was fighting them (ISIL), and he came back at dawn and told us that we had to leave immediately. We moved to the mountains where we spent a week. Then we moved to stay in a temporary shelter in a school in Duhok."
Ever since then, Haiv has been living with her family of ten in Sharya IDP camp in the Duhok Governorate. 
While they had found safety, Haiv's family was facing challenges meeting their daily needs. Haiv decided to participate in different kinds of trainings and sessions such as English, time management, stress management, psycho-social support training, and IT provided by various organizations inside the camp.
After much personal and professional development from Haiv, she was able to finally secure a job at a local organization as a social worker.  She worked for a duration of six months where she was able to empower other female members of her community.  However, her efforts at the organization couldn't continue as the project ended.  "When I was a social worker I helped clients adjust to changes and challenges in their lives.  I felt happy because I helped some people who were really in need of me," Haiv shared. 
Haiv tried to find other employment, but it was not possible as there were very limited opportunities inside the camp.  Due to lack of job opportunities, her parents couldn't find a job for years. As a result, their family had no income and were relying on humanitarian aid to live, as well as the support from relatives who had better living conditions. 
As the eldest sibling in her family (she has three younger brothers and five younger sisters), Haiv felt responsible to do something to fix their vulnerable situation. At that time, she was feeling pessimistic about finding a job.
One day, her peers in a youth center told her about the MADAD Youth RESOLVE Project, which builds youth's life skills and employability in the camp. 
Haiv received orientation from the project team about the steps for submitting vocational training (VT) applications. She applied to participate in VT at the end of the life skills sessions. She was hoping to be selected, and out of the list, she wanted to participate in the makeup training course.
"In my less than two-month participation of makeup vocational course, I learned a lot.  I am very hopeful that this knowledge will help me to find a sustainable job one day or to open my own business, and eventually fulfill my goals," said Haiv.
"She is a great role model that every young girl should follow," shared the owner of the hair salon.
With her high performance and grades during vocational training, Haiv was enrolled in the list of apprenticeships. She was later placed to work in one of the local females coiffure shops for a duration of three months.
She started by assisting the owner of the salon by answering clients' phone calls, washing clients' hair and mixing hair colors as a gradual process of engagement towards the higher tasks.
Day by day, Haiv gained additional skills and was trying to apply what she has learned from the vocational training course.  Haiv showed an enthusiastic attitude towards the apprenticeship opportunity in front of the salon owner.  As a result, she was offered a fixed-term employment opportunity. "She learned many skills easily and she always asks the rights questions when she faces challenges in work," shared the owner of the hair salon. She continued, "She is a great role model that every young girl should follow."
Having a job made Haiv's family very happy, which has improved part of their financial needs. While she keeps a small portion for her own needs, she gives the majority of her income to her family to cover their daily needs.
"It was a great opportunity to be part of such an intervention that changed my life in a positive way.  I feel that our voices are being heard," said Haiv.
Haiv has set some goals for her future including going to college to study psychology, as she believes that she can manage her education and work-life in parallel.