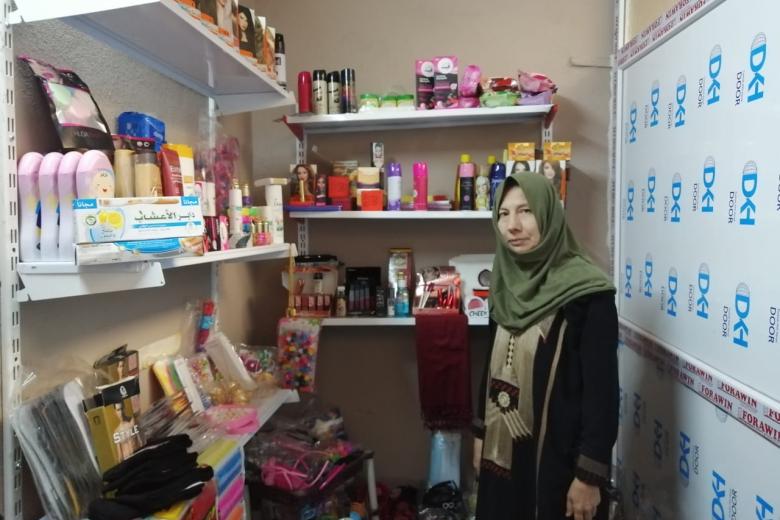 Rising from the Ashes: The Empowered Women of Old Mosul
Tuesday, November 10, 2020
The conflict that devastated the city of Mosul left families devastated as well. Today, Rafida, 54, is living with her son in the heart of old Mosul, once so beautiful, surrounded by old mosques and churches.   Like many women in Mosul, she lost her husband right after the conflict with ISIL. He never recovered from his injuries. Rafida's financial situation was already grave, but it became worse after her husband's death. 
Rafida has always been a strong woman relying on herself to support other family members. From the age of 19 until she got married at 32, she was the head of her household and solely responsible for her mother. During those days, she was working for the public sector.
After she got married, her husband had her leave her role at the public sector because he thought the salary wasn't worth it.  She stayed at home taking care of the house and her children.  When her husband became chronically ill and she had to do odd jobs to make ends meet for her family, she became, for the second time in her life, the breadwinner.
Then came the conflict, and with it, the loss of her husband.
Losing her husband was hard on Rafida and hard on her children, then 17 and 16.  Both children, Ayman* and Layla*, were psychologically distressed after the loss of their father. They left school because they couldn't afford it financially and, emotionally, felt that they no longer had support in the world. 
Like many unprivileged families, Rafida didn't have many choices.  After Layla left school because she couldn't afford it, Rafida had her got married.  "She was sixteen and a half when she got married because our financial situation was bad," says Rafida.  She is (now) living with her in laws and is financially not good."
Rafida knows that Layla's dreams are as shattered as the city where she lives. "She wishes to build herself," she says. "She wishes to continue her education but as you know the people in Mosul are conservative."  In Rafida's community, like many of the conservative communities in Iraq, young girls are not encouraged to continue their education or work but instead are encouraged to get married to save the honor of the family.
His father's death was especially hard on Ayman, Rafida's son, as the only male in the family..  During those days after his father's loss, Ayman could only get the chance to work sporadically and sometimes in a week he would earn 20,000 IQD ($US 16.79) and sometimes nothing at all.   "He worked in a bakery for a while," says Rafida. "I swear that he was working from morning to down for only 4,000 IQD ($US 3.36). He was threatening to commit suicide. He tried to scare me and his psychological state was very bad."
Fatherless, unschooled, and without a future, Ayman felt like a failure. 
A visit that changed her life
One day earlier this year, Rafida was visited by a World Vision team who suggested to her the idea of joining a group of women for economic empowerment project. "I was surprised first time when I saw them," she says. "I was hesitant in the beginning. But they were very good.  I become psychologically more comfortable.  All in the neighborhood encouraged me and they said that this will help you -[have something to keep you busy] and get a source of income."
Today Rafida is part of a 62-women group in old Mosul who participated in an economic empowerment project.  During the 10-month training, Rafida's life changed significantly.  The World Vision team worked closely with Rafida and trained her on how to run a project and on how to create a savings group among the women in the project. With micro grants and the help of marketing and business management trainings, Rafida's financial life has changed. She was able to open a small store for women's clothing and cosmetics in the yard of her home.  Joining the project and being able to open a store not only helped her financially, but it also emotionally changed her son's psychological state. "But he changed," she says. "and now -[helps out around the house.]"
With this new income she gets from her home, she is able to pay now for the power generator, pay for her son's expenses, and give him pocket money.  Rafida wants in the future to use her savings group money to buy a camera for her son so that he will be able to run an event photography business for himself.
Now Ayman can start dreaming again.
This economic empowerment project has changed the women in old Mosul feel about themselves in a place where men are traditionally the breadwinner of the family. "The women became the most important at the house," says Rafida. "Through your project she become the caregiver and also the breadwinner.  The project developed women. Many (women) are married but have no income."
And it's not only widows who have become the family breadwinners. "Like Azhar," she says, "her husband is there but she became the head of the house and stood by her man and become the responsible for the house."
Azhar's life transformed as a result of the project says Rafida."You made them support each other," she says. "You encouraged them and made equality and love between them.  When he (the husband) sees that her woman is standing by him, he starts to work and share her the work.  Also (he starts to) emotionally support her.  You raised their awareness and made one rely on the other."
Rafida's son has noticed a difference in how women and men now interact. "Also my son says it is by the help of god and my mom," she says.  "The women benefited more.  The man and the woman became emotionally more comfortable now there is an income."
Rafida is one of 62 women who participated in a project conducted in West Mosul by World Vision Iraq through a fund from World Vision Australia. The people in Mosul suffered during the years of conflict including the shortage of food, electricity, medical services, and education. The poverty ratio increased, especially after the conflict ended and the city was severely damaged. The number of widows and orphans also increased. In response, World Vision Iraq and World Vision Australia started implementing a livelihood project with the goal of strengthening the resilience of vulnerable women like Rafida through economic empowerment. 
The city around them may have been devastated by conflict, but in Mosul, 62 women are rising from the ashes—and bringing their families with them.
*Some names have been changed to protect identity.