Fostering livelihoods amongst the youth through vocational training
Wednesday, October 21, 2020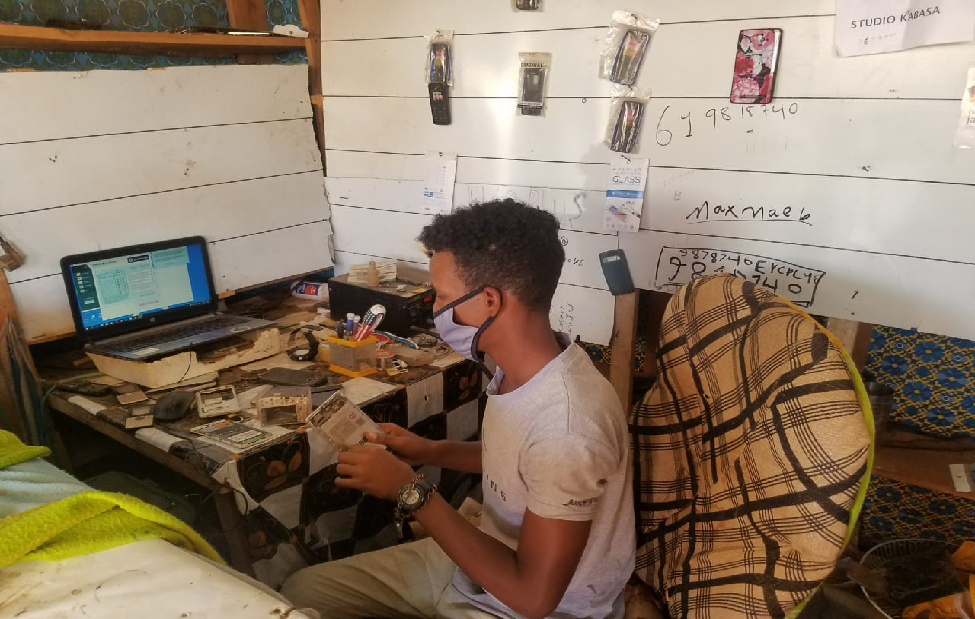 The rising youth unemployment rate is one of the most significant problems facing developing countries like Somalia. Guled Shafici, 20, a father of a six-month-old child is one of the selected BORESHA Project Technical and Vocational Education and Training (TVET) beneficiaries in Kabasa IDP camp in Dolow District, Somalia. 
Guled was one of the lucky beneficiaries who got the opportunity to be enrolled as a mobile phone repair student in early 2020. He comes from a low-income family background which was a stumbling block for him to get formal education. Before he enrolled for a TVET course, he struggled to secure any casual job.
At the TVET learning facility, Guled learnt a lot about phones –troubleshooting, repair and re-setting them when the password is forgotten. After three months of learning, he gained a lot of skills enabling him to open his small phone repair business shop at Kabasa IDP camp.
Today, he attends morning classes and operates his shop in the afternoon. During the first month of his business, he managed to get a few customers and made a profit of 50 US Dollars. By August 2020, he was very happy to have attracted more customers earning him a profit of 90 US Dollars.
"I am now very happy that I can provide milk and medical support for my child. I thank World Vision for a chance they gave me to learn. Without gaining these skills I would not have been able to give good care to my child,'' Guled says.
After graduating, Guled hopes to get more customers and pursue business development skills training (BDS) which will help him to know more about how to run a business successfully.