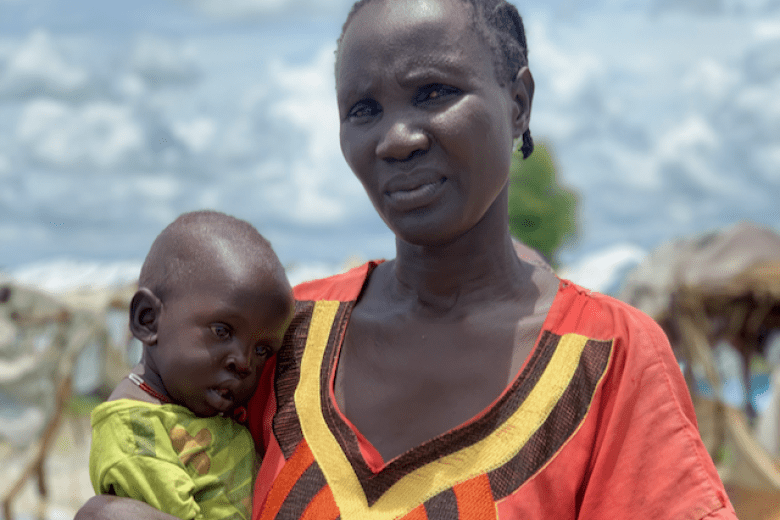 Flooding forces displaced people to uproot again
Friday, September 9, 2022
South Sudan faces a series of displacement crises due to armed conflict and natural disasters. Earlier this year, 24-year-old Aluel and her four children became part of the over 2 million internally displaced persons in the country.
Aluel and her children fled their home because of violence near Aneet Payam, located at the border of Twic and Abyei administrative areas in the far north of South Sudan. 
Aluel's family depended on farming in Abyei, but their agricultural endeavours ended in January 2022.
"We tried staying back after the conflict erupted but watching people die prompted us to flee to safety," she says.
Aluel and her children braved an estimated 17-kilometre walk to reach Aweng Payam, a village in Twic County, Warrap State, leaving behind all her belongings. On arrival, she received plastic sheets to construct a temporary shelter and blankets from partner agencies.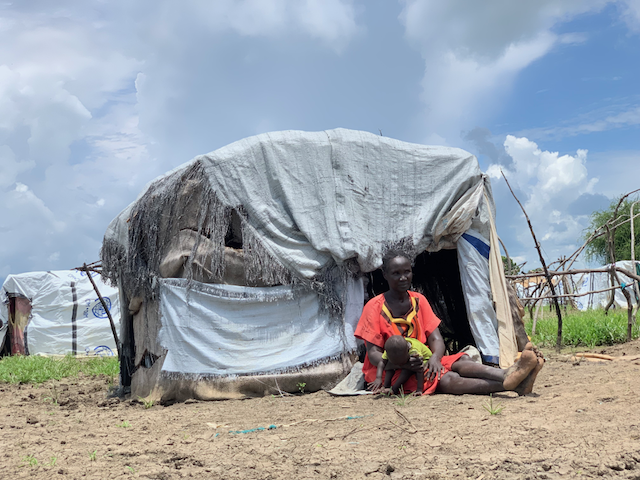 Aweng IDP camp is just one of the many settlements for displaced people supported by World Vision, with funds from UNICEF enabling World Vision staff to respond to malnutrition cases arising among children, pregnant women and breastfeeding mothers.
Four months after she arrived at the camp, Aluel's daughter was diagnosed with malnutrition during a child nutrition screening. Eight-month-old Nyamum joined 5,030 children below age five receiving outpatient therapeutic programmes (OTP) treatment for severe acute malnutrition in Twic County.
"From the beginning, I knew that my family would suffer from hunger, but I never thought that in my struggle to find food, I would also be forced to leave my small tukul (house) due to floods," she sadly shares. 
According to Aluel, her daughter Nyamum became malnourished because of a lack of food, which prevented her from producing breast milk which Aluel still relied on. Aluel remembers going hungry for up to three to four days. 
"Being confined in this camp with nothing, I watched my child slip into malnutrition. Thank God World Vision intervened," Aluel says. 
In August 2022, Aluel watched rain fall continually for days. Eventually, flooding soaked her surroundings and submerged part of her makeshift home. Aluel and her children evacuated, grabbing the plastic sheets and soggy blankets.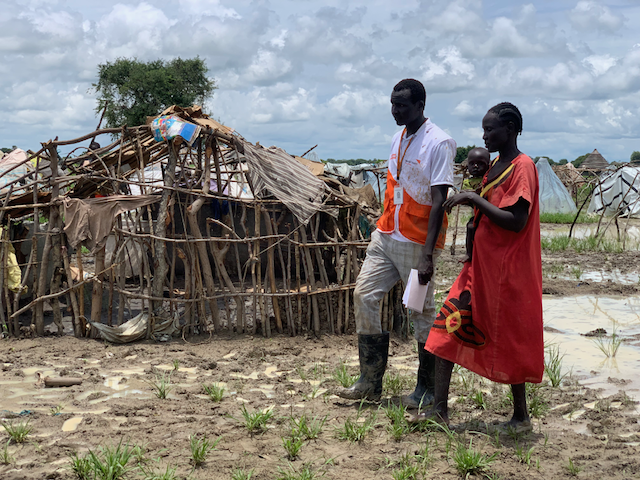 "When the floods displaced us again, stress took the better part of me," Aluel admits.
The family reconstructed their makeshift structure about a kilometre away, under a tree where the flood waters were not encroaching. 
"Instead of my child recovering (from malnutrition), she got worse, and I forgot about taking her to the facility. And again, the World Vision team brought the service right to me in the community, braving the mud and water."
Aluel says she is struggling to find enough food in this new scenario.
"Whenever I get something to cook, I use my neighbours' place and their utensils to cook," she says.
Aluel is among over 20,000 people displaced in Twic County. 
Aluel adds, "Our situation is tough, but as long as we are alive, there is still hope. I appreciate what World Vision and the donors are doing for us; however, we need more assistance."