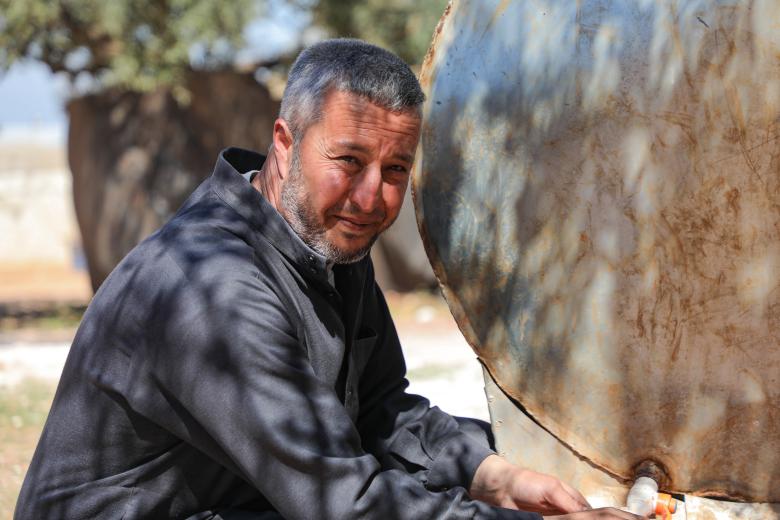 Survival Mode
Sunday, April 2, 2023
When Samer* invites World Vision into his home to share his story he realises his family has been on a journey-seeking safety since they left their home for the first time in 2018.
"We kept searching for something we call peace," he shares.
290 km meters away still search continues
Samer, 42 and his family of five are now in a village in Northwest Syria, less than 60 km away from home. However, they endured a lifetime of displacements and stress. "We are from a village in Ma`arat al-Nu`man but intense fear drove us out," he shares.
The first displacement journey began when the family found itself in the middle of merciless clashes between armed entities. "Our house was only 300 meters away from everything. Children were affected by the sound of shelling," this meant Samer had to leave or his children are most likely to perish.
This family isn't an isolated incident and their feelings are shared among the Syrian population. In fact, war and its harrowing trauma left many Syrians with little to no hope they even considered suicide as an escape. He later adds, "we are human and we have feelings. We feel fear, both adults and children. This situation even affected our mental health".
This incident led the family to their next location in the Southeast. "We kept moving from one place to another all we wanted was to feel temporarily safe and emotional stability". But that wasn't an option, indiscriminate bombings leave little room for Syrians to settle and that resulted in the family moving North. But, they were awoken by bombardments in the dead of the night. "I'll leave it to your imagination. A person trying to sleep after all troubles and wakes up to that sound, how would they feel? Even if they survive, it still affects their mental health," he clarifies.
As a result, the father wanted to go back home; as simple as that. The 76 km journey brought them back home where they noticed that their mental state was improved. "During those six months, we felt relief." But that feeling soon vanished when planes began bombarding people, "we have witnessed everything; how things escalated from shelling to bombardments, and it's in our nature to feel scared," this sentence was the reason he left his village for good.
Not knowing where to go didn't matter anymore. "Those who're displaced with nothing don't care about where they stay. It doesn't matter if it's close to home or not. At the end of the day, they left home".
The family tried their luck in a village in the Northwest of Syria, but the death of close family members scarred his memory and made it difficult to stay. "Death is heavy and it impacts us," he shares. The family was on move again to their next location in Western Syria where they finally found peace.
Peace slips through Samer's fingers
The family stayed in the Northwest for almost 2.5 years. "We felt a little bit stable; we don't hear shelling anymore". Samer even finds time for a hobby by the river; he fishes and feels productive for the first time in years! "I mean I am not as good as people here but I feel accomplished even if I only have a couple of fish".
But on that dreadful day, a series of earthquakes changed the lives of 18 million people in Syria and Türkiye, including Samer and his family. The area they live was the epicentre for the earthquake and the family thankfully survived.
"My house wasn't properly built, so it was severely affected. But we managed to get out. We stayed outside in fear of another aftershock. We later felt very cold so we had to go inside but kept the door open to be able to fast escape if needed". It felt like doomsday, people were screaming, it was raining and it was difficult to know if children were shaking from the cold or fear.
After few aftershocks the family evacuated from almost collapsed home. "How could you go back to your house when you see it is falling apart... We just couldn't".
Later, Samer and many people affected by the earthquake, whose homes were affected were offered a temporary shelter in the Northwest Syria. At this stage, he's just thankful that they are alive "we could be dead or simply injured".
Finally, Samer is able to feel somewhat safe and secure some of life's necessities like water. "They [World Vision and its partner] provide us with potable water on a daily basis. They fill the tank and the next day they check them to add more water," he shares. He later stresses on the vitality of implementing such projects in camps knowing the Syrian population has been facing water scarcity for the past decade leading people to resort to untrusted water resources.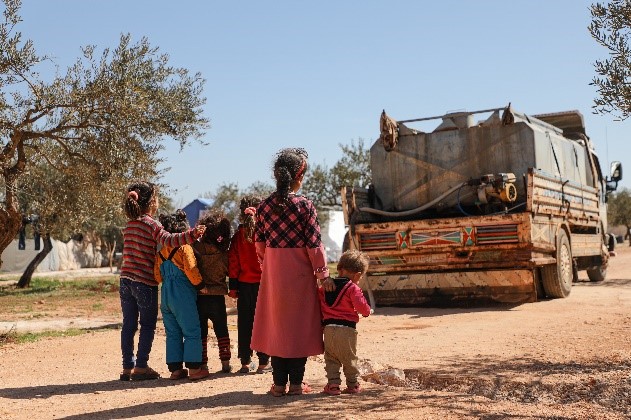 This might explain the rise in the suspected Cholera cases where they reached 92,649. "I have heard about Cholera, of course! It is vastly spreading across the Northwest. It is concerning". However, the father is aware of ways to maintain his family's safety. "When I bring vegetables home, I use the water to thoroughly clean them to avoid infection," he shares. Therefore, though the Disaster Emergency Committee, this project helps protect approximately 184,000 like Samer and his family from the rapidly spreading Cholera virus and alleviates their struggle in securing water.
*Name is changed to protect identity.