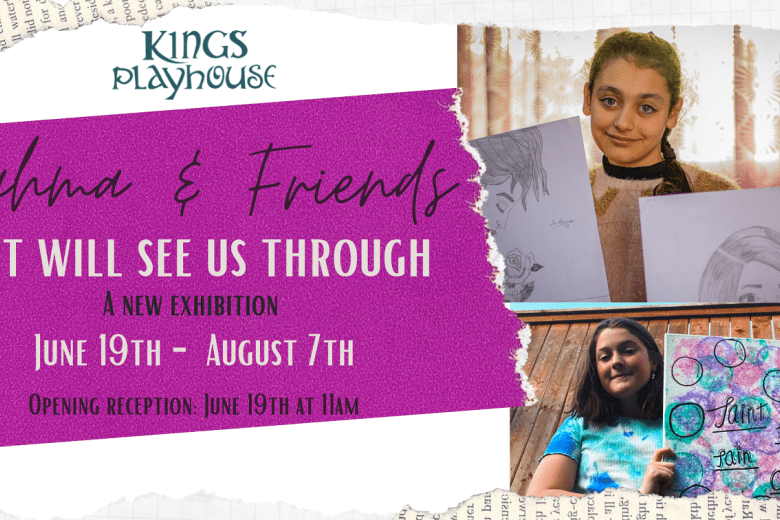 Two young aspiring artists from two different ends of the world meet at Kings Playhouse in Canada
Tuesday, June 15, 2021
By Elias Abu Ata, Syria Response Communications Manager, World Vision, Jordan
The decade-long conflict in Syria is not only the world's largest refugee crisis, but also the world's worst child protection crisis. A report by World Vision revealed that life expectancy of Syrian children has been reduced by 13 years since the conflict began. Living in makeshift tents, camps, unfinished buildings or poor apartments, children are constantly looking out for an escape to forget the horrific scenes they have witnessed in their home country. Living in times of war is not something a child should experience, it is traumatizing.
Fleeing war in 2013 and arriving at the sprawling Za'atari Refugee Camp, which hosts over 79,000 Syrian refugees[1], 11-year-old Rahma has found a way to express herself through her greatest passion, drawing. It allowed her to forget about her displacement journey and the hardship she and her family have gone through. "When I draw... It lets me show my personality," she says. When asked to draw something, she is fast to get a piece of paper and a photo of a family member or a relative and starts drawing. "I draw strong women because I want to be just like them," she adds. Rahma dreams of having her work displayed at an exhibition and wishes she can keep practicing to get better at her talent.
On the other side of the world, 13-year-old Lauren from Canada, has set the record for being the youngest Canadian painter to date to exhibit internationally. She also writes poems, but not just any poems, her writing style demonstrates depth and maturity that makes her work hard to go unrecognized. On the contrary to Rahma, Lauren has never spent a day of her life in war or anywhere near death, but her love for art has found a way to reach the young Syrian girl so they both engage virtually through an arts exhibition created in their honour. "Like Rahma, painting provides a break from my troubles. It allows me to paint the pain away," she says.
When working on the Syria10 campaign in spring 2021 and writing the stories of Syrian refugee children who achieve extraordinary things despite the dire circumstances they are growing up in, World Vision consultant Natja Igney was particularly touched by Rahma's talent and desire to exhibit internationally. Tapping into her rich network of contacts, including the Kings Playhouse and numerous high-profile artists, she developed the exhibition celebrating Rahma's artwork, in tandem with that of Island girl Lauren Graham. She was also the one first bringing Lauren's work to Europe for an international exhibition at the renowned Gravis Art gallery in Nice, France.
To mark World Refugee Day, the two young gifted artists are joining forces at the "Rahma & Friends" exhibition that is taking place at Kings Playhouse Theatre in Prince Edward Island, Canada. The event will start on June 19th and wrap up on August 7th, bringing internationally renowned Syrian and Canadian artists to exhibit their work and support the cultural exchange between both Rahma and Lauren, namely Dr. Khaled Youssef and sisters, Ava and Lily Rashed. Attendees will also have the chance to purchase some of the original artwork, which has been framed by Island artisans who volunteered to make frames for all the paintings.
For more information on the event, please click HERE.