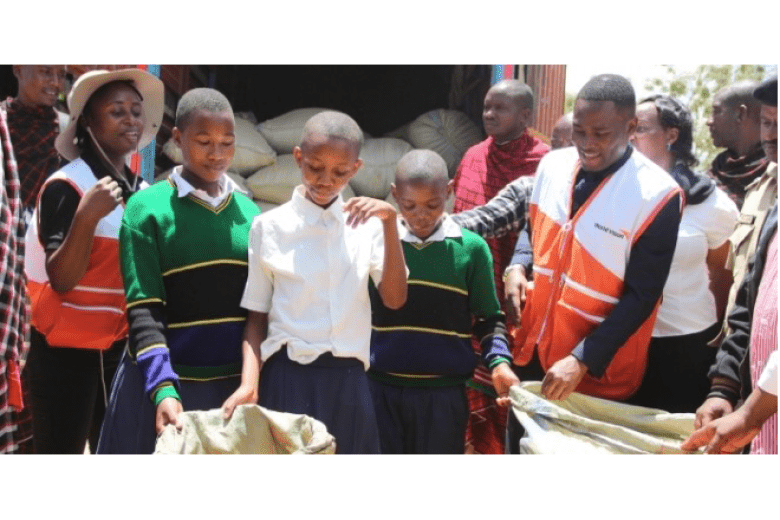 World Vision donates relief food items following drought in parts of Tanzania
Tuesday, March 15, 2022
Thousands of primary and secondary school students in Ruvu Remit division in Simanjiro District in Manyara Region are in need of relief food following drought that hit the area, killing livestock –the mainstay of the economy.
The challenge has led many students to withdraw from attending classes over the last few months, with schools unable to provide breakfast and/or lunch, and parents equally unable to provide food. 
Witness, a pupil from a local school, said: "When you wake up in the morning, there is no breakfast at home, and when you go to school, the parent is unable to contribute money or food. It becomes difficult for us pupils to be attentive in classrooms." Another pupil, Constantine, concurs adding that "as a result of this problem, sometimes a class of 45 pupils is reduced to 20 at noon or throughout the day."
On Tuesday March 1st, World Vision made a donation  of relief food as part of its Ruvu Remit development project. The donation included 50.7 tonnes of maize flour, 27.6 tonnes of beans, and 2,220 litres of cooking oil.  
"Out of 574 pupils at my school, just about 160 receive lunch, and more than a third of them miss classes", says Evans Mtalo, a primary school head teacher. "Our assessment shows attendance will increase to more than 90% with meals received during lessons."
Rachel John, a parent, says that parents plan to donate food together to support World Vision's efforts. "Children need to have enough food for the rest of the year, and students being assured access to education is indispensable for their lives", she says. 
World Vision's Acting Ruvu Remit Project Coordinator, Aizack Mwaijande, says that the donation was provided after the organisation noted, whilst collaborating with district officials, the effects of the prolonged drought on children's education.
"The drought has caused livestock deaths due to lack of grazing, and thus people in affected areas were highly affected in terms of being able to provide for their children and families. The aid will directly benefit 3,696 pupils between the period of March and June 2022", he noted at the donation. 
District Commissioner Dr. Suleiman Serera, receiving the donation, urged parents to venture into growing short maturity and drought-resistant crops. "These should provide a lasting nutritional solution for children at home, and at school", he encouraged.
-
A deadly mix of conflict, desert locust infestation, COVID-19 and the climate change crisis have pushed more than 7 million people in East Africa into a hunger crisis. To learn how World Vision is responding, click here.