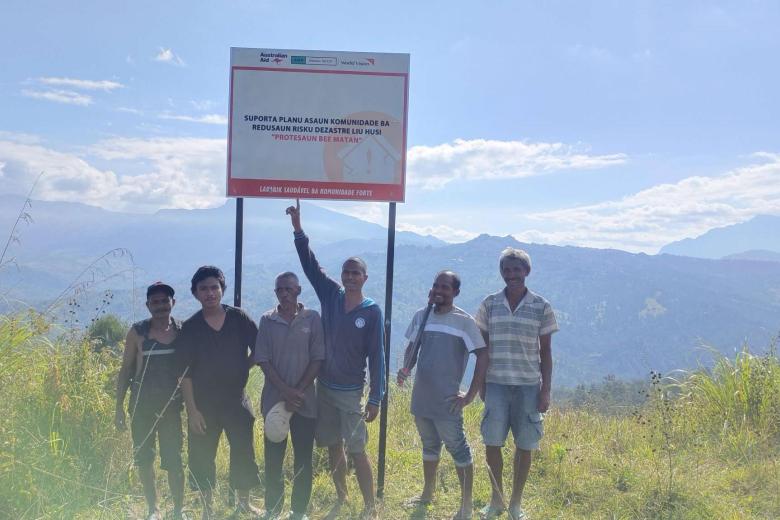 Disaster READY and village council work together to build access to water
Thursday, December 1, 2022
In Bobonaro municipality, Timor-Leste, one of the challenges to resilience is access to clean water. With increasing incidents of drought predicted, villages struggle with fresh water springs running dry during the dry season. But access to water is crucial all year round for maintaining resilience, as it determines the ability to grow enough crops for food and income, and clean water helps avoid getting sick with gastrointestinal diseases.
In Marques and Maria's village, they had poor choices between collecting water from a nearby river that is polluted in wet season and empty during drought, or walking more than an hour to collect water from a spring, which also had issues with contamination from animals and often ran dry in drought.
The Australian Humanitarian Partnership (AHP), through implementing partner World Vision Timor-Leste, worked together to help the village complete a community risk assessment and then identify and co-fund a solution to their water access problem, protecting the spring and building a system to bring the water closer to the village.
The village decided to lay pipes to build a canal from a spring far away, to bring water to a new water reservoir, with public water taps, close to the village. Disaster READY funds of USD$4000 supported the village to build a system of four small tanks at the site of the spring in order to build up water to flow into the pipe, as well as to fence around the spring to prevent contamination from animals.  Then the village co-funded using its own government budget, spending USD$20,000 for pipes to build the canal, connected to a new public water reservoir with taps near the village houses.
Marques, 45 years old, expressed "Before, my family and I were using this river water source for cooking, drinking, showering and other needs. The water was dirty, but we still used it because we only have one water source in this village. We have one other spring but it takes 1 to 2 hours to reach there."
In the dry season, Marques faced additional challenges with the lack of water.  This impacted Marques' farm as it was difficult to grow crops consistently.
His children also suffered diarrhea through consuming contaminated water. "My children sometimes just washed their faces before going to school. They also had diarrhoea due to lack of hygiene."
Marques' wife, Maria, 30 years old, described her tough experience. "During drought, the spring would be empty, so we had to look for water in another source which was far from my house. Before, I had to go a far distance to fetch water, taking two hours to reach the spring."
After completing a community-owned risk assessment with the Disaster READY project in 2020, Marques and Maria's village decided to prioritise gaining better water access to improve their resilience.  Marques and others from the same village worked to build a fence around the spring to protect it from animals, and then built the system of small tanks at the spring, feeding into the new canal pipe, running to the new water reservoir in the village.
Disaster READY, through World Vision supported the communities with nets, sand, cement and transport to move local materials such as stones, wood and other traditional materials from the community. World Vision also provided capacity building for community members on how to protect a safe and clean water source using the materials provided.
"Now, we can consume clean and healthy water, as it is protected from animals and trash," said Marques. Marques' son, 15-year-old Mesiano, happily added: "Now I am free from diarrhoea and any diseases because I can use as much water as I need for my everyday needs. I wash my hands frequently and shower twice a day."
While supporting water protection, Disaster READY also supported capacity building for village council members and community members. In 2022, this included training on gender equity and disability and social inclusion in disaster risk management, and women in DRR leadership training,
"World Vision has supported protecting and better managing five water springs used by 10 sub-villages from four villages in Bobonaro municipality." said Zito Soares, World Vision's Project Coordinator. He ensures that communities can rely on their own water resources, as they learn skills and knowledge to better monitor and maintain good water conditions for the year-round resilience.