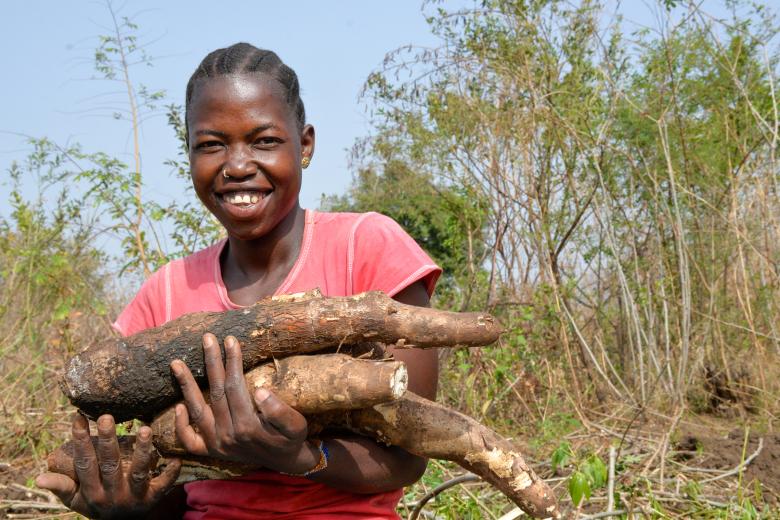 Bidibidi farmers reap big from FMNR and tree planting
Wednesday, April 20, 2022
"I used to cut down trees indiscriminately. I was naïve. I didn't know the use of trees in the garden", says 40-year-old Rashid, a resident of Kululu village, a refugee-hosting community in Bidibidi.
After learning about the importance of protecting and managing trees from a World Vision-trained friend, the father of five has had a wonderful experience as an implementer of Farmer Managed Natural Regeneration (FMNR) in his  Bidibidi community in the district of Yumbe, Uganda. He likens the trees to children who must be protected and nurtured to grow healthy for posterity.
"I thank my friend Sebi for opening my eyes and taking me through the natural steps of maintaining high soil fertility. I have doubled my yields since I started regenerating trees and shrubs in my gardens. I want to share my experience with others –not just keep it to myself", he says.
FMNR is an easy, low-cost way for farmers to increase the number of trees in their fields from rootstock or seeds dispersed through animal manure. Rashid is a passionate proponent of FMNR. His love for trees seems to be the primary reason for his involvement in the land regeneration practices. He sees great value both for the environment and aesthetics of the community, which has seen several deforestation and degradation partly attributed to the South Sudan refugee influx. 
Rashid is working with South Sudan refugees in Bidibidi whom he has shared with the portion of his land and has received training and knowledge that builds on his experience as a farmer.
Reaping big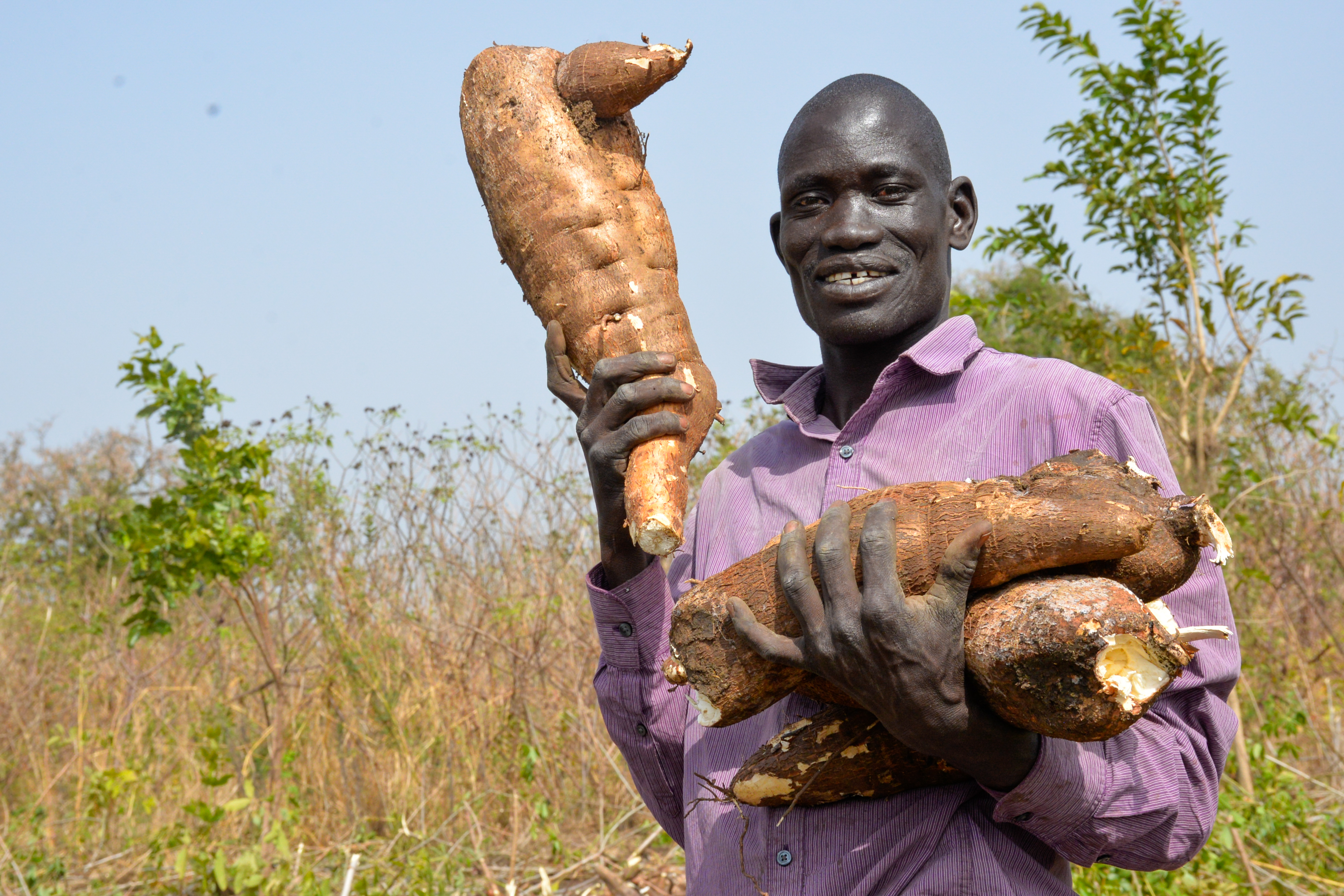 Rashid's involvement with FMNR is helping him to feed his family. By inter-planting on three acres of land, Rashid has ensured that he has sufficient food and a steady income stream in the short, medium and long term. He has recently harvested five big trees, which he planted six years ago. From this, he was able to cut 1.5m³ of wood. The timber is not for sale but instead will be used to build a family house. 
Last season, Rashid harvested 25 bags of cassava. Out of these, he kept three bags for home consumption and sold the balance earning US$614. From his cassava demonstration garden, Rashid fetches between US$1,300 and US$1,400 per season from the sales of cassava cutting. There are two cassava seasons in a year.
"This is good money. I have never had such harvest and earnings before. FMNR is doing me wonders. I'm even saving –something I thought wasn't possible", he says.
Sharing with neighbours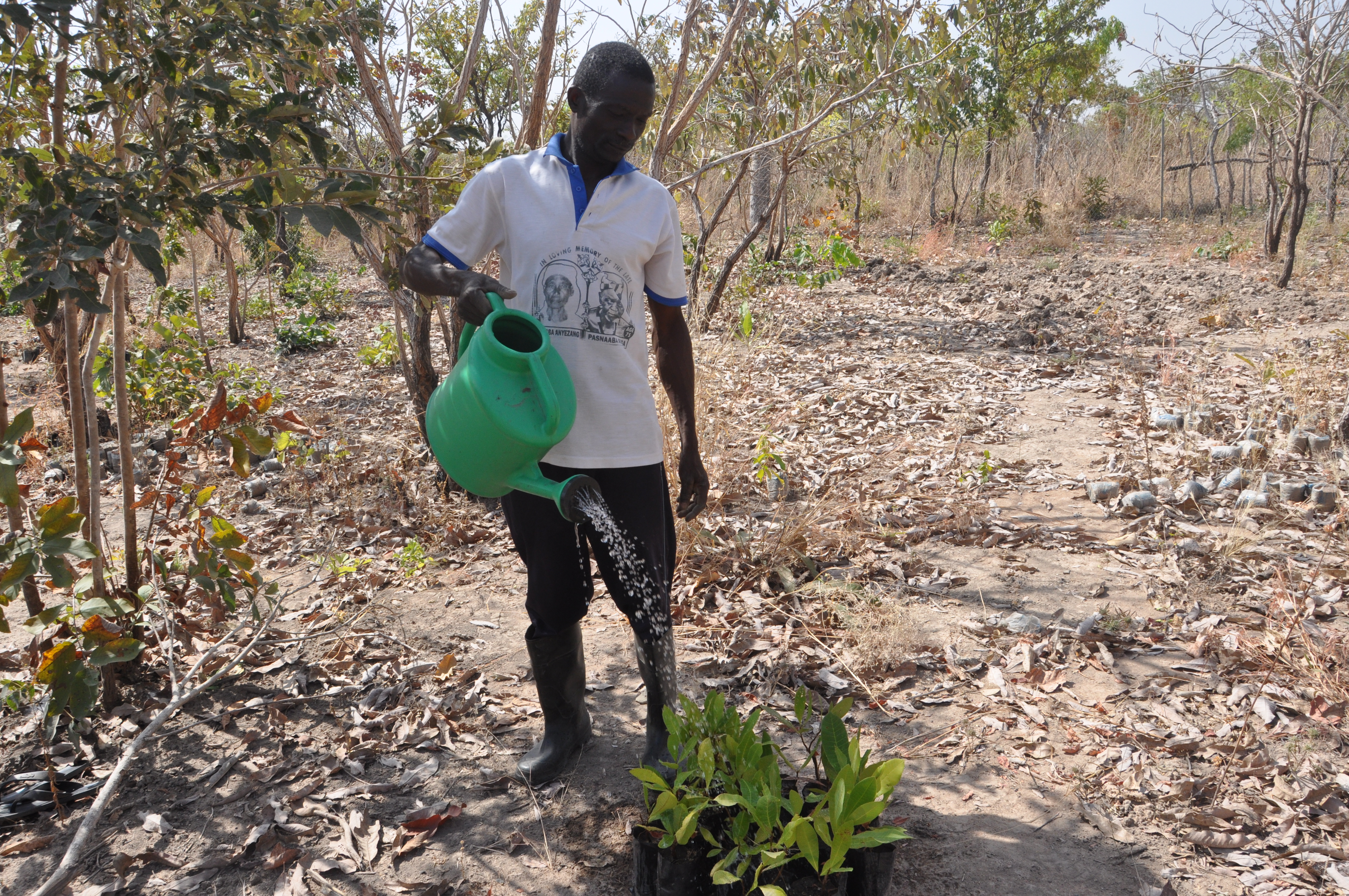 Rashid is not enjoying FMNR yields alone. He has reached out to his neighbours—South Sudan refugees—working together to make their community a food basket. Already, he has dished out four acres of land to five refugee families to grow food. 
"I want us all to have food and income," he says. "Food rations from World Food Programme should only be complementary."
Mawa is one of the refugees working with Rashid. He has followed in Rashid's footsteps to implement FMNR after seeing the results on an acre of land offered to him. He has increased his food security as a result of FMNR. "We no longer worry about running out of food rations because we grow our own. It is enough to take us throughout the year", he says.
Martin, a refugee community leader in Zone Village II, agrees: "Before, there was hostility between refugees and the host community because refugees would resort to stealing from the host community when they ran out of food. Thanks to people like Rashid, that's no more, and there is peaceful co-existence", he testifies.
However, not all farmers in the area are convinced about the benefits of FMNR, and some continue the damaging practice of extensive bushing clearing and burning.
Rashid's income from the timber, cassava cuttings and sale of food surplus is significant, especially given the very degraded site, poor soils, short timeframe of six years and the small number of trees harvested. These results will send a strong signal to others about the financial benefits of FMNR and tree planting, leading to greater uptake of FMNR practice in Uganda.
---
Story by Brian Mungu Jakisa and Cyril Acema Albertson
Photo by Brian Mungu Jakisa