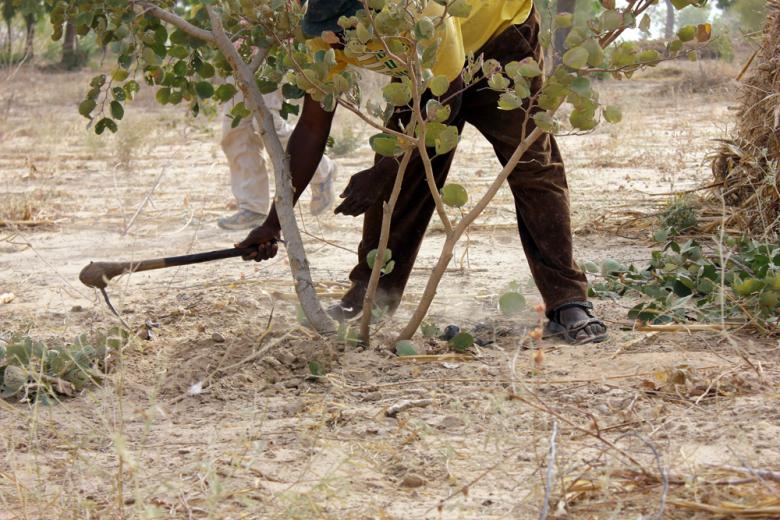 FMNR model helping Ugandan farmers restore barren land
Friday, September 2, 2016
FMNR model helping Ugandan farmers restore barren land
RACHEAL NINSIIMA
Uganda, like many African countries has been experiencing rapid rates of deforestation, putting the potential for sustainable development at stake. According to the ministry of Water and Environment, Uganda loses 90,000 hectares of forest cover annually. In Abim district alone, over 700 hectares of forests have been destroyed in search for wood fuel. According to Bob Kazungu, a senior forest officer with the environment ministry's Forestry Sector Support Department (FSSD), forest destruction has culminated into degradation of soil resources through soil erosion, leaving most land barren. 
However, Alfred Omara, a small-scale farmer in Nyakwae sub county, Abim is working to reverse this trend. He is implementing World Vision Uganda's Farmer Managed Natural Regeneration (FMNR). FMNR is a technique that involves pruning and tending to the stumps and remains of trees that have been cut down in order to encourage their re-growth. 
"It has been two years since I started pruning and slashing my site and I have already seen a difference in the tree growth rates. When I prune, I allow the small branches and leaves to rot on the ground which increases humus in the soil and enables seedlings to grow faster," Omara testifies.
He adds that prior to the introduction of FMNR in Nyakwae; the land was mostly bare, crop yield low and famine rampant. Some of the residents would even go to neighboring Teso region to obtain food.  However today, FMNR has enabled him to regenerate his land and is now growing sorghum for family consumption.
During the second FMNR conference held in Kampala last week, Dennis Garrity, the ambassador- UN Convention to Combat Desertification (CCD) urged farmers to practice the technique regenerate indigenous tree species to save costs of planting entire woodlands at once.
"Niger, a country at the edge of the Sahara desert has been able to regenerate its barren woodlands through FMNR and now has a big wood export to Nigeria. With FMNR, it costs about $30 to regenerate a hectare compared to massive plantations which cost over $1000 per hectare," Garrity said.
In his speech, Gilbert Kamanga, the national director World Vision Uganda (WVU) urged the farmers to form coalitions and adopt FMNR in order to green Uganda.WVU in collaboration with the World Agroforestry Center (ICRAF) and district local governments are implementing long-term research FMNR plots across districts of Kibaale, Nakasongola, Abim and Kotido.