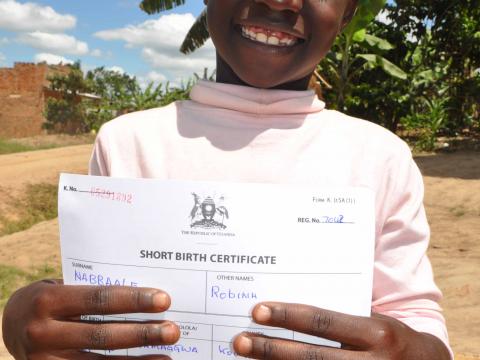 Family Clusters Boost Birth Registration
Wednesday, July 17, 2019
By: Christine Awor, Communications Intern Uganda
According to the Uganda government and the United Nations, about 51 million births go unregistered every year in developing countries, which is equivalent to one in three children not being registered at birth. In Uganda, the rate of registration was alarmingly low, just 30 percent of births.
The lack of birth registration can have lifelong impacts and increases inequality, as Simeon Ssetumba, a father of eight says, "I have always found difficulty in finding a job and proving my identity simply because I don't have a birth certificate."
World Vision's policy of promoting development by working with clusters of families in groups of 10 to 20, called "household engagement and accountability," has driven a great improvement in the rate of childbirth registration in the areas of Uganda in which it is used.
 The approach, introduced in 2015, gets these clusters of families to discuss the issues affecting them and to find workable solutions. Childbirth registration that had been low in the past has now increased to an estimated 69 percent, according to the United Nations. That means more than 66,000 children have been registered who would not otherwise have been.
Simeon was one family head who was stirred through the cluster meeting to have his children registered. He took his entire family to the market square the moment he heard that data collectors had come to the village to document unregistered children. "I didn't want my children to suffer the way I suffered without being registered," he said, with evident relief.
"The primary goal of household engagement is to help families promote their own children's wellbeing, and to enable groups of families to hold each other's accountable,"  said Mr Moses Kadoobera, Senior Programme Manager Household and Accountability Approach. "We link them to social and economic assistance. We started the project in Rakai district where so far, more than 21,000 families out of around 27,000 have been mobilised to deal with childbirth registration."
So far, more than 21,000 families out of around 27,000 have been mobilised to deal with childbirth registration.
Mr.Moses Kadoobera said that over 5,000 community volunteers have been trained to promote different aspects of child wellbeing, including health, education, livelihoods and child protection at the household level.
According to James Kintu, World Vision's advocacy manager, "Birth registration is crucial for the protection of vulnerable children from abuses like child marriages and child labour. It is also essential for the child to get health care and education."
Clustering households to work together is one way in which World Vision works with the government to ensure all Ugandans can get birth certificates.
World Vision's "child protection manager," David Wamboko, says he is in contact with birth registration officials in more than 100 districts and 135 hospitals across the country. "We provide support, giving feedback and sharing information," he explained.