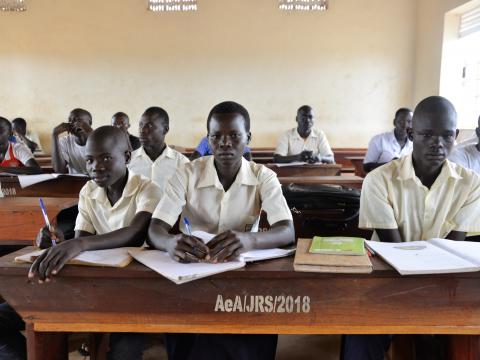 Josephine sells part of her monthly food ration to stay in school
Thursday, February 20, 2020
By: Derrick Kyatuka, Communications Officer, World Vision
Education is no stranger to 18-year-old Josephine Aber. In 2015, before the civil war in South Sudan forced her out of school and separated her from her parents, she was attending the best boarding primary school in Torit town, South Sudan. At the time, she was in Primary Six.
Josephine is one of hundreds of children currently living in refugee settlements in Uganda who are struggling to continue their studies as poverty and displacement make it difficult to pay school fees. A few who have been able to return to school are optimistic about realising their dreams and a bright future.
Like those few, Josephine refused to let her education dream be shattered. To her, education is essential and without it, her options in life will be restricted.
Neatly dressed in a blue skirt and cream shirt, Josephine is chatting with friends during the lunch break at Idiwa Parent's Secondary School in Palorinya Refugee Settlement.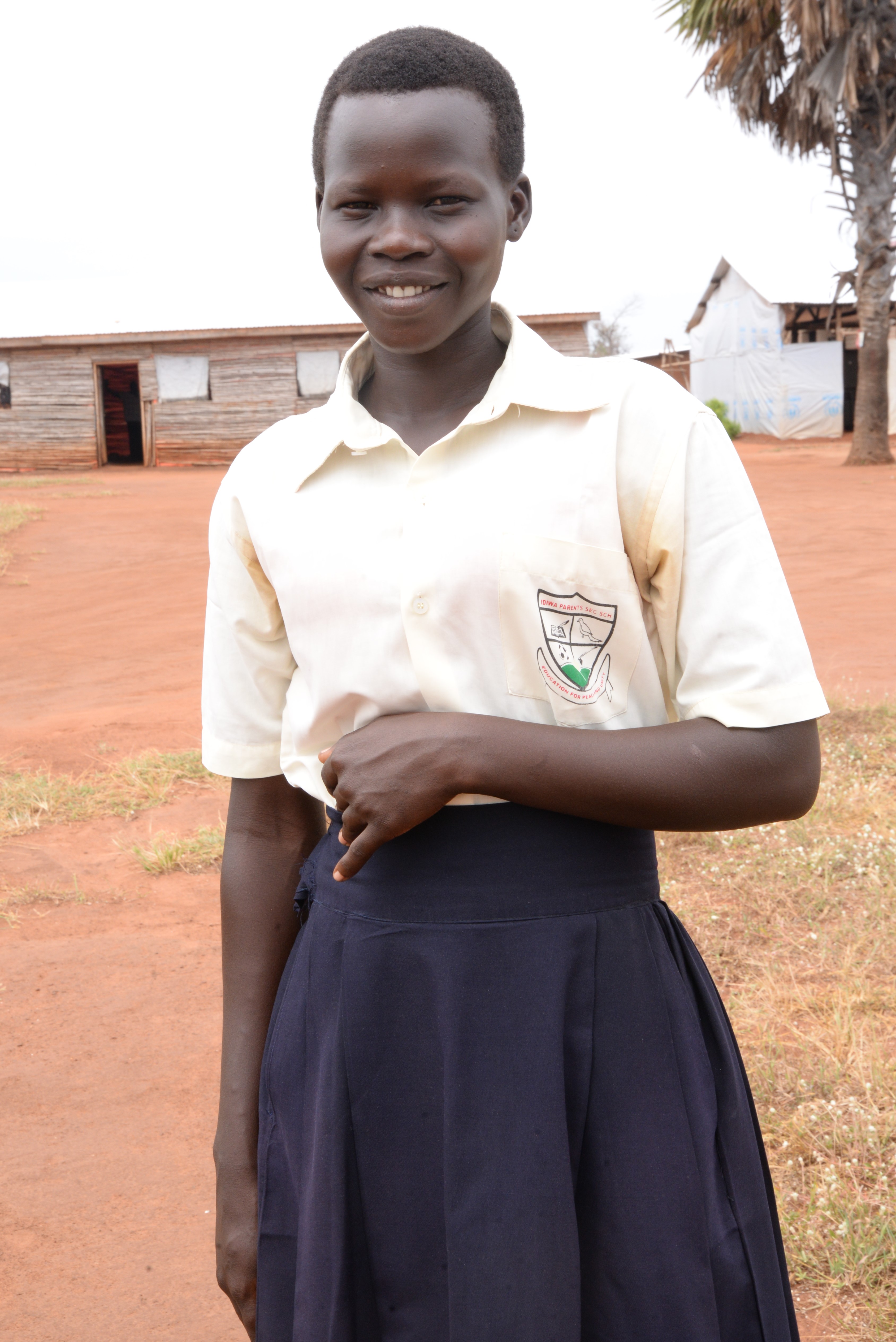 Leaving home and school
"I was in a boarding school when the fighting broke out. Parents who stayed near the school quickly came and picked up their children. Unfortunately for me, my home was very far from the school. I waited for my parents to come for me for two days but they never showed up," Josephine says.
"The school director drove me home and when we reached [my house] there was no one at home. I was told by neighbours days later that my parents had been killed. I went back to the school and the director advised me to join other people trekking to Uganda for safety," adds Josephine.
It took her four days to get from her village to the South Sudan-Uganda border where she was registered as a refugee. She was taken to Palorinya Refugee Settlement. That was in 2016.
"I was registered as an unaccompanied minor.  When I reached the settlement, I stayed alone for one year. My neighbours and the community leaders later got concerned about my safety and found me foster care with a neighbour of my choice," says Josephine.
She thought constantly about the need to return to school. But, she couldn't afford the fees. 
Back in school
"During the dry season, I saw my neighbours cutting grass and selling it as thatch for houses to provide for their families. I saw this as a business opportunity to support my studies in school. I immediately started cutting grass. I used the first money I got to meet my personal needs. Then, I saved more for school fees," she says.
In 2017, she enrolled in school. She is currently in Senior Three. Focus, determination and resilience are keep Josephine in school, striving after her dream of becoming a nurse. 
"My foster mother has been good to me and gives me the best advice. She advised me to join a savings and loans group initiated by World Vision to raise money for my school fees. I sell part of my monthly food ration and save the money with the group. I then combine my remaining food with that of my foster mother. This (the savings) helps me to qualify for a loan which I use to pay school fees. I repay the loan through selling grass. By the time our 2018 saving cycle ended, I had saved UGX 55,000 (about US$ 15). Every term, I pay UGX 80,000 (about US $ 22). I pay the money in installments," she explains.
Rose Apio, Josephine's foster mother, says she is a very determined and brilliant girl with big dreams to make her life better.
"I monitor her all the time and I am impressed by her manners. Even when she was staying alone, she was always focused and loves education. She has moved on from the past and wants to achieve great things in future. In case she gets challenges in repaying her loan, I support her because I know the future holds bigger things for her," Apio says.
About saving groups
World Vision's Monitoring and Evaluation Assistant, Benjamin Bwambale, says the organisation formed 50 loan and saving scheme groups in Obongi district. These groups have positively impacted the lives of 1,382 people, of which 1,076 are women.
"Formation of these groups has not only created unity among community members, it has also instilled the spirit of saving. People work with an aim of saving weekly which helps them to access money easily during times of need," Bwambale says.