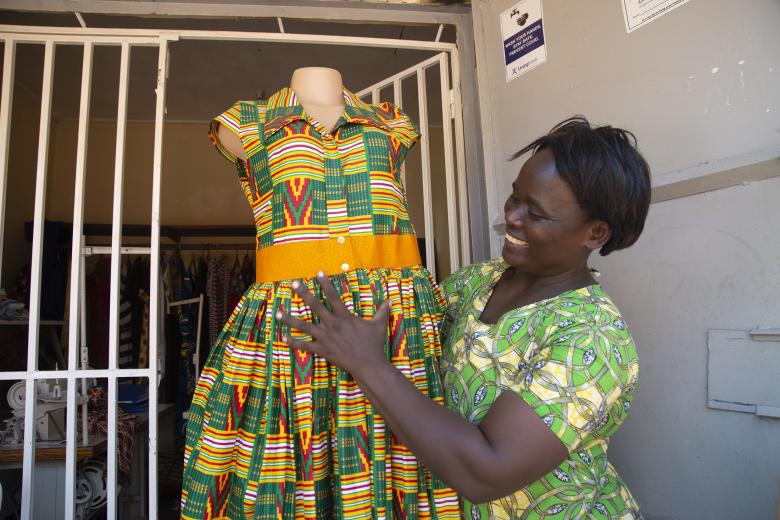 Tailor-made for success: Ruth and Esther learn life-changing skills
Thursday, August 26, 2021
Inside a small one-room shop along a meandering busy road leading to Ssemwogerere Zone in Bukoto (a suburb of Kampala), two young ladies are bent over their sewing machines. The only sound one hears is the squeaking of the sewing machines as their hands and feet work them. Today they are cutting clothing patterns to create different garments, and every now and then they lift up, as if to appreciate their efforts, the piece of kitenge cloth that is slowly taking the shape of a dress big enough to fit a six-year-old girl.
The two young ladies are part of a group of 5,000 young people supported by World Vision's Urban Programme on Livelihoods and Income Fortification and Socio-Civic Transformation (UPLIFT) project. The Australian Aid-funded project is providing skills training and entrepreneurial know-how for most vulnerable young people aged from 16 to 30 in the slums of Kampala. This particular component of the project—skills development and entrepreneurship training—is intended to prepare young people for formal employment or to help them create their own businesses through mentorship and internship placements.
One of the ladies, Ruth Kizza, 27, has always had a passion for tailoring—she even saved up enough money to buy her own sewing machine. The problem was, she didn't know how to use it properly. Neither could she cut clothing patterns for garments.
After dropping out of school at 16, she got married and now lives with her husband and three children aged 11, nine, and seven. The family did menial work for a living, but Ruth says the proceeds were just enough to help them survive. They would have liked to be able to boost their income, save some money and buy property but that was simply that—a fantasy only to be dreamt about.
Everything changed when she learnt about World Vision's skills development and entrepreneurship training programme. Ruth did not hesitate to take a dive. "I had to jump onto this offer as my whole life depended on it", she says. "That's the only way our lives could be better. That way, I would be able to take care of my children and assure them of a bright future–a better future than mine."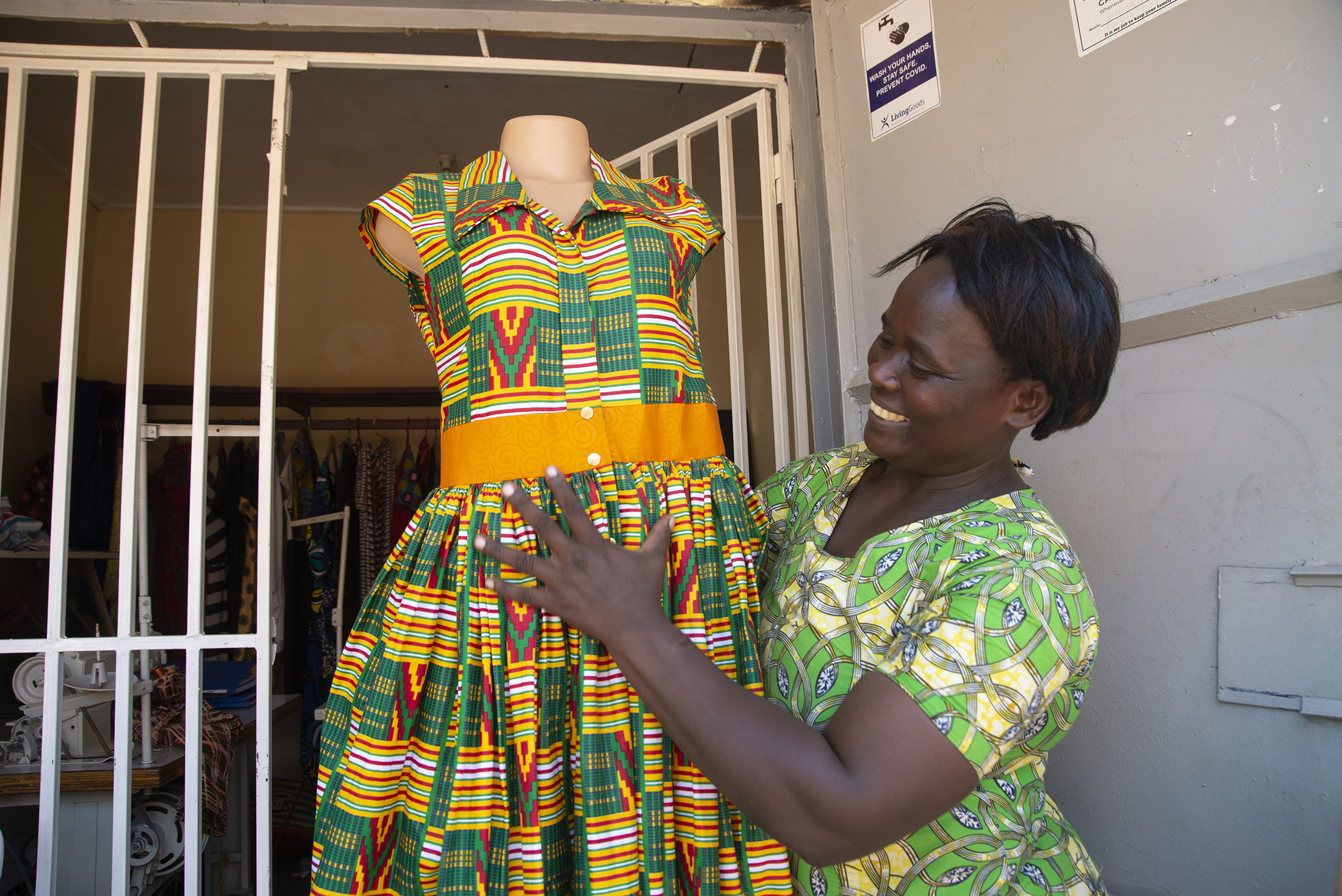 After enrolling in the tailoring course at Ntinda Vocational Institute, Ruth developed her skills and graduated easily. "Going to school was a dream come true", she says. "Honestly, I didn't have hopes of ever going to school to pursue my childhood passion. But God is faithful and His timing is perfect."
From the course, Ruth not only learnt how to sew the seams and hem the borders of the garments, but she also gained knowledge and skills in savings group dynamics. "It was an amazing full package", she says. "Before, I spent money anyhow. Now, I plan for every shilling."
From course to a tailoring group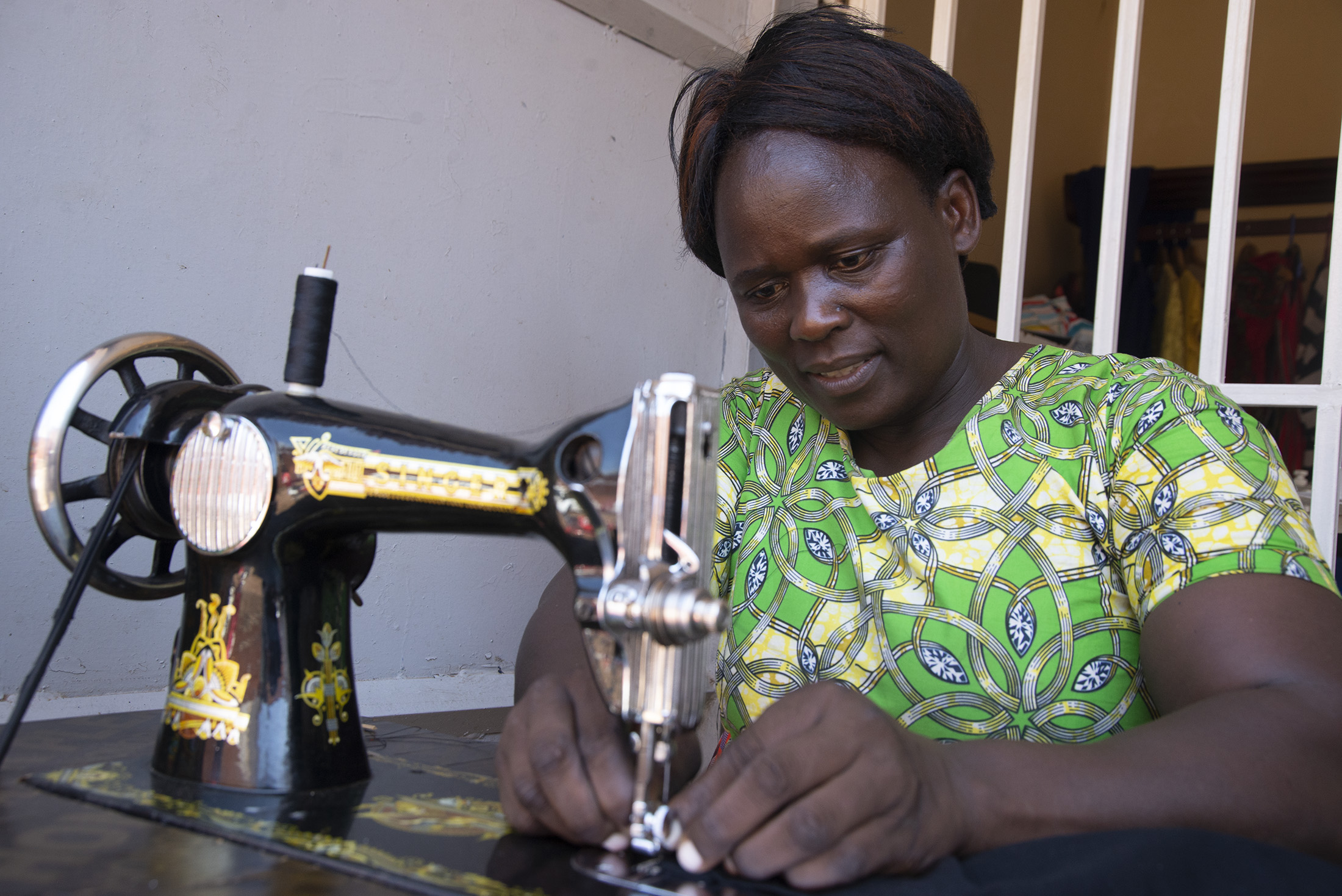 Soon, she decided to pursue her dream and founded Bukoto World of Fashion, a tailoring group, together with 27 other graduates from her tailoring course. She is now happily self-employed through this stitching group and experiences the joys of being her own boss.
"Great changes have happened", she says. "The fact that I'm now self-employed has made me independent. I don't depend on my husband for financial support anymore. I now earn enough money for my personal expenses."
Ruth feels proud to be able to help not only her family with everyday expenses but also her community with inexpensive clothes made in her tailoring shop. The group, which also serves as a support system, a place where the young people look forward to going every day and meeting their peers and friends, offers apprenticeship to unemployed youth in their community, as well as donating 10% of sales to families with children living with disabilities.
"I can now sustain myself. If my husband is not around or unable, I can contribute money for food purchases and I help with the purchase of school material for my children, which has meant a lot for my family", she says. "Our community supports our cooperative as they see young and responsible people and that we can play an important role in the development of the community."
The group has had other benefits for Ruth too; boosting her confidence and bringing in an element of sustainability. "I have grown so much, that today I am in a position to pay the rent for my premises, invest in stitching equipment, and upskill myself over time", she says. "I now have an uplifted self-esteem and confidence in myself with my new skills and the fact that I can contribute positively to my family and community's well-being."
Today, thinking of everything she has accomplished, Ruth looks back and wishes all unemployed youth could have the same opportunity as she did. "When I was young, I had never thought that I would come this far", she says. "Life was a struggle. I worked here and there, and I would never be successful."
Going further than imagined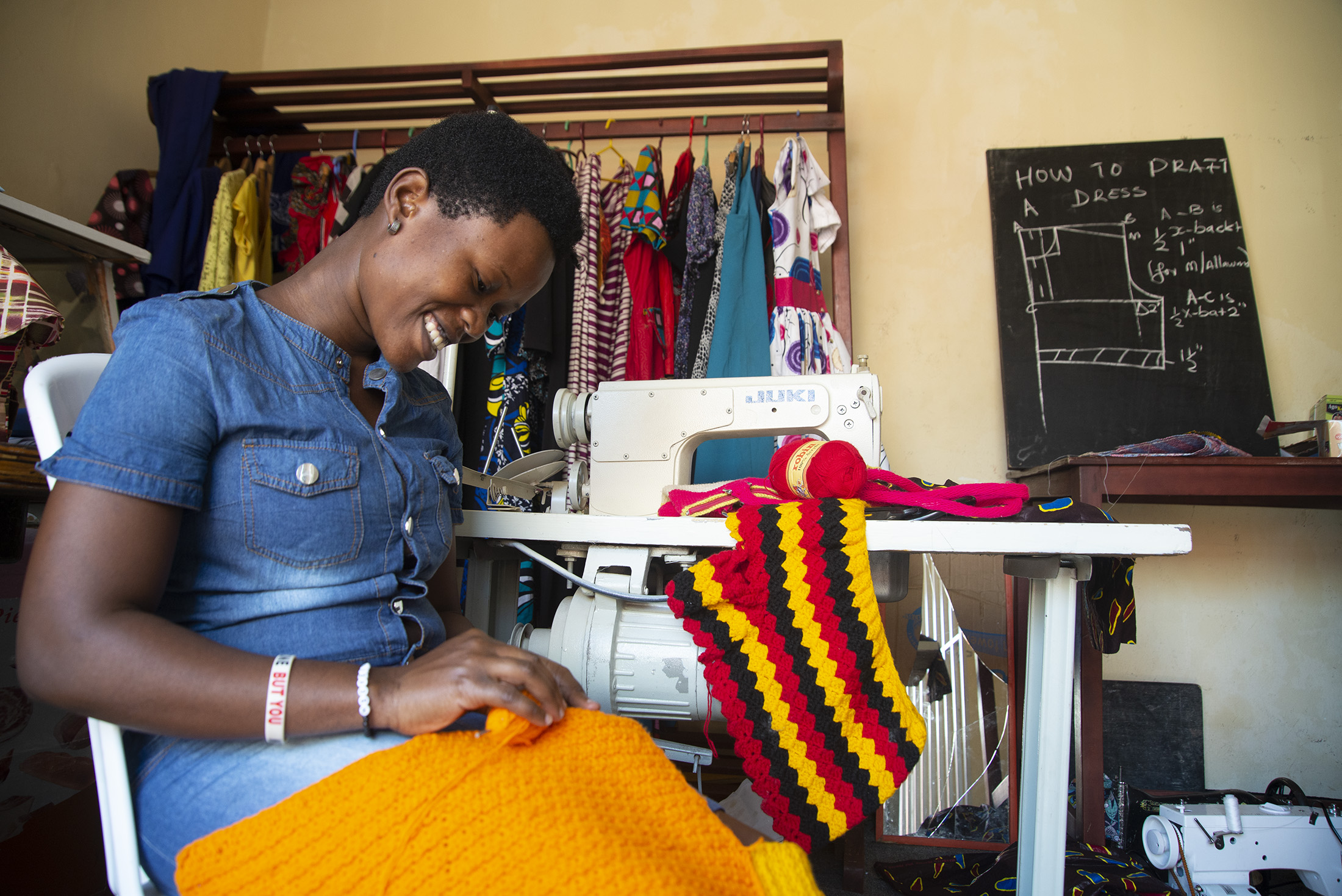 When she talks about the future of her tailoring group, Ruth has big ambitions in mind. Though the group might not yet be 'big' in the conventional sense of the term, they have made significant strides in their own right, and are poised to grow further as they go along. "Over time, we have plans to train more young people and open many more stitching centres in different parts of the city, as a part of our overarching goal to create more channels of opportunity", says Ruth.
The group also intends to improve its services and increase clientele. "We want to increase orders by 10 times by next year", she says. "I [always] tell the young people I work with at our stitching shop to sew in a way that it can help them earn money and succeed in life. We shouldn't need to be dependent on anyone. We shouldn't need to ask for money from our parents or brother or sister-in-law and everyone else."
And as far as she is concerned, tailoring will always play a big role in her life. "I view tailoring as a real art that requires skills", says Ruth. "My skills will develop throughout life and I wish to become an expert. My ambition is to be a well-known master tailor and a reference when it comes to sewing; especially women's clothes and children's school uniforms. I am even thinking of starting our very own tailoring centre in our name, where we will all work together."
And even if that doesn't happen, Ruth says they will start a small boutique of their own and keep everyone together. "I just hope that we all stay together. Our work is good, and we keep growing and succeeding", she adds.
Sitting next to Ruth is Esther Kisakye, 21, a member of Bukoto World of Fashion fitting a little African print dress she has just made on a mannequin for display. She says World Vision has helped to create a sense of confidence that has allowed them to dream about building their own career and future. "The biggest change in our lives is how we can now provide for our own and our families", says Esther, a mother of one. "We now have our own personal savings before getting married and enjoy earning through engaging in work we truly enjoy."
Thanks to your generosity, young people like Ruth and Esther have turned into entrepreneurs in their own right—young people who can earn a livelihood to support their families and discover the power of their own voice and ideas. 
--
Photos & Story: Fred Ouma - Development Communications Coordinator, World Vision, Uganda