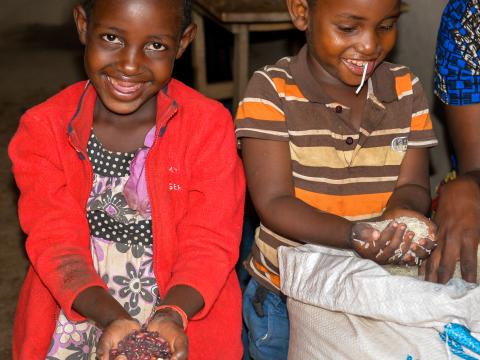 Today, We Eat; The Story of a Food Distribution for Refugees in Uganda
Friday, November 15, 2019
Aggrey Nyondwa, Refugee Response Communications Coordinator
At the break of day on Monday, October 21, on a muddy and slippery road, Tonny Obura, 45, a driver hired by World Food Programme(WFP), struggles to maneuver the truck loaded with 22.3 metric tons of food to be delivered to the Sweswe Food Distribution Center (FDP) in Kyaka II refugee settlement. The terrain is hilly and the pattering drizzle does not make Tony's job easy, but he is determined to make it. He knows that if he doesn't thousands will go hungry.
"It really wasn't easy. I found a number of vehicles stuck on the road but I am grateful to God that I made it here safe and in time," Tony said with a sigh of relief. "In such a rainy season, it is very difficult to deliver food. Sometimes we have to wait for hours for the rain to stop and the roads to clear," he added.
Regardless of the weather, transporting food to the distribution centres is always challenging. There are bad roads, security risks and sometimes vehicle breakdowns. Fortunately, none of those hindered the six trucks, including Tony's, from successfully delivering food to the various distribution centres ahead of the much-anticipated distribution day - Wednesday, October 23.
During that week, World Vision and WFP were disseminating information about the distribution day, reminding the people which groups would be getting food when within the six-day distribution period. They were also told what items to expect in the food basket. A basket that contains rice always causes a buzz!
On Tuesday, October 22, only one day before the distribution, all six trucks were offloaded. Over 292 metric tons of food were stacked in the rub halls at Sweswe, Itambabiniga and Byabakora food distribution points, ready for distribution. Over 32,000 people will be served with food rations while an additional 39,000 would receive cash vouchers to buy supplies at authorized sale points.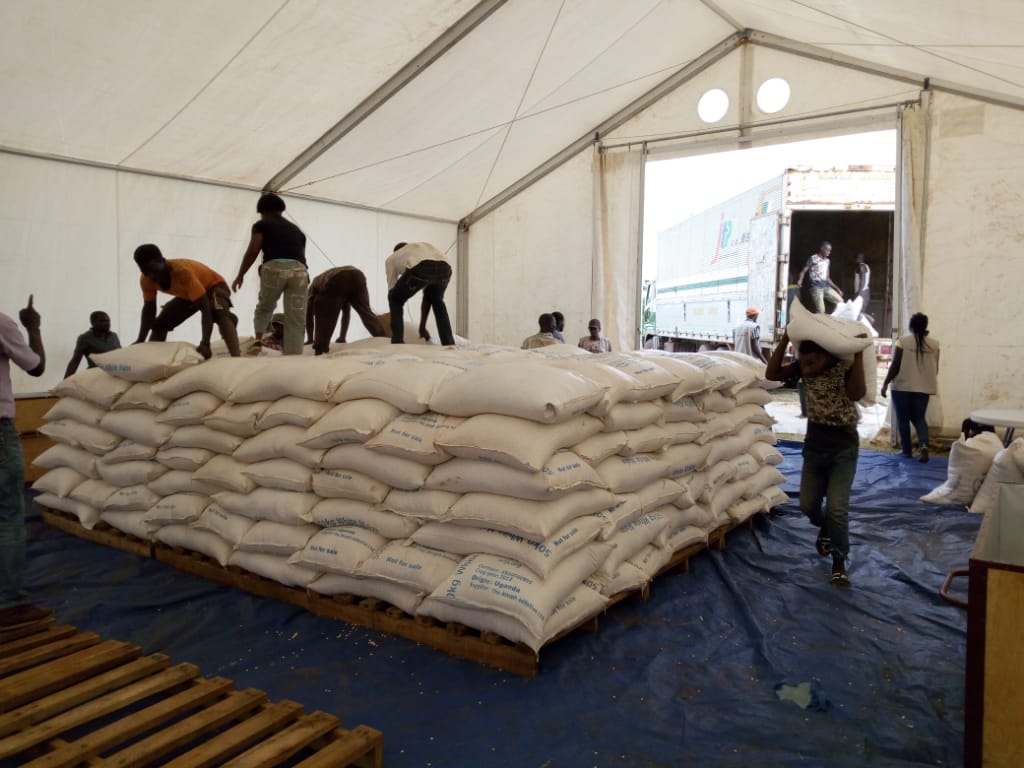 The wait in line
On Wednesday morning, in the beautiful early October sun, about 5,000 people waited in zigzag queues, murmuring about the yet-to-be served rice, and the relief of receiving their next rations.
Mutimukeye Butoto, 34, a refugee from the Democratic Republic of Congo (DRC) is among the 5,000 who are linned up at Sweswe in the 11:00 a.m. sun. She stands with her son, waiting to be called on by the ushers. Most parents bring their children to help them carry the food.
Once everything is set, the ushers are ready, the WFP verification desk is ready, the World Vision distribution assistants and porters are in place, the refugees are ushered in in groups of 20-30. After about 100 people, it is Mutimukeye's turn.
She joins the line after washing her hands at the handwashing point (a precaution for Ebola prevention). She proceeds to the verification table where her fingerprints and eyes are checked and her document seals scanned. She is good to go. She proceeds to the rub hall stacked with over 200 bags of rice and beans in rows. A list of what she is getting today is handed to her and each item marked as she receives it. Salt, vegetable oil, beans and rice.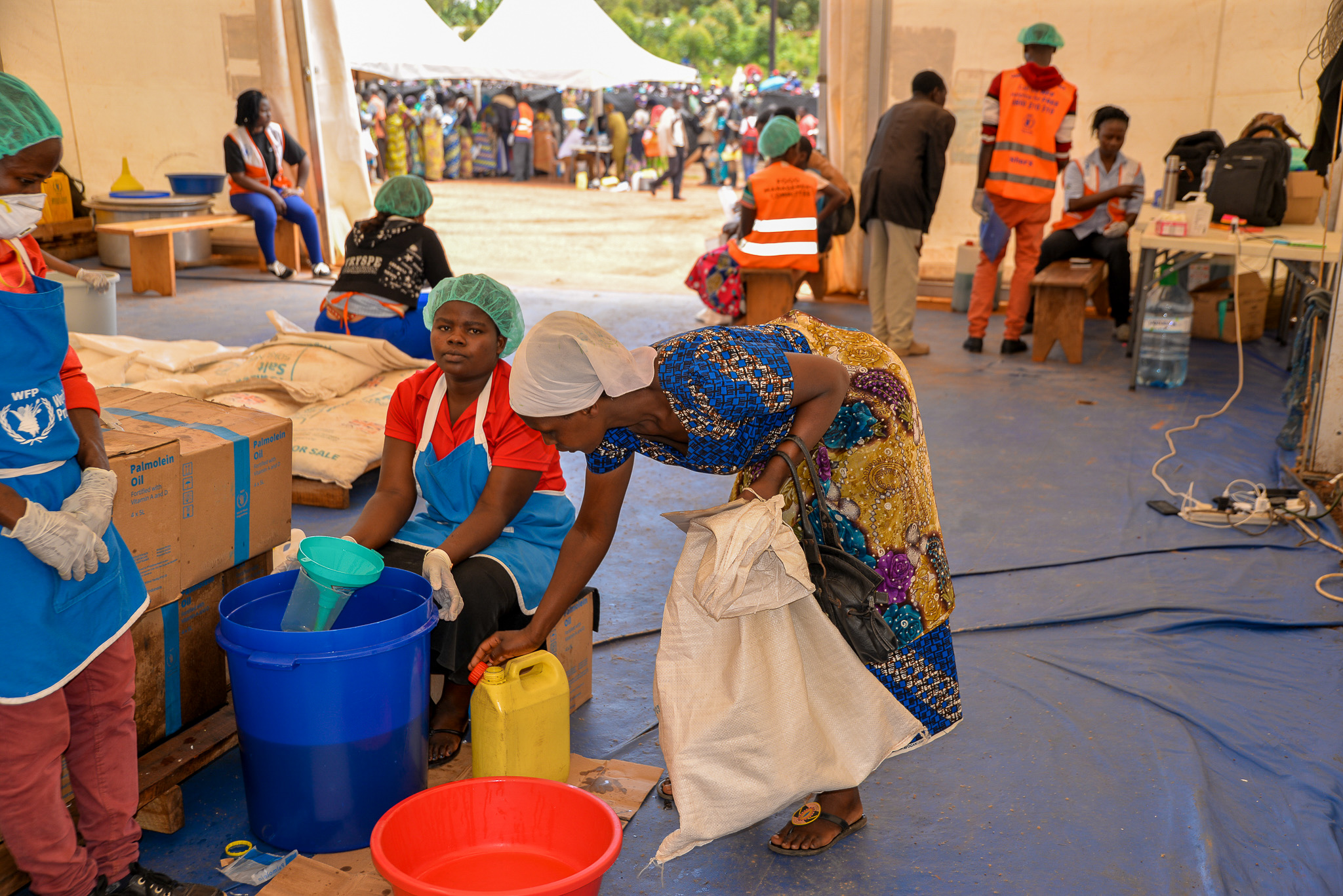 The food is weighed. Today, Mutimukeye and many others received 12.6 kg of rice, 2.4 kg of beans, 0.9 litres of cooking oil, and 0.15 kgs of salt.
After receiving her food, a porter (from World Vision or World Food Programme staff) stands by to help her carry the food outside the food distribution point. The porters use wheelbarrows to help people carry and load the food to their own transportation means.
Mutimukeye hails a motorcycle (bodaboda), the most commonly used means of transportation. After a five-minute fervid negotiation, the two reach an agreement on how much she will pay to carry her, her son and the food home. On average, a bodaboda charges UGX 5, 000 ($1.50 USD), a high price for refugees like Butoto who earn only about UGX15, 000 (about 4$4.50 USD) a month from occasional digging.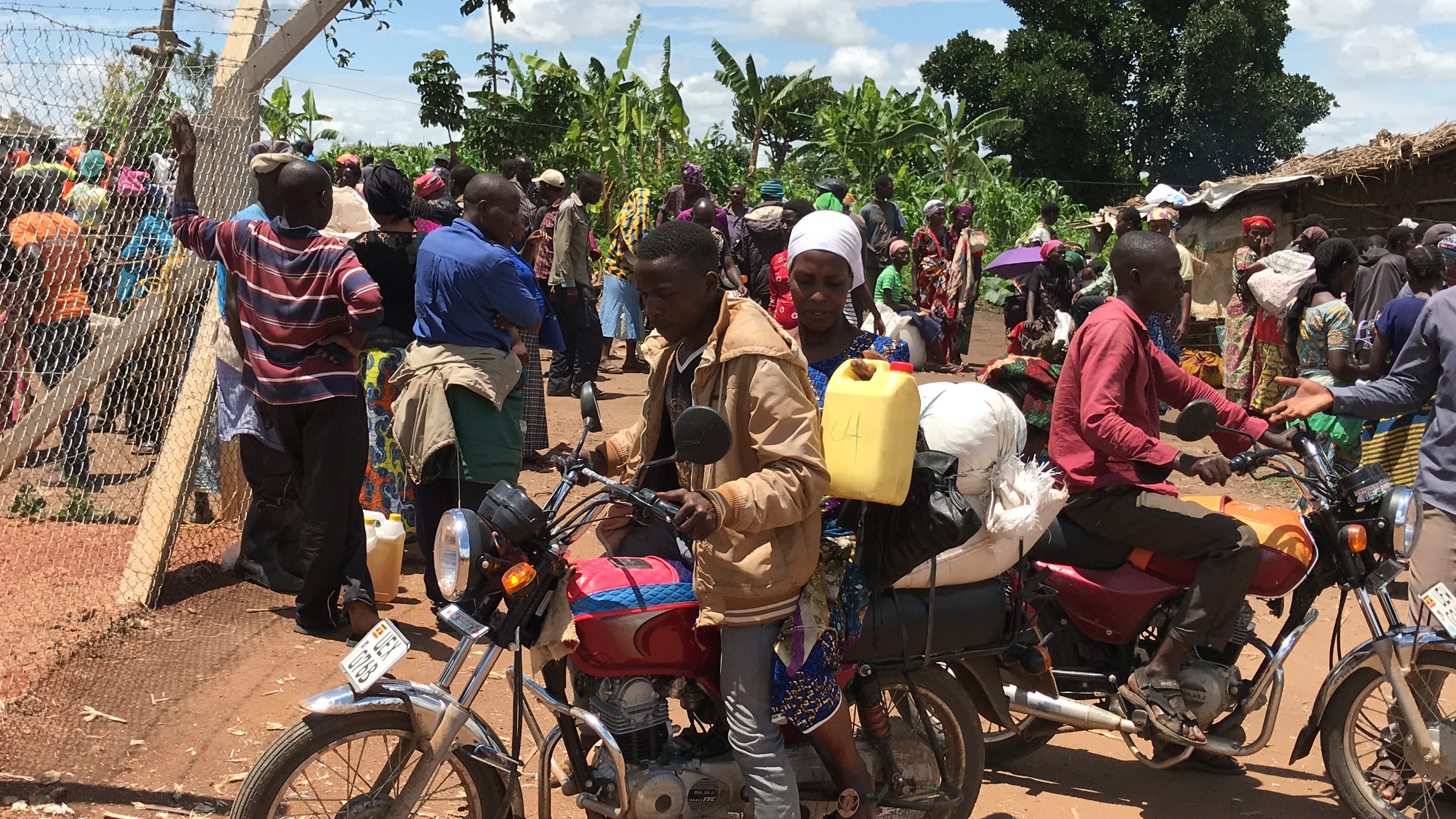 Rationing at home
Mutimukeye stays in Buliti village, about 4 km from the food distribution point. We go with her to give her company as she prepares a meal on this chilly Wednesday afternoon. In her one-bedroom hut, she stays with her three children.
She has a sister who stays across the road and they often spend their time together. Mutimukeye's husband died in the war in DRC. With her sister's help they begin the preparation for the evening meal that should have been lunch. The hungry children look on in anticipation.
From last month's ration, Mutimukeye has a little maize flour left. To the children's disappointment, she decides rice will be for tomorrow. Today it will be posho (maize meal), with silverfish mixed in vegetables as a sauce. She cannot cook the beans now because it would take too long to get ready.
"The children don't like posho a lot. They actually love Irish potatoes and rice. Irish potatoes is the favourite for all of us, but it is so expensive. We only eat it once in a while when I get some money," she said.
The majority of refugees (75%) prefer food rations compared to some 85,000 (25%) who chose to opt for cash vouchers which they can use to buy food. The latter group receives UGX 31,000 ($9). 
"I think about it a lot. I feel cash would give me the opportunity to buy whatever I want and also maybe invest some of the money somewhere. But I am too scared to try it yet. What if it is not enough? You can do without cash but you cannot do without food. So, for now, I will stick to food until I am fully convinced that cash is the best option," she rationalises. Those that receive cash mostly include the elderly and other people with special needs.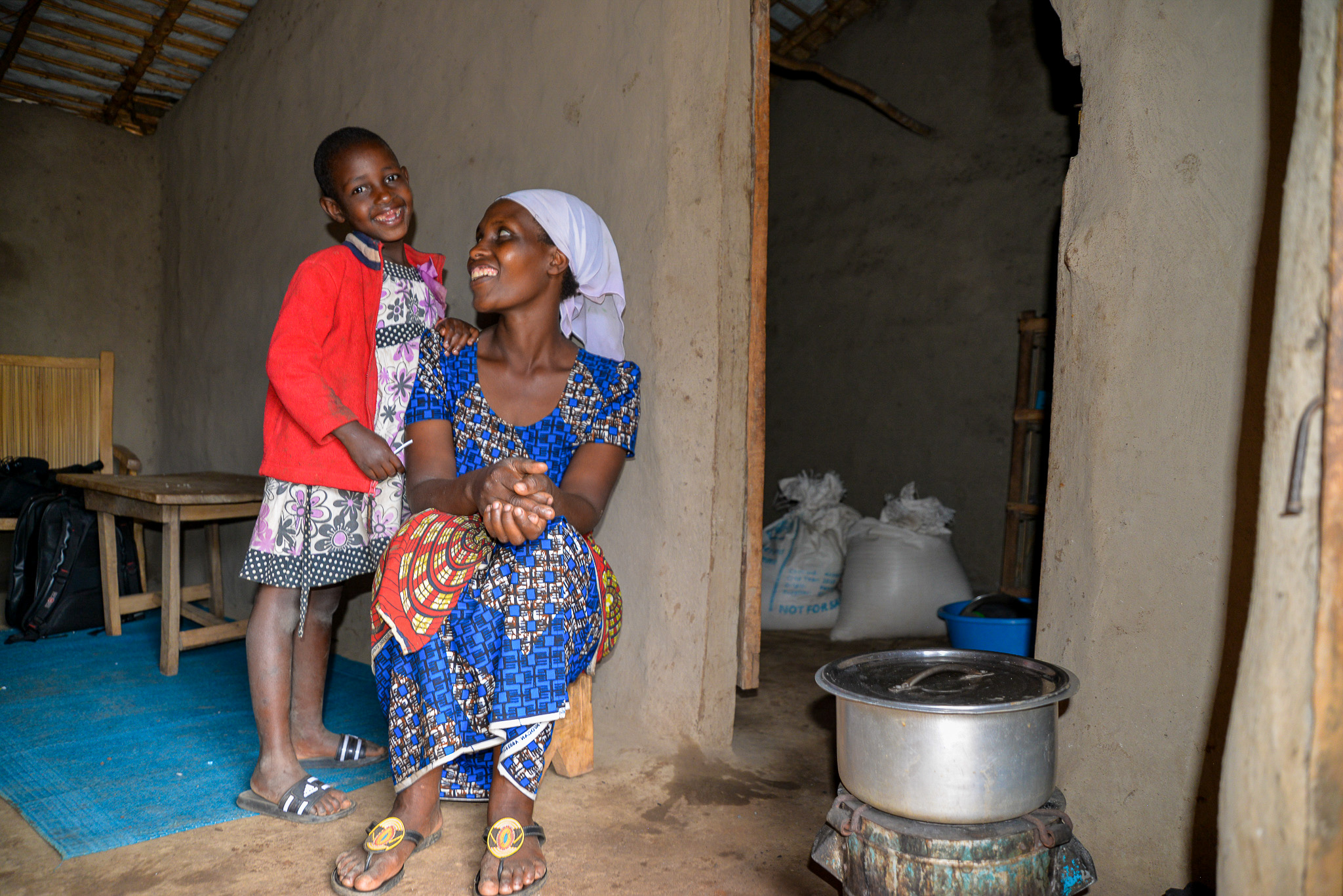 Finally, at about 3:00 pm, Mutimukeye starts preparing her meal. Although it is a simple meal, it takes a lot of time to prepare on an open flame especially given the poor quality of charcoal Mutimukeye must use to cook. Two hours later, the food is ready. The family eats from the same aluminum plate. The three children are on the floor, their mother perched on a stool, struggles to reach for the food as she monitors everyone's 'table' manners. They all seem to enjoy the only food they have eaten since morning.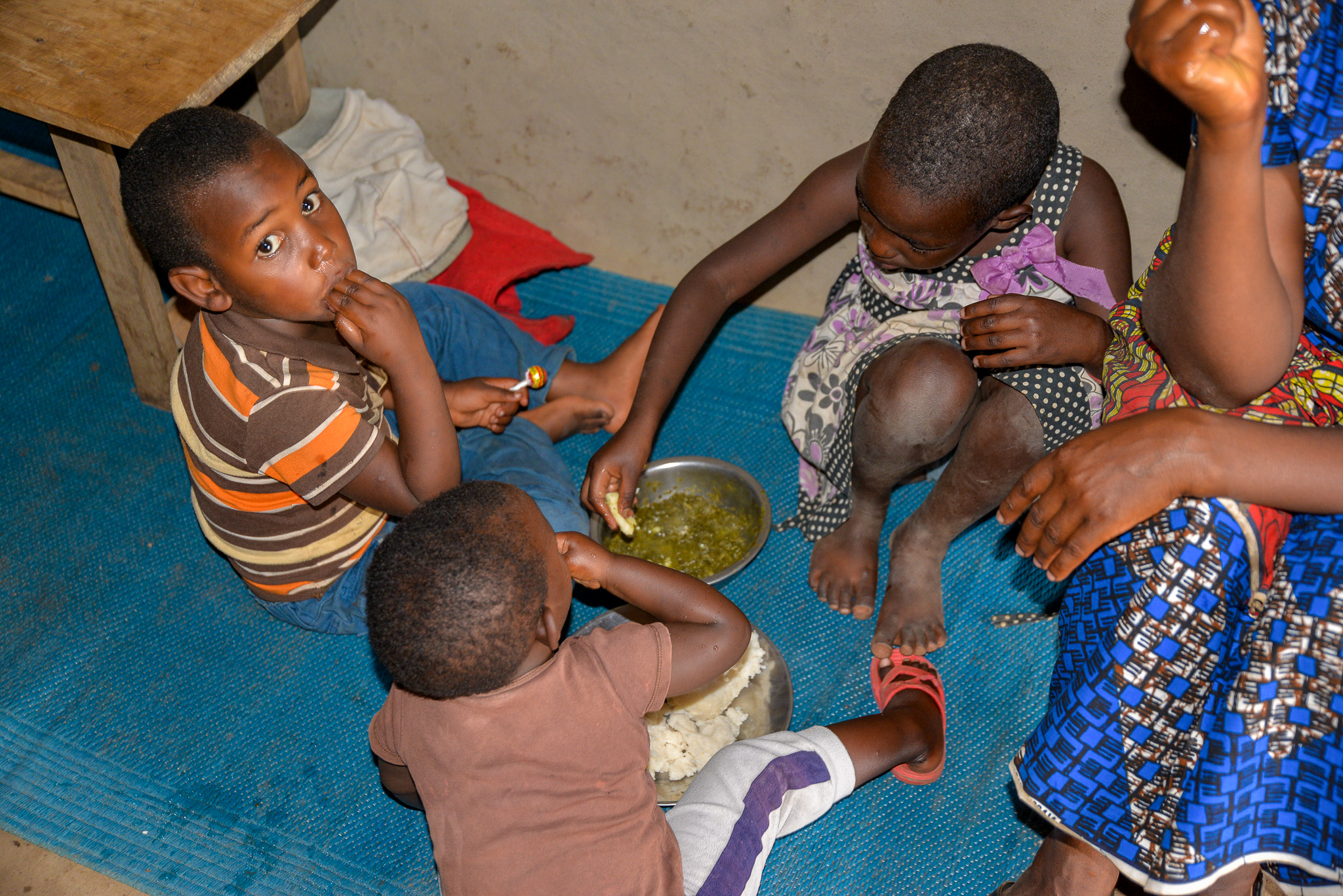 After the meal, Mutimukeye starts preparing for the next day's meal - rice and beans. The children are happy to learn this.
The beans need about 2 to 3 hours to get ready. After sorting and washing the beans, she puts on fire where they will cook overnight.
Will there be dinner on this day? It is a luxury they cannot afford. "We are lucky to have eaten this late, so we will still be fine at dinner time. Sometimes we leave some small food in the saucepan, especially for the children, but cooking dinner is something that never crosses my mind or that of my neighbours. The food would never make it through the month if we are to prepare dinner every day," she said.
For now and the next month, Mutimukeye and many more like her who received food items that day, are sure of at least one meal a day to keep them going.
Mutimukeye is among 360,000 people (200,000 of these children) whom World Vision, in partnership with WFP, reaches every month with food assistance.