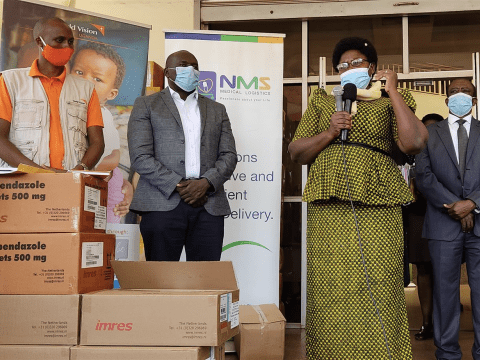 World Vision donates nutrition and health supplies towards immunisation and vaccination activities
Wednesday, February 17, 2021
 By Joanitah Asiimire, Communications Official, World Vision Uganda
World Vision has, today on Wednesday February 17th 2021, handed over 4,750,000 doses of dewormers  (Albendazole 2,500,000 and mebendazole 2,250,000) valued at USD 760,000 (approx. UGX 2.8B) to the Ministry of Health at its headquarters in Kampala. These will be distributed through the National Medical Stores to different districts, to support Child Days Plus (CDP) in April. CDP is a bi-annual event implemented during April and October to promote immunisation and vaccinations.
"We really appreciate this generosity to the people of Uganda, especially the children and mothers. These will be integrated in the Child Health Days (days especially dedicated to reaching every child and woman with critical health care services), which makes the work of Government much better", said Dr. Henry Mwebesa, the Director-General of the Ministry of Health, during the handover.
Dr. Joyce Moriku Kaducu, the Minister of State for Primary Health, expressed her gratitude towards the generous people who always think about the people of Uganda and their children. "This medicine will go a long way towards saving the lives of our people",  she added.
World Vision's health and nutrition programme aims at contributing to an increase in the number of children aged from zero to five years who are well-nourished and protected from infection and disease by 2025, through the promotion of access and utilisation of quality health care services.
This Gift in Kind (GIK) donation from World Vision's Canada office through World Vision's Uganda office is timely for CDP. The World Health Organisation (WHO) recommends that all children aged 12-59 months should be dewormed twice a year (after every six months) to eliminate worms and remove any infections that could possibly discomfort the child.
In Uganda, the overall prevalence of Ascaris lumbricoides, Trichuris trichiura and hookworm stood at about 6.3%, 5.0% and 43.5% respectively in 2018 (M. Adriko, 2018). Despite efforts by the Ministry of Health to support deworming in preschool children, only 61% of children are reported to be receiving deworming tablets every six months (according to data from the latest Uganda Demographic and Health Survey - UDHS 2016).
Deworming is believed to improve a child's health by allowing them to absorb the necessary nutrients that the body requires,  helping the child in combating malnutrition and in gaining weight. World Vision works through the Government's health system structures, right from the community and district levels to the national level, to implement activities under its heath technical programme in 18 Area programmes located in 15 districts.