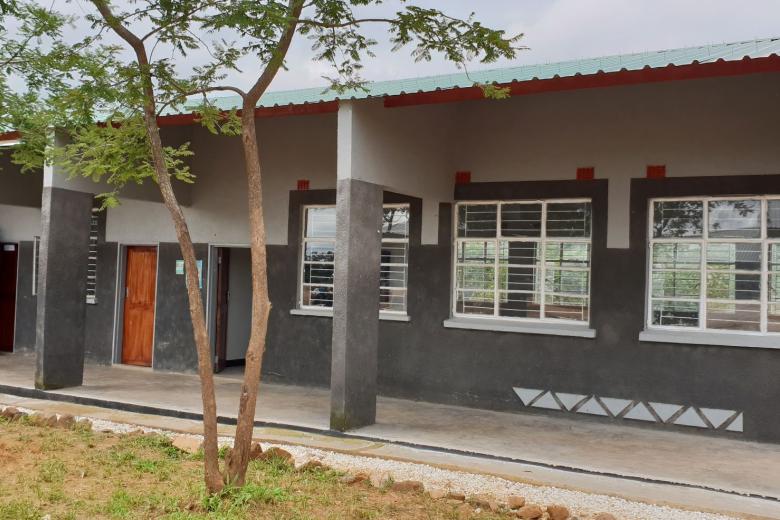 Absa Bank & World Vision hand over new classroom block and COVID-19 materials to the Education Ministry
Wednesday, February 10, 2021
Absa Bank Zambia PLC and World Vision have handed over a newly constructed 1x3 classroom block valued at K688,729 (approx. US $38,000) to Chipapa Secondary School. The classroom will benefit over 350 learners in the Chipapa area, Kafue District. As part of the donation, Absa Bank also purchased desks and chairs for the new classroom block, valued at K82,800 (approx. US $4,600).
Absa Bank contributed K350,000 (approx. US $19,300) and World Vision K338,729 (approx. US $ 18,700) towards the construction of the new block which is poised to increase classroom space and provide a conducive learning environment for pupils. Before Chipapa Secondary School opened in 2014, learners walked a minimum of 12km (one way) to Chilanga to access secondary school education. This opening resulted in high demand for secondary school places in the Chipapa area, especially for senior classes. Due to lack of space, pupils had to attend their classes in the school's bicycle shed.
Further, as part of the Bank's contribution towards the fight against COVID-19, Absa Bank has funded the purchase of various hygiene materials and Personal Protective Equipment (PPE) valued at K300,000 (approx. US $16,500) which will benefit over 10,000 learners and community members in the Chipapa Secondary School area. The materials consist of 460 disposable face masks, 1,100 hand sanitisers in three sizes (50ml, 75ml, and 400ml), 25 handheld thermometers, 50 Granular Chlorine (25kg), 20 boxes of examination gloves and 20 (one-litre Pressure Plastic Sprayers).
Speaking on the handover of the classroom block, World Vision's Zambia National Director Mr. John Hasse, represented by the Resource Acquisition and Communications Director Jason Befus said, "The construction of the 1x3 classroom block, in collaboration with Absa Bank, will go a long way in ensuring that pupils continue to attend lessons with confidence. The classroom block will also reduce overcrowding in classrooms, and the hygiene and protective materials are critical during this time of the COVID-19 pandemic where leaners must adhere to physical distancing guidelines and maintain high levels of cleanliness to ensure their safety."
"We are also making this donation of COVID-19 materials to ensure that pupils and teachers are safe and remain healthy as they attend lessons in schools. Together with Absa Bank, we are contributing to the improved well-being of underprivileged children and their families in Kafue's Chipapa area, thus, ensuring that vulnerable children live life in all its fullness," added Mr Hasse.
Absa Bank's Zambia Managing Director Mrs Mizinga Melu, in remarks issued on her behalf by the Bank's Head of Marketing and Corporate Relations, Mr Mato Shimabale, said, "We are excited that our partnership with World Vision has resulted in the 1x3 classroom block for Chipapa School finally being completed and being handed over for use. Absa Bank did not stop at providing the building but went further to assist with desks and tables. This affirms our commitment to supporting education as part of our citizenship strategy where we strive to be a Force For Good in the communities we operate in."
"Today, as we celebrate one year of the Absa brand operating in Zambia, we continue to be inspired by the country's 'Africanacity' spirit – that distinct ability to find a way to get things done amidst challenges. We understand that the COVID-19 pandemic has affected different societal groups and hope that the items donated through our partner World Vision will help to mitigate the devastating effects", Mrs Melu added.