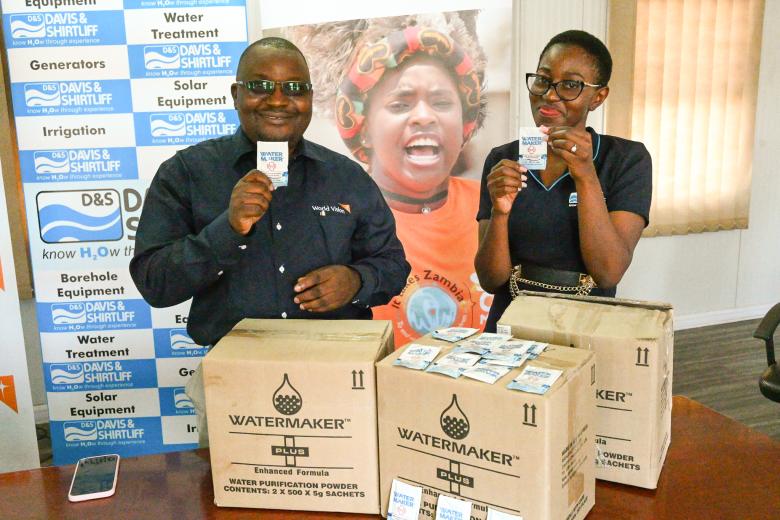 Davis and Shirtliff donate chlorine granules to improve access to clean and safe water in refugee settlements
Thursday, July 20, 2023
By Agatha Mali, Communications Officer, Zambia
Davis & Shirtliff Zambia has continued to partner with and support World Vision by donating 3,000 sachets of granulated chlorine valued at K7,000 ($365 US Dollars) to refugee settlements where access to clean water remains a challenge.
Speaking during the donation ceremony, Davis and Shirtliff Sales Manager Jessy Daka said the donation of the water sachets was a gesture to help World Vision deliver clean and safe water to different communities of the country.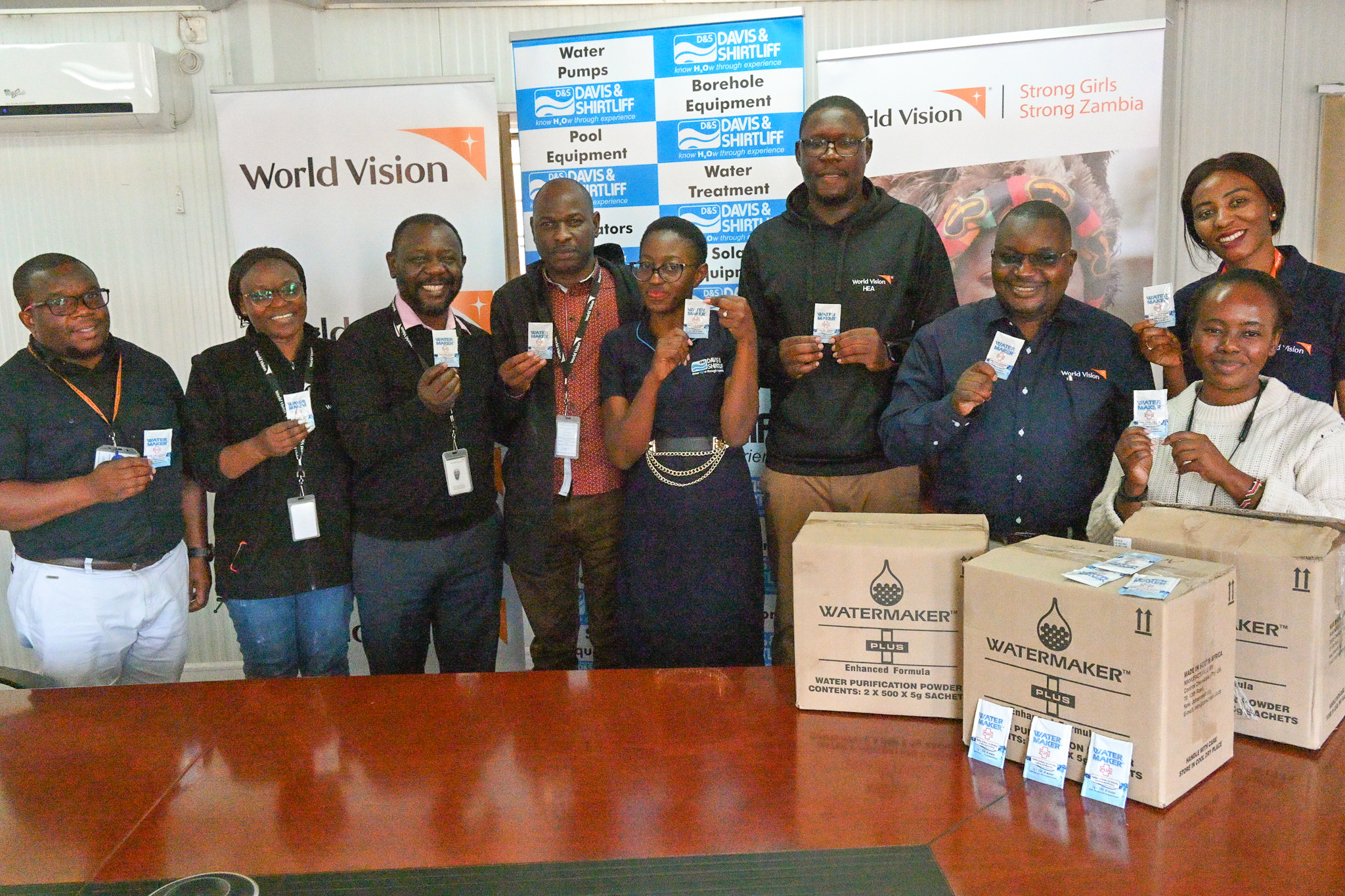 She noted that Davis and Shirtliff's Community Social Responsibility programme's goal is to improve people's lives.
"Partnering with World Vision makes it easy for us to achieve our goals, and we pray that this partnership continues so that we can as well continue to improve vulnerable people's well-being.
 And World Vision Zambia Associate Director for Humanitarian Emergency Affairs, Bernard Zgambo expressed his gratitude on behalf of World Vision upon receiving the donation from Davis & Shirtliff Limited. He said the chlorine water treatment sachets would be distributed to refugee settlements supported by World Vision, where access to clean water has been a challenge.
"The water treatment sachets will go a long way in helping us achieve our objective of providing clean and safe water to our communities to protect them from waterborne diseases such as diarrhoea," said Bernard. 
He explained that since 2017 World Vision Zambia has been providing water to people of concern targeting refugee settlements, host communities, and local area settlements for former refugees.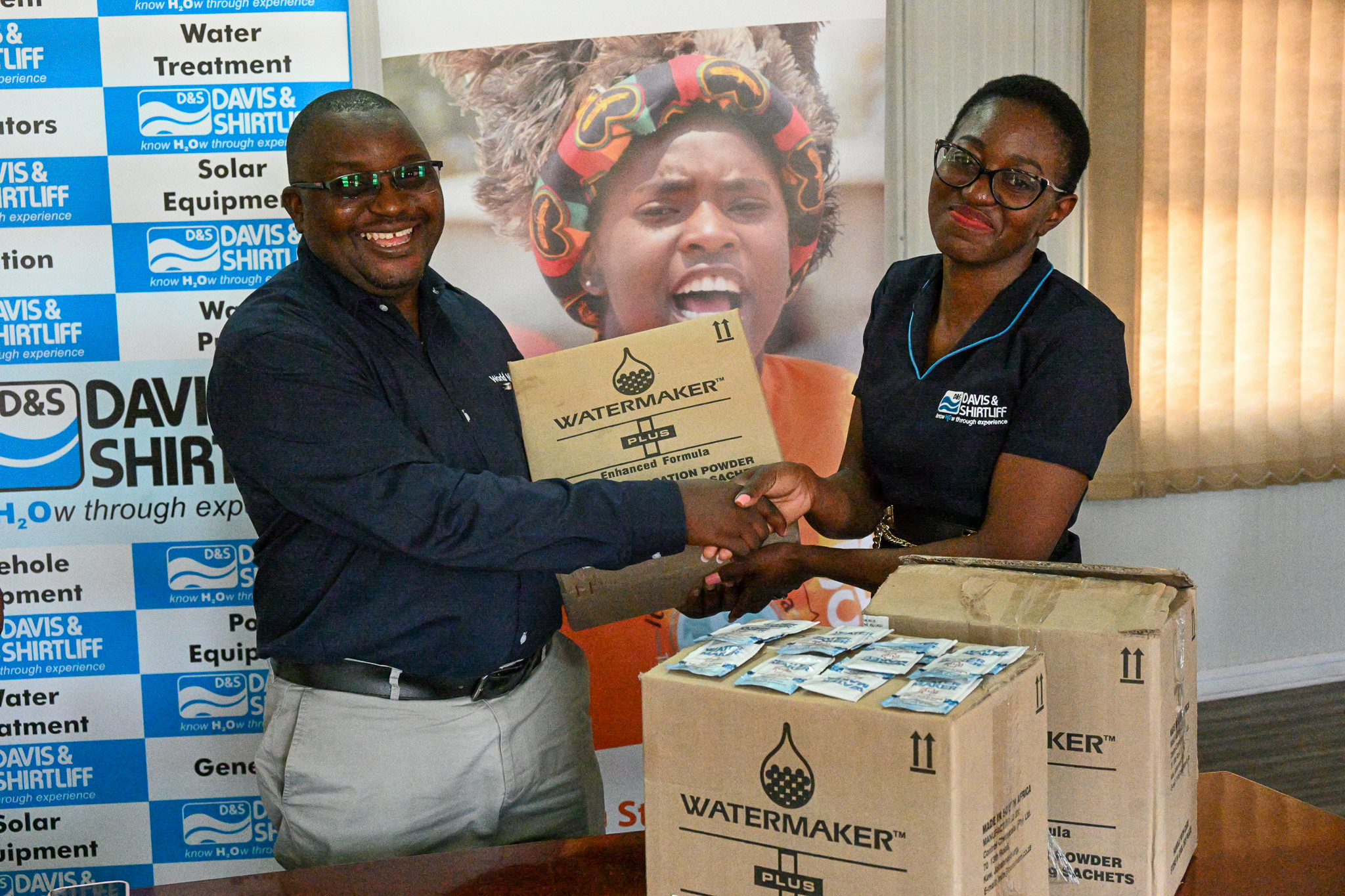 "To date, World Vision has drilled 66 boreholes in Mantapala refugee settlement and four boreholes in the community surrounding the refuge settlement," he said. "We have also rehabilitated 231 boreholes in three refugee settlements in Zambia to enhance access to water."
He added that World Vision strives to provide access to clean water closer to households with a maximum of 30 minutes round trip.
"Therefore, World Vision will continue to work with organizations like Davis & Shirtliff to uplift the lives of the vulnerable people in our communities," he said.