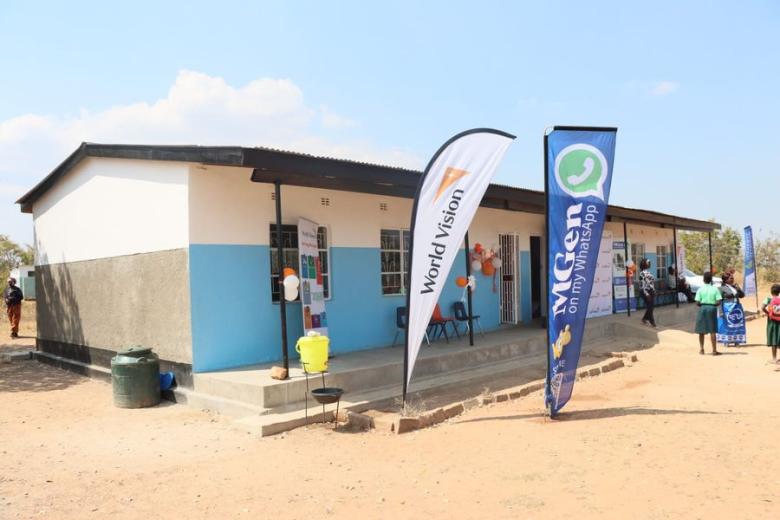 World Vision Zambia and Madison General Insurance Company Zambia Limited hand over refurbished classroom block
Tuesday, September 20, 2022
By Kambani Phiri, Communications Specialist, Zambia.
World Vision Zambia, with support from Madison General Insurance Company Zambia Limited, has handed over a refurbished 1x2 classroom block at Mpande Primary School to the Zambian Government, which will provide a conducive learning environment for over 500 learners.
Speaking at the handover event, World Vision Zambia National Director John Hasse said that while the school still faced challenges of limited learning space, the renovation of the only existing classroom block was a step toward providing quality education for vulnerable children.
"This renovated block will contribute to the improved learning outcomes through quality teaching, learning, and a conducive environment for over 500 girls and boys at Mphande Primary School," said Mr. Hasse. "This development is a testament to our good partnership with Madison General Insurance Company and the Zambian government."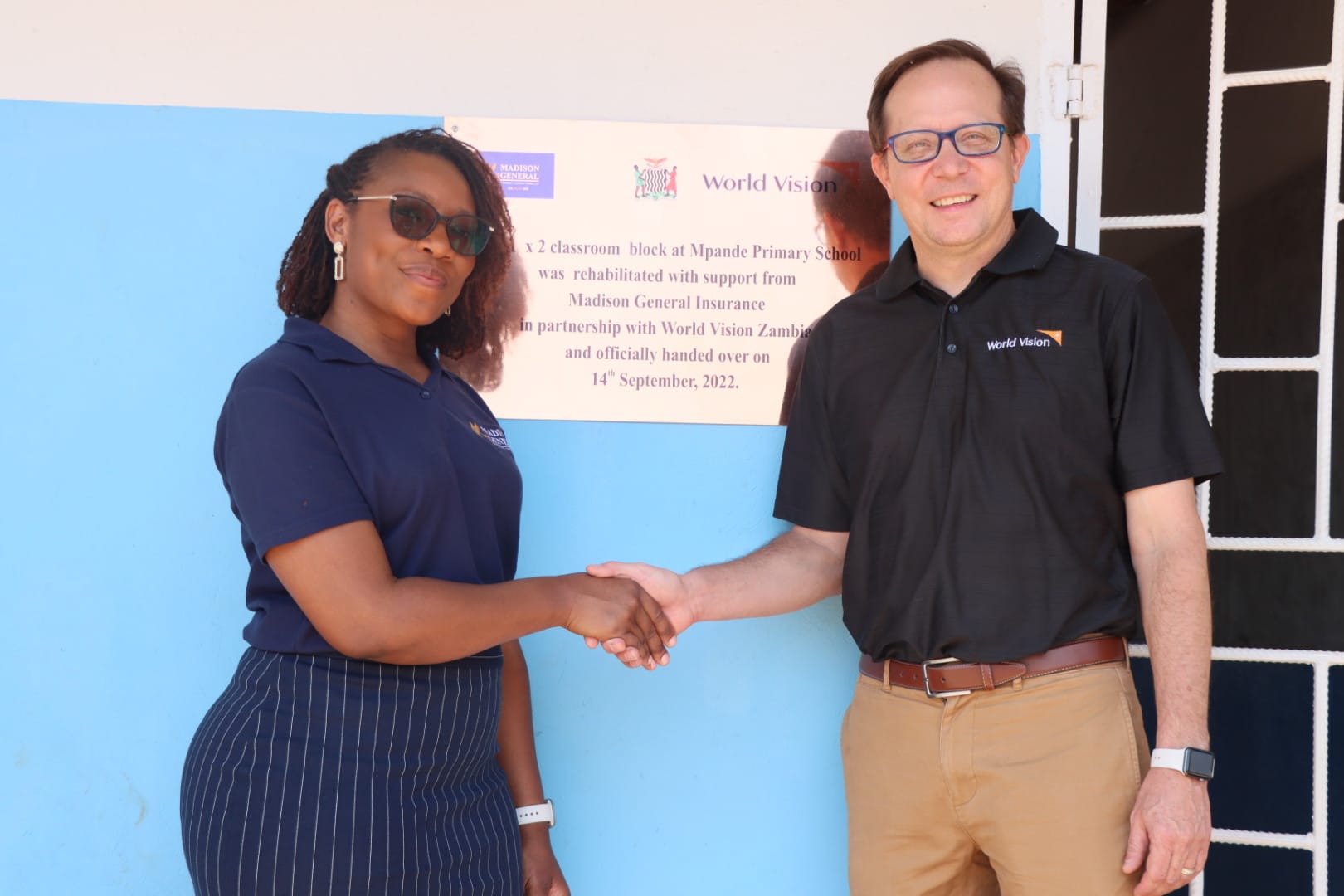 And Kafue District Education Board Secretary (DEBS) Frankin Musakula said the Government is cognizant of the fact that it cannot achieve quality education without the involvement of partners.
"We welcome all able partners to come on board and contribute to creating an enabling learning environment for our pupils to access quality education," he said. "We are very grateful for the gesture by World Vision Zambia and Madison General Insurance Company to renovate this 1x2 classroom block."
The District Education Board Secretary called on the community members to take the lead in protecting the refurbished infrastructure.
"To you, our parents, this classroom block does not belong to World Vision, Madison, or the teachers. This is your property, and we are all here to hand over this beautiful property to you so that you look after it for the benefit of this community's children. So, please, my appeal to you today is that look after this property with love and care as if it were your own house because the development of this community depends on this school," he said.
And 14-year-old Lydia, a pupil at the school, said the renovated classroom block would encourage more children to come to school.
As pupils, we are very excited with the new look of our classrooms, and I am sure most of my friends will now come to school. Previously, it had cracked walls, a dirty and dilapidated floor, which caused some pupils to stop coming to school as it was in a bad state.
Meanwhile, speaking on behalf of Madison General Insurance Company Zambia Limited, Director General Mr. Chabala Lumbwe, General Manager for Marketing Enala Lombe, said the company believed in giving back to the community since its inception in Zambia.
"Madison General Insurance has been in existence for over 30 years, and we are happy to contribute to the development of the communities. We are committed to giving back to the community and working with developmental partners such as World Vision to foster development," said Ms. Lombe.
At the same occasion, a visibly excited Community Representative Headman Chilimba Mume reiterated his community's commitment to working with all partners in bringing development for the benefit of the children.
World Vision has given us knowledge through this classroom block. As a community, we are very grateful and united to contribute in every way possible to ensure that this school has enough classrooms and teachers' housing.
Background
Last year, Madison General Insurance Company Zambia Limited, through its partnership with World Vision Zambia, donated K65,000 (4,100 USD) towards the rehabilitation of a 1x2 Classroom block at Mpande Primary School in Kafue District.
Read the full story…World Vision Zambia and Madison General Insurance Company Partnership