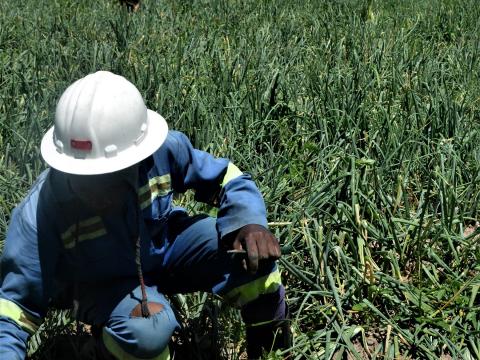 A Farmer's Dream; Bumper Harvests All Year
Thursday, December 19, 2019
By Raymond Chalata, Communications Officer, World Vision in Zambia
Stretching across over one hundred hectors is the Milundo Weir dam, constructed by World Vision in 2017 as part of the Transformation for Household Resilience in Vulnerable Environment (THRIVE) project in Kasama's Chanda Chamamba village. The dam has empowered hundreds of farmers with something they had never had before, a year-round supply of water.
Thanks to additional training to build farmer's business, management, and conservation skills, farmers in the area are increasingly becoming economically sustainable through all year production of crops.
Located in the Northern part of Zambia, the Weir, which was made on the ever-flowing Milundo stream provides access points for 300 hundred farmers, making it easy for them to have water to grow crops any time of the year.
Its harvest time! Every farmer's favorite time, Felix Mwamba, 47, confidently strolls through his ready-to-harvest onion field with a beaming smile. "World Vision taught us farming God's way [conservation farming], which means our farming activities don't have to destroy the environment; instead of fertilizers, we use manure," he says.
Felix is one of the many beneficiaries of the Weir who also took part in the conservation farming, business and management skills trainings offered by World Vision through Thrive in 2018.
For him, the presence of the THRIVE project in the area has fundamentally transformed his approach to farming. "We have easy access to water all year round for our farms from Milundo Weir dam which was constructed by World Vision Zambia in 2017," he adds.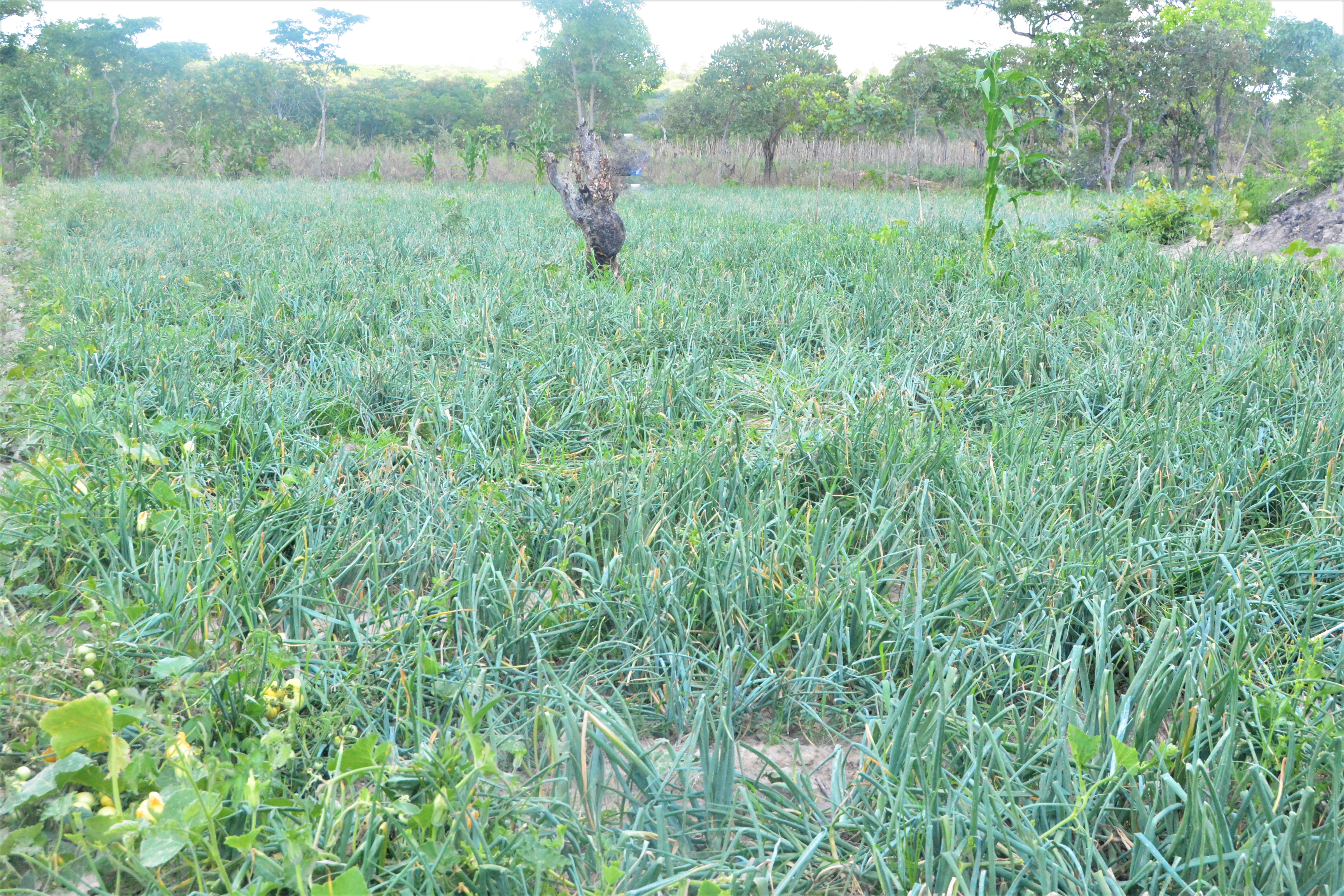 Before the dam, most farmers relied solely on rain-fed subsistence farming that used traditional methods of farming, known as Chitemene, that barely produced enough for home consumption or for sale. But, not anymore.
Felix explains that by using the water from the weir he has managed to plant two limas of onion, an area approximately 100 meters long and 50 meters wide where he has harvested 60 bags (50 kilogram each)of onions and still has about half of his field to harvest.
"This is the first time I am planting onions and from this harvest, I expect to get 100 bags. Which is beyond my expectation because previously I used to just grow tomatoes and maize and I never harvested this much," he says.
"I estimate the price of one bag around K350 ($23 USD) per bag which will give me a K35,000 ($2,300 USD) a very healthy profit as a testament of what World Vision has done for me," he says with a smile.
From the bags already harvested and sold, it is hard to see a trace of poverty at Felix's home because he now has adequate income to provide the basic needs for his family such as food, clothing and paying for his children's school fees.
"Before the THRIVE project came here, it was challenging to meet daily needs as a family, such as buying food and paying for school fees for my children.  Now, the story has changed," he adds.
Another happy beneficiary of the THRIVE project is Febby Chewe, a 26-year-old mother of three who has learned Farming God's Way and has an impressive field to show for it.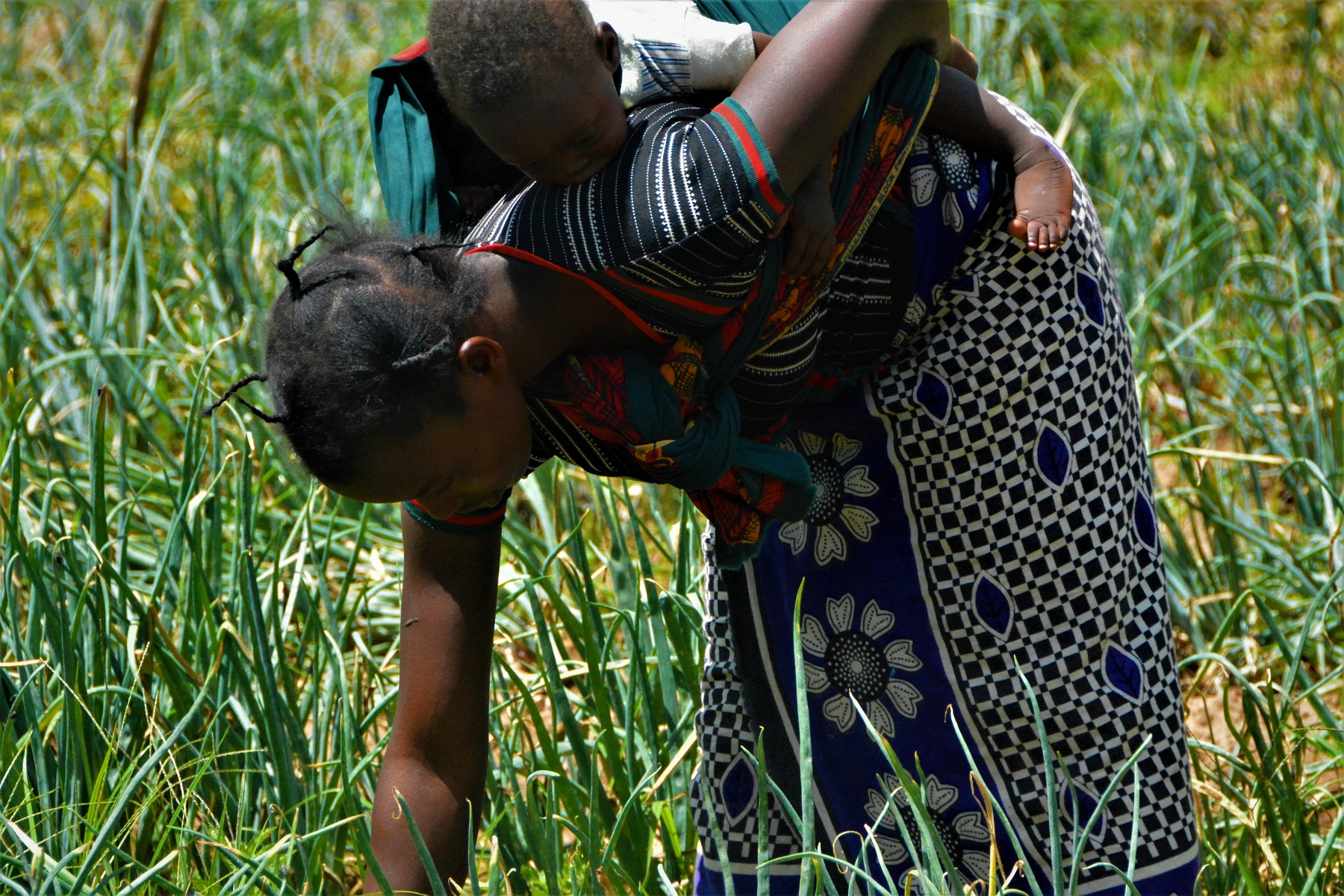 Febby grows cabbage, tomato and onion. She designed her field in such a way that the farrows from the weir dam pass in the middle of her three fields to make it easy to water the crops.
"I thank World Vision for bringing this THRIVE project here, it has changed our lives for the better" she said. "I have more money at my disposal to buy a variety of nutritious foods for my children and their health is much better than it was."
Through the THRIVE project, World Vision is contributing to improving food security and livelihood for farmers which as a result is reducing poverty levels through increased incomes at household level as farmers are able to grow crops all year round and as a result are able to provide for their families.
World Vision is implementing the THRIVE project targeting about 15,000 people with skills and knowledge in savings for transformation (S4T), crop production, conservation farming, environmental management business and livestock management.
This is being achieved through models including Biblical Empowered World View, Savings for Transformation, entrepreneurship, financial literacy, and natural resource management; resilience and shocks.