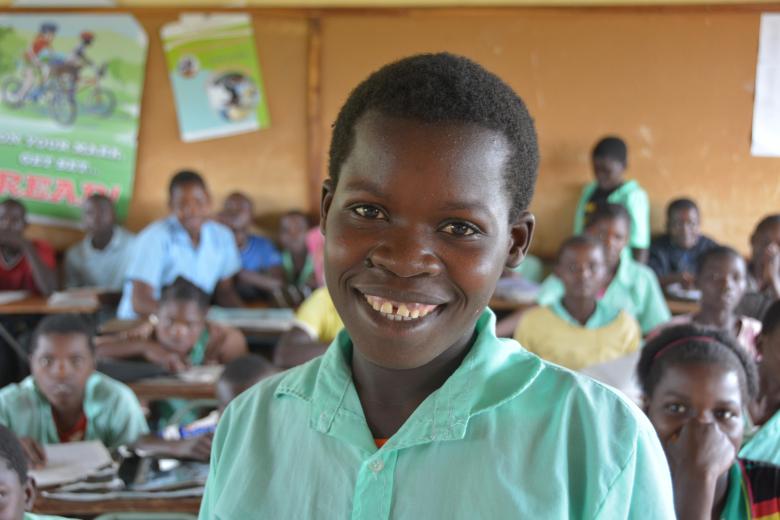 Former Child Bride; Future Nurse
Friday, August 16, 2019
"My marriage was a kind of hell I cannot describe – I suffered pain from my husband's daily beatings and failure to provide food to eat, especially for our two children," Tichoke Phiri says.
Tichoke, a mother to two children, Landford, 6, and Given, 2, lives in Katete's Chapeuka village, located about 500 km east of Zambia's capital, Lusaka.
Married-off at the tender age of 14, Tichoke, as a child bride, had no idea what marriage was about.
Tichoke in class
"Each time I asked for money for food, clothing and other household needs, he would beat me terribly. I started wondering if this was how marriage is supposed to be," Tichoke says.
When she informed her family about the abuse, Tichoke's mother encouraged her to be strong saying that one day all will be well.
"Each day I got depressed because of what I was experiencing. I became malnourished because of my poor diet," Tichoke recalls.
Realising that there was no value in the marriage and that going back to school was more important, Tichoke decided to seek help from the Nileleni counselors, locally known as Alangizi.
"Things were tough. I wanted to get out of this marriage but I did not know how," Tichoke says, "I did not want to involve my mother anymore because she wanted me to stay married."
The Nileleni group, supported by World Vision, was able to rescue Tichoke and helped her get back to school. They helped by providing her with uniforms, books, school bag, shoes and socks.
Today, Tichoke, 25, is studying in Grade 9 at Lupando Secondary School. She is determined to become a nurse, a dream she once thought was lost when she was married off.
"Marriage almost swallowed away my dream of becoming a nurse. Now that I am back in school, I know I will achieve my dream," Tichoke says.
Tichoke now encourages other young girls to focus on education and not marriage.
"Focus on your education before thinking of marriage because there is pain and suffering in marriage if you rush into it," Tichoke warns.
Thanks to Nileleni, Tichoke's mother has reformed and reconciled with her daughter and while Tichoke attends school, her mother helps to take care of her two children.
With support from World Vision, Nileleni, which means nurture me, has helped over 500 girls, including those not yet married, by training them in entrepreneurship, such as businesses management and how to make reusable sanitary pads which they sell to generate income to meet their daily needs and to become self-reliant. Others have been trained and linked to Savings Groups and Cooperatives to access loans and inputs for their farming.