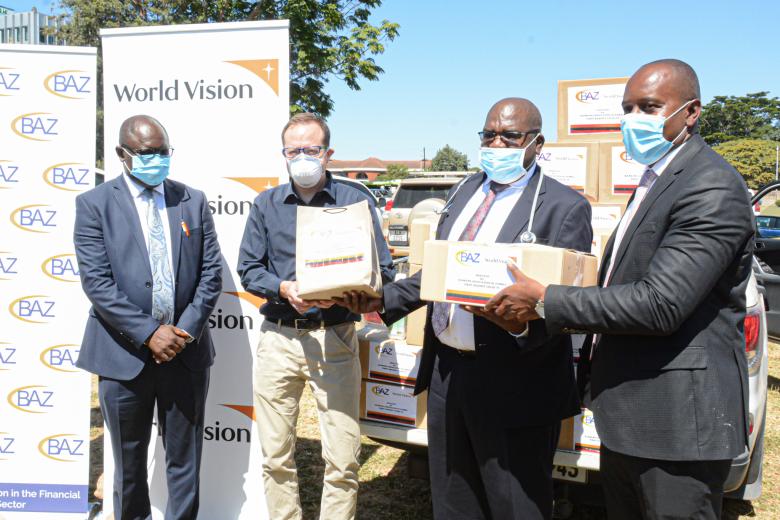 World Vision Zambia and Bankers Association of Zambia (BAZ) donates medical and hygiene supplies to fight COVID-19
Wednesday, April 29, 2020
By Kambani Phiri - Communications Officer, World Vision in Zambia
In Zambia, World Vision in collaboration with Bankers Association of Zambia donates medical and hygiene supplies to the Government of the Republic of Zambia through the Ministry of Health to help the fight against coronavirus (COVID-19).
Speaking during the handover at Ministry of Health Headquarters, World Vision's National Director in Zambia, John Hasse said the organisation will continuously seek ways of supplementing government efforts in fighting COVID-19.
"As World Vision, we will continue to look for ways of supplementing government efforts in fighting this [virus] and in ensuring effective mitigation on the effects to the most vulnerable communities. We have continued to reach out to various partners to see how we can combine efforts to extend interventions in areas of high risk, such as border towns and isolations centres by improving water and sanitation and providing hygiene and medical supplies. It is in this regard that we are here again, in partnership with the Bankers Association of Zambia (BAZ) to join other stakeholders in supporting government's efforts to mitigate further spread of the pandemic."
The Bankers Association of Zambia Executive Director, Leonard Mwanza said the BAZ was happy to partner with World Vision. "Bankers Association of Zambia is very pleased to work with World Vision in Zambia, we selected World Vision because of the good works it is doing around the country and also it has already structured offices in the communities and this gives us the assurance that the things we are donating will reach the people in need," says Mr. Mwanza.
The two institutions donated medical and hygiene supplies worth 1 million Zambian Kwacha ($53,572). The items contributed were; 1,000 shoe covers, 1,000 mop caps, 150 pulse oxymeters, 30 coveral protection, 50 medical goggles, 100 reusable face shields, 1,000 hand sanitisers and 500 disinfectants.
Speaking when receiving the supplies, Minister of Health Hon. Dr Chitalu Chilufya appreciated World Vision for being a key player in the development of the country.