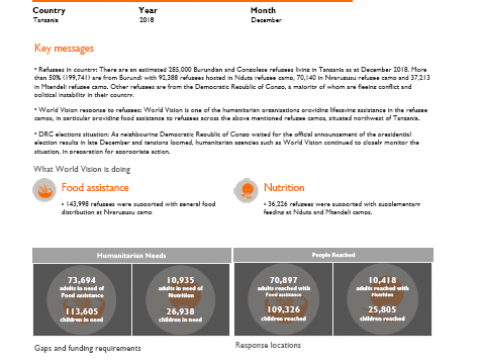 Tanzania - December 2018 Situation Report
Wednesday, February 13, 2019
Refugees in country: There are an estimated 285,000 Burundian and Congolese refugees living in Tanzania as at December 2018. More than 50% (199,741) are from Burundi with 92,388 refugees hosted in Nduta refugee camp, 70,140 in Nyarugusu refugee camp and 37,213 in Mtendeli refugee camp. Other refugees are from the Democratic Republic of Congo, a majority of whom are fleeing conflict and political instability in their country.
World Vision response to refugees: World Vision is one of the humanitarian organisations providing lifesaving assistance in the refugee camps, in particular providing food assistance to refugees across the above mentioned refugee camps, situated northwest of Tanzania.
DRC elections situation: As neighbouring Democratic Republic of Congo waited for the official announcement of the presidential election results in late December and tensions loomed, humanitarian agencies such as World Vision continued to closely monitor the situation, in preparation for appropriate action. Formore information, read or download our December 2018 situation report.