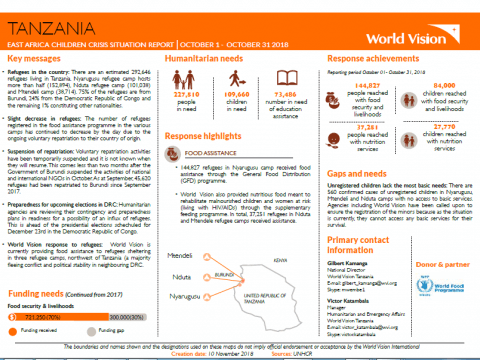 Tanzania - October 2018 Situation Report
Friday, November 16, 2018
Refugees in the country: There are an estimated 292,646 refugees living in Tanzania. Nyarugusu refugee camp hosts more than half (152,894), Nduta refugee camp (101,038) and Mtendeli camp (38,714). 75% of the refugees are from Burundi, 24% from the Democratic Republic of Congo and the remaining 1% constituting other nationalities.
Slight decrease in refugees: The number of refugees registered in the food assistance programme in the various camps has continued to decrease by the day due to the ongoing voluntary repatriation to their country of origin.
Suspension of repatriation: Voluntary repatriation activities have been temporarily suspended and it is not known when they will resume. This comes less than two months after the Government of Burundi suspended the activities of national and international NGOs in October. As at September, 45,620 refugees had been repatriated to Burundi since September 2017.
Preparedness for upcoming elections in DRC: Humanitarian agencies are reviewing their contingency and preparedness plans in readiness for a possibility of an influx of refugees. This is ahead of the presidential elections schechuled for December 23rd in the Democratic Republic of Congo.
World Vision response to refugees: World Vision is currently providing food assistance to refugees sheltering in three refugee camps, northwest of Tanzania (a majority fleeing conflict and political stability in neighbouring DRC).
For more information, read or download our October 2018 situation report.