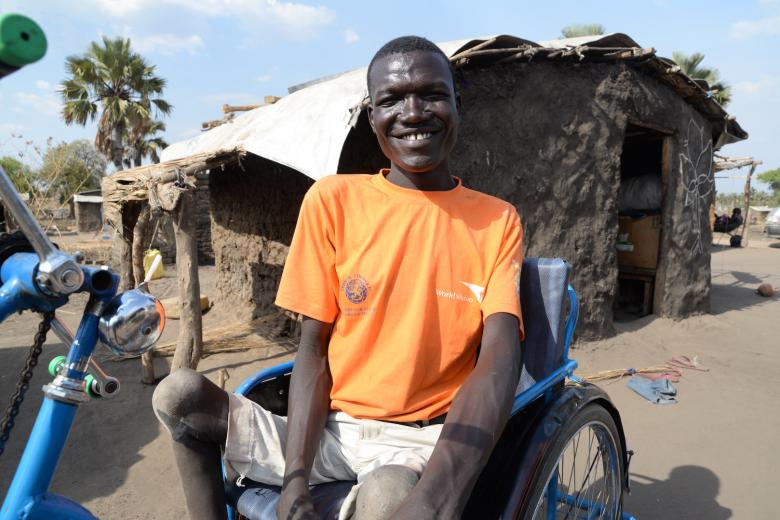 Alex's escape to victory
Tuesday, February 20, 2018
By Moses Mukitale, Communication Coordinator, West Nile Refugee Response
For 14 days, 25-year-old Alex Budyang painfully crawled on hands and knees to reach Uganda, fleeing violence in South Sudan.  The distance from his hometown Kajo Keji to Uganda's  Moyo district is just 28km's but for disabled persons like Alex, 'escaping to victory' was a nightmare. 
''I did not have a wheel chair. My knees kept crushing against rocks, thorns and sharp elements as we fled. It was very frightening. I bled and sustained wounds. My hands came in contact with several dead bodies along the way. I could not go over them as the other people did. It was bad," Alex narrates choking off tears. 
Orphaned at the age of 5, Alex was brought up by an aunt and until January 2017 she was still taking care of him.
''When fighting broke out, I was in Senior two at a boarding school in Kajo Keji town. All the students and school administrators fled, leaving me behind. I crept to the dormitory, picked a few pieces of bread, put them in my backpack and set off for Uganda," Alex narrates.
Alex says he did not bother to go home to his aunt as he wasn't sure she would still be alive.
''The whole town had fallen under attack, with men in uniform looting, killing and breaking into homes," he adds.
And off he went crawling, following hundreds of panic-stricken others to Uganda. This would be his very first trip to Uganda, an expedition he never imagined to make alone.
''The entire road was mobbed with people running in different directions. For three days I struggled to find space where to place my hands and crawl. So I hid in the bush until the number of people running had reduced. I kept praying that a car would stop and take me but in vain. I later learnt that motorists supposed I was being used as a bait by the fighters and so none dared to stop to give me a lift," Alex adds
Due to insecurity along the way, coupled with the rough texture of the road, Alex would not manage to crawl more than 3km daily. He would take several breaks in the bush, have a piece of bread, rest his wounds and then move again the next day. One of Alex's greatest fears during his flight to Uganda was being attacked by a wild animal at night but luckily none came his way. And neither did he fall into any ambush.
A month after arriving at Palorinya refugee settlement in Moyo district, Alex met hundreds of other persons living with disabilities. He received a wheelchair, monthly food rations from World Vision, a plot of land, basic core relief items and a makeshift shelter to live in.
When World Vision introduced an inclusive water, sanitation and hygiene project targeting mainly people with disabilities (PWD's), Alex was registered among the beneficiaries. The project, funded by the government of Finland, has a special component that empowers PWD's with life skills and income generating activities for sustainability. 
Alex's group of 7 called 'Lomeriti-dara' (the poor cannot get tired) received a grinding mill from World Vision. 7 other groups comprising of both PWD's and able bodied refugees also received grinding mills as part of efforts to boost their livelihoods. World vision ensured that each grinding mill is installed in a shelter and comes with a generator. Members were also trained on proper use of the mills and equipped with toolboxes for routine servicing.
Today, Alex's song has changed. He is not the crestfallen man that headed out to Uganda in January 2017.
"This grinding mill is helping us earn some income. Fellow refugees bring their food for grinding every now and then. Some give us cash while others give us food in kind. Every two weeks we share the money, sometimes we decide to give it to one person if he/she has a very pressing need or a business idea that requires capital," Alex narrates.
With over 180,000 refugees residing at Palorinya settlement, Alex's group is assured of monthly income as each refugee family has to grind maize to make flour. Alex is now back in school, he is in senior 3 and the grinding mill is playing a very imperative share in supplying his scholastic needs.
"I am able to buy books, pens, and also have some spare money to buy anything I want.  My dream is to study hard and become an engineer. If it wasn't for a lack of school fees and the continued fighting in South Sudan, I would have completed secondary education by now. But I kept missing classes and dropping out of school," Alex explains.
He is now planning to set up a grocery near his home, dealing in basic house hold items, and snacks. He plans to take a loan from his group later this year. He still hopes to meet his auntie someday, if peace prevails back home. His only prayer is that she is still alive.
Livingstone Onen the World Vision project coordinator for the inclusive WASH project in Palorinya says the program has empowered over 1600 PWD's with several income generating activities like liquid soap making, grinding mills, tricycles for transport bussiness, back-yard gardening, and making of craft products like sandals and women hand bags. Inclusive WASH facilities like latrines and water points have also been constructed, which are all accesible to persons with disabilities. 
With more funding, World Vision hopes to expand this project to reach all disabled refugees in Palorinya plus those in other settlements.