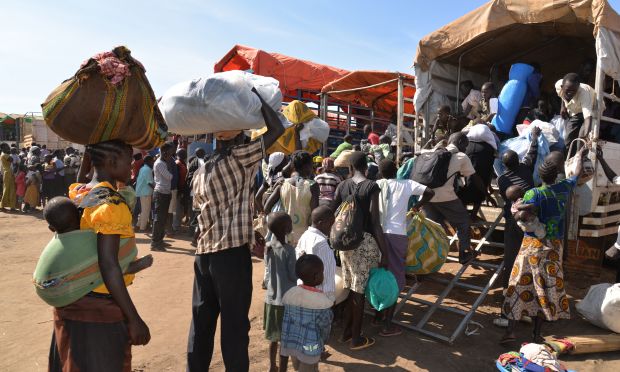 Another refugee settlement has opened in Northern Uganda as the Bidibidi settlement runs out of space due to soaring numbers of new arrivals from South Sudan.The new settlement, Palorinya in the Moyo district, is expected to host up to 100,000 refugees. But two months after inception,its already home to more than 42,000 refugees.
The Bidibidi settlement, now the world's second largest refugee settlement, opened in July 2016. It had been planned to host 150,000 persons but by November 2016 it was home to more than 270,000 refugees. More than 2500 refugees arrived daily for five months.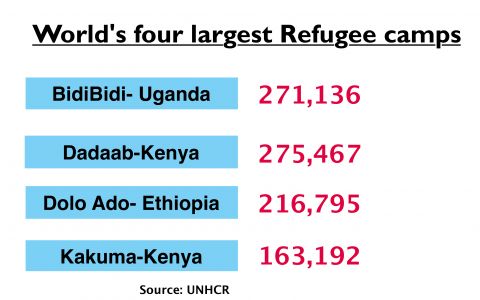 At Palorinya settlement, World Vision in partnership with the World Food Programme, is distributing high-energy biscuits to all new arrivals plus dry food rations. Refugees are still coming in daily though the numbers have now gone down from 1500 in November to mainly 900 as of January 2017.
Article: Mothers struggle to survive in BidiBidi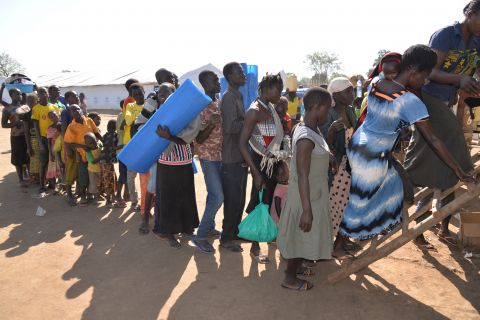 Many children are among the hundreds of new arrivals at Palorinya. (Photo by World Vision)

Uganda is as of December 2016 home to an estimated 575,000 South Sudanese refugees, making it the largest host country in East Africa. The refugees are living in the districts of Adjumani, Arua, Koboko, Yumbe, Moyo and Kiryandongo.Each refugee entering Uganda is upon registration allocated a plot of land measuring up to 30x30 meters. In addition to the land, each household receives basic tools like tarpaulins, poles, nails and other house hold items to establish makeshift homes.
Underfunding continues to be the biggest challenge of dealing with the South Sudan refugee crisis.

Low levels of funding, together with a large number of new arrivals fleeing to Uganda from South Sudan since 7 July, has left the refugee response with no choice but to re-prioritize its focus on those refugees in greatest need.
Refugees who arrived in Uganda after July 2015, as well as those who have been identified as particularly vulnerable, such as the elderly, orphaned children, the chronically ill and those in need of treatment for malnutrition, will continue to receive a full ration. WFP requires approximately US$7 million every month to provide life-saving food assistance to refugees in Uganda.
Despite the generous support of donors, the humanitarian response requires an additional US$20 million to restore full food rations to refugees for the rest of the year.The humanitarian response to South Sudanese refugees in Uganda was already severely underfunded before the outbreak of violence in Juba on 8 July, which has since prompted more than 290,000 people to cross the border in to Uganda.