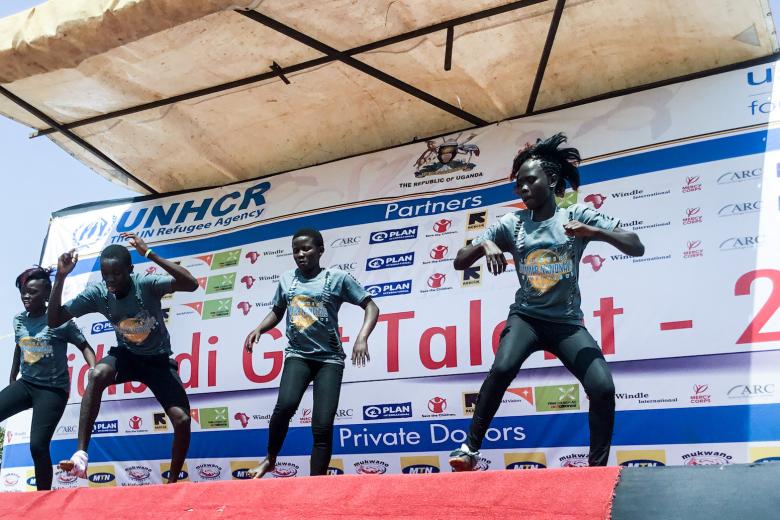 Bidibidi's 'Got Talent' sees refugees shine through acting, singing, dancing
Monday, January 15, 2018
By Moses Mukitale, World Vision
21-year-old Peter Papiross can finally dream again.
His music career seemed to be back on line. Violence in South Sudan may have separated him from his people and displaced him to a foreign land, but his knack for rap music was spared. In fact, the conflict might just have ignited his singing - as a bulk of his rap lyrics are about war and peace.
Papiross, a Grade 5 school dropout is now a household name at Bidibidi refugee settlement after emerging the best overall winner of the Bidibidi's Got Talent 2017 competitions.
The contest, funded by UNHCR, saw over 600 refugee and host community youth from the five areas of the Bidibidi settlement come together and showcase talents in music, dance and acting. Auditions were held through a selection process in each of the five areas and zonal champions then performed at the grand finale in Bidibidi to a jury of local artists and a mammoth crowd.
The top prize for the winning group and best overall artist was an opportunity to work with a top record label in Kampala. Additionally, the best overall artist would have an opportunity to record a song with Uganda's fast rising afro reggae and dance hall artist Ceaserous (Solomon SSentongo). For Papiross, it was the prospect of working with Ceaserous that kindled a new fire in his performance.
''The crowd was big. But When I saw him there as one of the judges, I knew I had to do my best. I did not want to disappoint him. I love his music, his song 'Dangerous' is one of my favourite hits here in the camp. I am so grateful that I will be working with him and record a song with him too. He will teach me a lot about rap music," Papirose said moments after being declared winner.
Still on a quest to find his family members, Papiross says music helps him forget his woes as a refugee.
"I've gone through a lot, the conflict separated me from my family in Yei state. I am now staying alone here in Bidibidi. I dropped out of school eight years ago as my mother could not afford school. She refused to come to Uganda with me because she had been here before as a refugee and witnessed a lot of suffering. I've lost so many relatives as a result of war. So when I sing, I forget my painful past, I rap about peace, I tell the world to stop fighting.'' Papiross said.
Papiross added he wants to use rap music as a tool to convey his message to the leaders of South Sudan to stop war.
In January 2018, he will be heading to Kampala to link up with Ceaserous about their upcoming collaboration. Also on board will be the 'Kijjebere group' - the best overall dance/drama group in Bidibidi Got talent, comprised of 10 refugee youth. They will be working with Hexagon Communications Solutions Ltd in Kampala under the auspices of the UNHCR to further develop their talents.
Yonna Tukundane, the public information associate for the UNHCR Uganda says the talent show will be an annual event.
''Our main objective is to create social cohesion between the different ethnic groups inside the settlements and the host community,'' Tukundane said.
Music as a tool to promote peace:
Bidibidi settlement is the world's largest refugee settlement and currently hosts some 283,500 refugees from South Sudan - comprised of over six different ethnic tribes. Profound to note however is that some of the tribes are antagonistic towards each other and can hardly meet eye to eye.
World Vision, one of the other organisations behind the preparation and management of Bidibidi's Got Talent said there is need to invest more in activities that unite the youth, given they are the majority.
''Music heals, during the auditions we saw youths from various tribes coming together for the very first time. They put aside tribal differences and worked hard for the grand prize. We need to make sure that they stay together and that they continue to mark-down any form of tribal differences. We should continue using music, art and sports to promote peaceful co-existence among refugees and host communities," said Richard Duuki of World Vision.
Uganda, a low-income country, currently hosts the largest refugee population in Africa, with over one million displaced people from South Sudan.