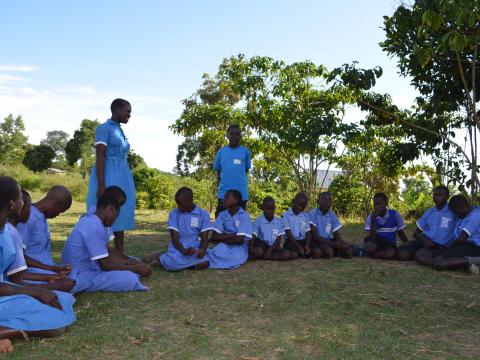 Child protection committees reducing child abuse in Mpigi-Butambala cluster
Thursday, December 4, 2014
By Flavia Lanyero
"I have taken two cases of children being denied the right to go to school. I took the case to police and involved the Local council chairman. The children's parents were summoned to police and told to take their children to school. Today these children are now in school," narrates Dan Kasonga, the chair person of Golo Parish Child protection committee in Nkozi Sub-County, Mpigi district.
According to Kasonga, children's rights were grossly being abused in Golo Parish before the children were empowered to identify and report cases of child abuse.
"It was a common practice for children to be called abusive names even if they had proper names. This made us children to feel bad. Some children never used to go to school, others were made to fish in lakes and dig in people's gardens," says Kasonga of the various child abuse cases which were prevalent in Golo Parish.
Subsequently, the World Vision Child Protection Project was started in Mpigi district due to the increased cases of child abuse that arose from community conversations during the Integrated Programming Model (IPM) critical path and analysis of the problem tree. These pointed out that child protection is a critical problem that needed immediate stakeholders' actions.
Indeed according to Nkozi police post crime report, about 80 cases of child abuse were registered monthly in the sub county including; defilement, neglect, torture, child labour among others.
"We perceived that if child abuse is addressed, then the sustainability of the community's vision and hope will be realised through children as agents of change. This would also offer the community with a good foundation for transition from sponsorship management and food security / agriculture as the main areas of focus," says Denis Luyima, World Vision's Child Sponsorship and Development Assistant in Mpigi-Butambala cluster.
"These children being from the grass root know the issues happening in their community and once they identify that it is an abuse, they report verbatim to the authorities unlike adults who might for one reason or another not report the cases," says Luyima.
World Vision empowers these children to identify and report child abuse cases as well as gives transport facilitation to police to follow up with the reported cases.
Currently in Mpigi district, there are 54 child protection committees in 54 villages in addition to nine parish child protection committees. Each of these child protection committees has nine children also known as child parliamentarians.
These children are each armed with mobile numbers of a police officer in their parish, that of a World Vision staff and for their Local council leadership.
"When we identify an abuse, we first report to the Local council chairman to take action, if he does not then we go a step further and report to police where most cases action is taken. We also involve our teachers in some cases," says Dan Kasonga.  In addition, the children hold sensitisation meetings with fellow children to empower them with child protection knowledge.
Nkozi police post is more than grateful for this project. Already, child abuse cases have dropped significantly. In the whole of 2013, only 23 children abuse cases were reported including 18 on defilement, by November 2014, only seven cases of child abuse were registered.
According to the OC station Kayabwe Police post in Nkozi Sub-county Jamada Mugoya, these child protection committees should be scaled up to cover the entire district if crime against children is to be minimised.
"These child protection committees assist in community policing and the beauty about it is that these children report cases as they see them and there are no chances of overlooking an abuse," says Mr Mugoya.
The programme, however, has challenges too. The children complained that they do not have reliable communication gadgets and have to beg well wishers for their phones in order to report cases. They also complained of threats from the community which have put their lives in danger.
If these challenges are solved, the programme could perhaps nearly eliminate child abuse in our communities.